10 Ways You Can Identify Sensitive Data More Accurately with Netwrix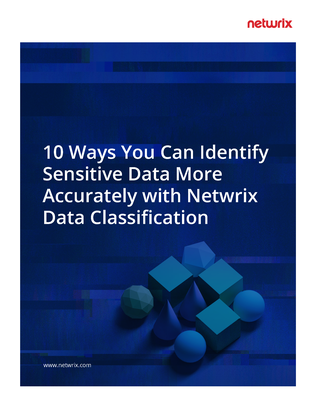 Organizations have limited resources to invest in safeguarding their data. Knowing exactly which data needs protection the most will help you allocate your budget and other resources wisely, to maximize security and compliance while minimizing costs. That's why many organizations are investing in data classification tools.
However, many of them struggle to get the results they need from those tools. Instead of being able to focus on properly managing and securing their sensitive data, they end up spending far too much precious time and effort trying to reduce false positives and false negatives.
This eBook details the top 10 strategies for improving the precision of data classification and explains how Netwrix Data Classification makes it easy to implement them. You will get answers to the following questions:
Why is precision important in data discovery and classification?
What Netwrix Data Classification features allow you to decrease the number of false positives and negatives?
What data-related workflows does Netwrix Data Classification help you implement?