Discover which specific FERPA compliance requirements you can address with Netwrix
The Family Educational Rights and Privacy Act (FERPA) of 1974 (20 U.S.C. § 1232g; 34 CFR Part 99) is a U.S. federal privacy law that protects the confidentiality of student records and ensures that a parent or eligible student has the right to inspect and review education records, seek to have them amended, and have certain types of control over the disclosure of personally identifiable information (PII) from the records. FERPA applies to all educational agencies and institutions that receive federal funds from the U.S. Department of Education.

FERPA compliance software from Netwrix can help you get deep insight into your sensitive data, as well as establish and maintain data security controls, by delivering enterprise-wide visibility into your on-premises and cloud-based applications and systems. In particular, Netwrix solutions enable you to provide evidence that your security controls are aligned with the following FERPA guidelines in 34 CFR Part 99:
Subpart B: What are the rights of inspection and review of education records?
§ 99.10 (a)

§ 99.10 (b)

§ 99.10 (d)(1)
§ 99.10 (e)
§ 99.10 (f) 
Subpart C: What are the procedures for amending education records?
Subpart E: May an educational agency or institution disclose personally identifiable information from education records?
§99.31 (a)(ii)
§99.32 (a)(1)
§99.32 (a)(2)
§99.33 (b)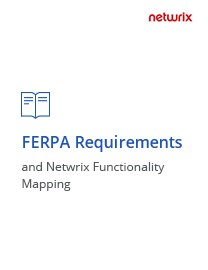 Learn more about how
Netwrix can help you achieve
compliance with FERPA requirements.
Depending on the configuration of your IT systems, your internal procedures, the nature
of your business and
other factors, Netwrix might also facilitate compliance with
provisions of the FERPA
not listed above.
See exactly how Netwrix solutions can help you
ensure FERPA compliance
FERPA compliance software from Netwrix enables you to easily identify where your sensitive data is located, who has access to it and how it is used, so you can ensure that only authorized users can read or modify confidential documents. With Netwrix, you can quickly demonstrate that regulated information is properly secured as mandated by FERPA requirements, so you can pass FERPA compliance audits.
Control access rights to sensitive education records
Make sure that access rights to students' education records are aligned with FERPA requirements. Improve the security of sensitive student information by ensuring that only eligible individuals have rights to access certain information.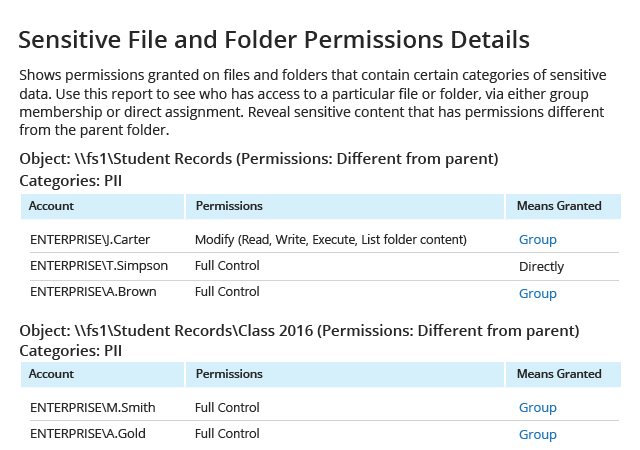 Monitor all access attempts to student data
Verify that actions taken by school officials are aligned with their job description and legitimate educational interests. Monitor every attempt, successful or not, to access the sensitive data you store, including personally identifiable information of students.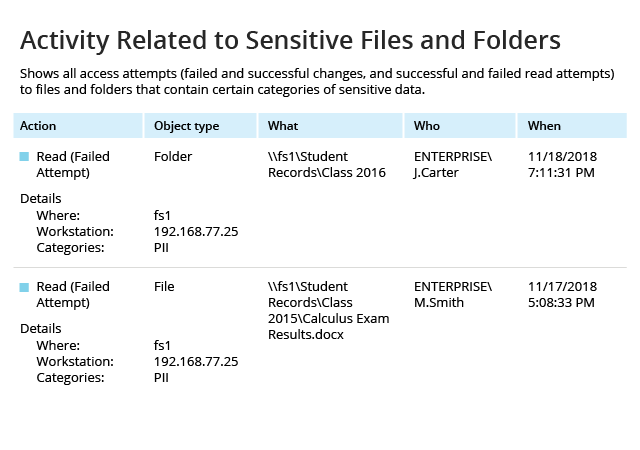 Investigate suspicious user activity that may violate FERPA law
Easily find specific piece of information, such as who deleted folders with education records or whether a recently fired professor attempted to read files with confidential information. Dig deeper into the incident and determine how you can prevent FERPA violations in the future.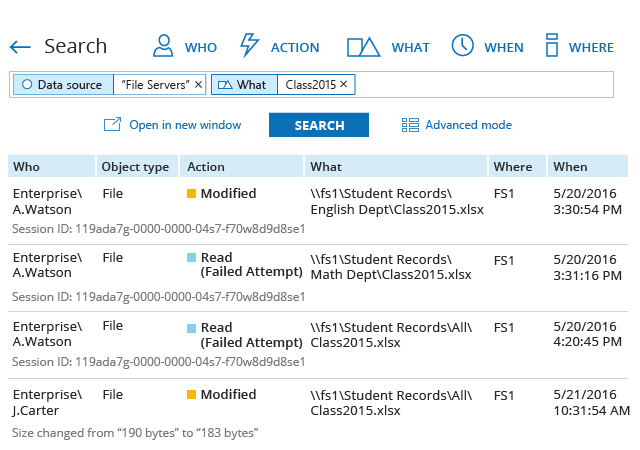 Easily find and amend records upon request
Quickly locate all personal data related to students who believe that information in their education records is inaccurate or in violation of their rights, so you can amend these records.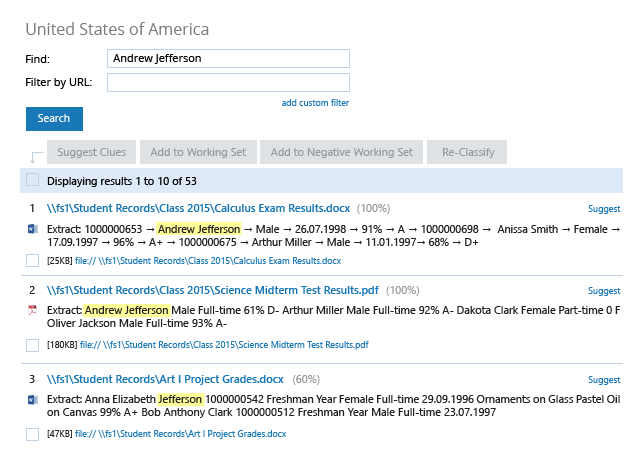 Check out how educational organizations like yours use Netwrix to ensure information security
VIDEO
Berry College establishes visibility into the activity of over 3,000 user accounts across critical systems and quickly spots and eliminates threats.
customer success
Palmer College of Chiropractic ensures user accountability and slashes costs on FERPA, HIPAA and PCI DSS compliance.
Read the Story