Secure the Intellectual Property of Your Industrial Organization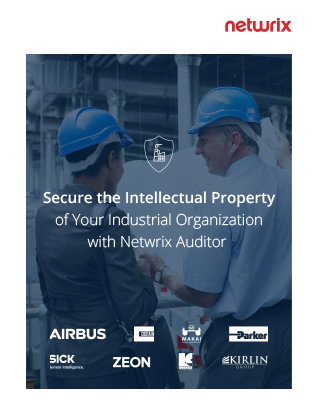 Manufacturing, construction, chemical and other industrial companies worldwide are under relentless pressure to maximize profits and minimize costs. Two major factors that directly influence their financial prosperity are their ability to meet their obligations under sales or supply agreements, which heavily depends on the availability of their critical industrial systems, and their ability to secure their sensitive data, such as intellectual property (IP) and trade secrets.
This eBook details how Netwrix Auditor can help your organization become more resilient to accidental mistakes and malicious user actions that could otherwise lead to exfiltration of sensitive data or downtime of critical systems. In particular, it answers the following questions:
How can you detect account and privilege misuse and hold users accountable?
How can you identify insider and external threats to your valuable intellectual property and critical trade secrets?
How can you stay on top of user behavior in the critical databases that your ERP system relies on in order to prevent malicious or accidental data corruption and exfiltration?