File Server Auditing
Free Quick Reference Guide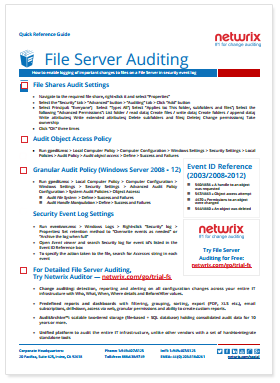 The purpose of this guide is to show system administrators few quick tips on auditing changes on file shares. This 100% free guide comes handy if you need to know who created, changed or deleted a file on a file share.
Learn how to detect:
File changes
Permission changes
File accesses
For Automated File Server Auditing Use
Netwrix Auditor for File Servers
Netwrix Auditor for File Servers provides complete visibility into what's happening inside your file servers by answering questions like who did what, when and where. The solution delivers detailed change auditing reports, ensures visibility by providing system snapshots, helps maintain security and compliance by auditing file permissions and access events.