Native Solution
Netwrix Auditor for SQL Server
Steps
Start Microsoft SQL Server Management Studio (MSSMS).
On the File menu, clickConnect Object Explorer. In the Connect to Server dialog box:
In the Server type list box, select Database Engine.
In the Server name text box, type the name of the SQL cluster server.
In the Authentication list box, choose your SQL Server Authentication method and specify the user credentials. If you do not want to re-type the password every time you connect to the server, tick Remember password.
Click Connect.
Upon connection, click "New Query" and paste the following script into the query field:
SELECT

mdf.database_id,

mdf.name,

mdf.physical_name as data_file,

ldf.physical_name as log_file,

db_size = CAST((mdf.size * 8.0)/1024 AS DECIMAL(8,2)),

log_size = CAST((ldf.size * 8.0 / 1024) AS DECIMAL(8,2))

FROM (SELECT * FROM sys.master_files WHERE type_desc = 'ROWS' ) mdf

JOIN (SELECT * FROM sys.master_files WHERE type_desc = 'LOG' ) ldf

ON mdf.database_id = ldf.database_id
Click Execute (or hit the F5 key).
Review the list of server database files in the query execution results: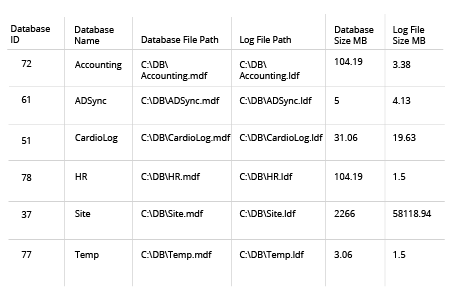 Click here to edit
Open Netwrix Auditor and navigate to Reports -> Predefined -> SQL Server - State-in-Time -> SQL Server Databases.
Click View.