Netwrix Auditor for
Network Devices
Network Security Auditing Software
Valuable details about logon attempts
This security software from Netwrix provides intelligence about attempts to log on to your network devices, including logon attempts over VPN. In addition, it enables network monitoring for unauthorized remote access, which strengthens access control in IT environments. For example, you can spot a series of failed logons that could be a brute-force attack, as well as suspicious logons from blacklisted IP addresses or foreign countries.
Audit intelligence about hardware issues
Netwrix Auditor for Network Devices supports near-real time reporting on hardware malfunctions to enable easy detection and remediation of technical issues. Learn which device is affected and what caused the issue so you can fix critical problems before they affect your network traffic.
Investigate incidents faster
Get to the bottom of an incident in a timely manner so you can mitigate security threats and minimize network issues, including problems with availability of on-premises and cloud-based applications. With Interactive Search, you can easily fine-tune your search criteria until you find the exact information you need.
Streamline detection of malicious insiders and compromised accounts
Netwrix Auditor for Network Devices streamlines assessment of user activity by providing an overview of all high-risk accounts in one place. Drill down to see the specific actions that comprise the risk score for a given user. Based on the intelligence provided, you can quickly prioritize your investigation efforts and choose an appropriate response to each violation of security policy.
What else do I get with Netwrix Auditor
for Network Devices?
API-enabled ecosystem integration
Unlike other solutions, Netwrix Auditor integrates organically into your current ecosystem via a RESTful API that enables you to automate business processes and IT security and operations workflows. You can find free add-ons in the Netwrix Auditor Add-on Store, or create your own custom integrations.
Automated incident response
Netwrix Auditor enables you to automate response to common incidents. Simply create scripts that will be triggered by Netwrix Auditor alerts to address your organization's specific use cases. For example, you can create a helpdesk ticket when a service fails or a user account is locked out.
Cost-effective data storage
The two-tiered (file-based + SQL database) AuditArchive™ storage enables you to keep your audit data archived for historic e-discovery and security investigations for more than 10 years.
Granular access to the platform
You can granularly provide each IT and business team with the appropriate access to Netwrix Auditor's security intelligence and settings.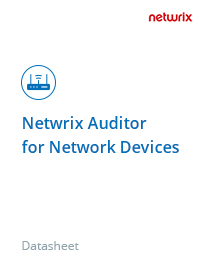 See how different features of Netwrix Auditor for Network Devices can help you improve network security, prove compliance and avoid costly downtime.
Download Datasheet (.pdf)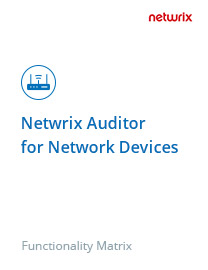 Get a complete list of features of Netwrix Auditor for Network Devices in a format convenient for comparing the product to your requirements.
Download Matrix (.pdf)