Looking for Change Notifier for Active Directory? You're in the right place. Netwrix Auditor Free Community Edition includes AD change notifications — plus a whole lot more.
Free community edition
Netwrix Auditor for Active Directory
Free Active Directory tool that keeps you informed about what's going on in your AD and Group Policy
"Incredible free auditing/monitoring tool. Indispensable tool for anyone who considers himself a competent Windows sysadmin."

Nedeljko Visnjic,
Spiceworks Community
How much time do you spend finding out what happened in your Active Directory and Group Policy?
The free edition of Netwrix Auditor for Active Directory provides visibility into what's happening inside your domain by tracking logons and all changes to AD users, groups, organizational units, GPO links and various policies. Daily activity summaries sent by this free Active Directory software detail every change and logon that happened during the last 24 hours, including the before and after values for each modification.
Review AD and Group Policy activity
Reports on logons and shows which AD and Group Policy objects (GPOs) were added, modified or removed, with the before and after values for modified items.
Automate auditing
Aggregates data from multiple sources and automatically sends daily email reports on logons and AD and Group Policy changes.
Increase efficiency
Delivers meaningful data about activity in AD and Group Policy changes, eliminating the need to analyze mountains of native logs.
Save your IT budget
This 100% free Active Directory audit tool saves you money and will never expire or stop working when you need it.
If you need clear information about what's happening inside your Active Directory and Group Policy on a daily basis, native Microsoft tools won't be of much help to you. You need a solution that provides precise details about every change and logon event without any noise. The free edition of Netwrix Auditor for Active Directory stands out from other free Active Directory audit tools by delivering meaningful audit data in a timely and convenient fashion.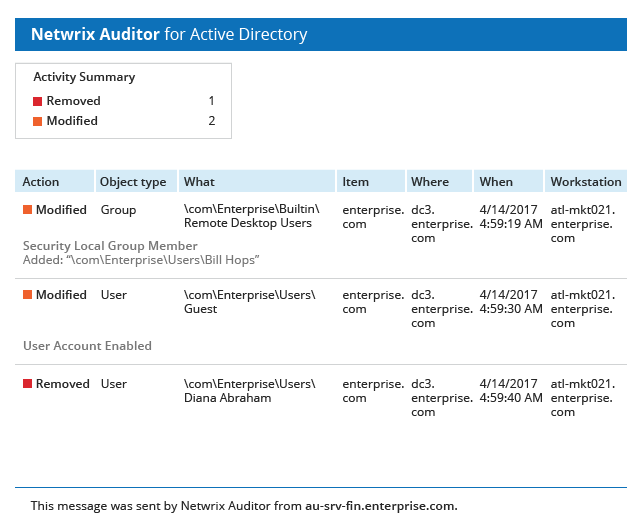 Ongoing monitoring of logons and Active Directory changes is critical for timely detection of potentially malicious user activity and prevention of breaches. Our free Active Directory tool enables IT admins to review AD and Group Policy changes daily for incorrect, unauthorized or suspicious activity so they can remediate any issues before they result in a data breach.
Awareness versus Complete Visibility
Once you start using Netwrix Auditor for Active Directory, you will get full functionality for free for 20 days. After that, you can either activate the Free Community Edition or apply a commercial license. The table below highlights the differences between the Netwrix Auditor Community Edition free Active Directory software and the standard edition of the product:
Free

Community

Edition
Standard Edition
Functionality
Netwrix Auditor
Free


Community

Edition
Netwrix Auditor
Standard
Edition
Reporting on logon activity and configuration changes in Active Directory and Group Policy 
Before and after values for all modifications
Daily activity summary sent automatically to a single recipient
"What," "when" and "where" details for each reported event
"Who" details for each reported event
Predefined reports with filtering, sorting and export options
Email subscriptions to scheduled AD audit reports with the ability to choose reports, recipients and reporting frequency
Advanced cross-system audit reporting
State-in-time reports on AD and Group Policy configuration
Risk Assessment
Behavior anomaly discovery
User behavior and blind spot analysis
Out-of-the-box compliance reports mapped to specific regulatory standards (PCI DSS, HIPAA, SOX, GDPR, FISMA/NIST800-53 and more)
Overview dashboards
Google-like search of audit data
Alerts on threat patterns
Active Directory change rollback
Password expiration notifications
Inactive user tracking
Long-term storage of audit data
Role-based access control
Optional lightweight, non-intrusive mode of data collection used for traffic compression
Reports on AD password resets
Single installation that handles multiple domains, each with its own unique settings
"Pretty much anything Netwrix ever put out is an example of a product that truly delights me. Their products just work. Plus, they are simple to get going relative to their value. Netwrix AD and GPO tracking software has proven invaluable for reporting purposes."

Richard Muniz,
Network/Systems Administrator
System Requirements
This free Active Directory auditing tool is very simple to install and requires minimal system resources.
Hardware
Processor:
Memory:
Disk space:
100 GB – System drive
100 GB – Data drive (Long-Term Archive and SQL Server)
Screen resolution:
Minimum 1280 x 1024
Recommended 1920 x 1080 or higher
Software
Operating System:
Windows Desktop OS (64-bit): Windows 7 SP1, Windows 8.1, and Windows 10
Windows Server OS: Windows Server 2008 R2 SP1, Windows Server 2012/2012 R2, and Windows Server 2016
.NET Framework:
Any .NET Framework that goes with your OS: 3.5 SP1, 4.0, 4.5, or 4.6
Installer:
Windows Installer 3.1 and above