Looking for Change Notifier for Exchange? You're in the right place. Netwrix Auditor Free Community Edition includes Exchange change notifications — plus a whole lot more.
Free community edition
Netwrix Auditor for Exchange
Free Exchange reporting tool that keeps you aware of what's happening in your on-premises Exchange and Exchange Online systems
"I am very happy with my decision to go with Netwrix, and I would recommend them to anyone. Their software does exactly what it says on the tin."

Tim Stainthorpe,
Technical Services Manager, Eclipse Group Solutions Ltd.
How much time do you spend trying to determine what happened in your on-premises and cloud-based Exchange environments?
The free edition of Netwrix Auditor for Exchange delivers visibility into what's happening in your Exchange environment — both on-premises and in the cloud. This free Exchange reporting tool monitors changes to your mailboxes, role groups, mailbox databases, and Exchange Server and Exchange Online configurations. It also keeps you updated on all successful non-owner mailbox access events. Daily email reports detail every one of these actions within the last 24 hours.
See what changed
Indicates which objects and settings were added, modified or removed, with the current and past values for all modifications.
Monitor non-owner mailbox access
Reports on successful non-owner access to specified mailboxes. You can see what mailbox was accessed, when and from which workstation the access occurred, and which items the user viewed, edited or deleted.
Automate auditing
Collects and consolidates data about user activity from multiple sources and automatically reports on it by email on a daily basis.
Increase efficiency
Eliminates the need to analyze mountains of native logs and activity in Office 365 Admin Center by providing consolidated information about every action in a human-readable format.
Save your IT budget
Relieves you from extra expenses and painful budget approvals, and will never expire or stop working when you need it.
Without regular monitoring of what's going on in your Exchange environment, you can't be sure that user activity is in line with established processes and controls. Reviewing native logs for this information is anything but efficient — and now you have an alternative. This freeware for Exchange Server and Exchange Online delivers accurate and meaningful data about every change and non-owner mailbox access event automatically, eliminating the major blind zones of Exchange.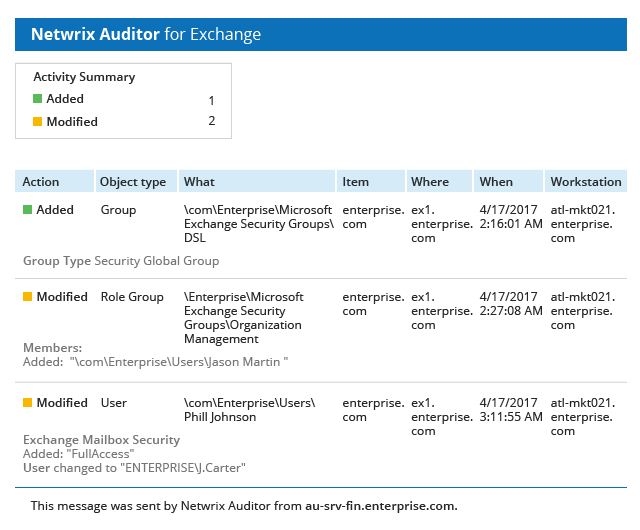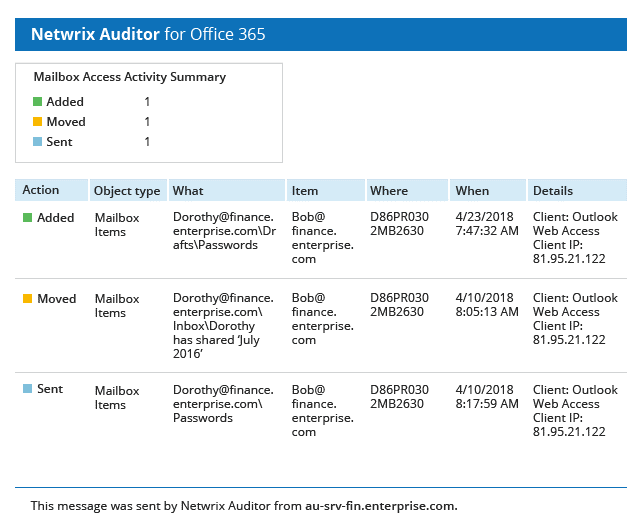 Any inappropriate change to your Exchange Server or Exchange Online could cause system downtime that interrupts your business. And any non-owner mailbox access event could lead to sensitive corporate data being stolen. Our free reporting tool enables IT admins to review this critical activity across their on-premises, cloud or hybrid Exchange environment so they can identify and remediate inappropriate or malicious actions before they cause serious damage.
Awareness versus Complete Visibility
Once you start using Netwrix Auditor for Exchange, you will get full functionality for free for 20 days. After that, you can either activate the Free Community Edition or purchase and apply a license for the Standard Edition. The table below highlights the differences between the two editions.
Free

Community

Edition
Standard Edition
Functionality
Netwrix Auditor
Free


Community

Edition
Netwrix Auditor
Standard
Edition
Reporting on what objects and attributes were changed, deleted or added in Exchange
Before and after values for all modifications
Reporting on non-owner mailbox access events
Daily activity summary sent automatically to a single recipient
"What," "when" and "where" details for each reported event
"Who" details for each reported event
Predefined reports with filtering, sorting and export options
Email subscriptions to scheduled audit reports with the ability to choose reports, recipients and reporting frequency
Advanced cross-system audit reporting
User behavior and blind spot analysis
Out-of-the-box compliance reports mapped to specific regulatory standards (PCI DSS, HIPAA, SOX, GDPR, FISMA/NIST800-53 and more)
Overview dashboards
Google-like search of audit data
Alerts on threat patterns
Long-term storage of audit data
Role-based access control
Optional lightweight, non-intrusive mode of data collection used for traffic compression
Single installation that handles multiple domains, each with its own unique settings
"Just wanted to say Thank You for this awesome product and for having enough courage to make it a freebie! My hat goes off to you. Thank you so very much; those are most useful tools and greatly appreciated."

Jeff Martens,
Exchange Administrator, Fishbowl Inc.
System Requirements
Deployment of the free edition of Netwrix Auditor for Exchange is very straightforward. Below is a summary of the minimum system requirements.
Hardware
Processor:
Memory:
Disk space:
100 GB – System drive
100 GB – Data drive (Long-Term Archive and SQL Server)
Screen resolution:
Minimum 1280 x 1024
Recommended 1920 x 1080 or higher
Software
Operating System:
Windows Desktop OS (64-bit): Windows 7 SP1, Windows 8.1, and Windows 10
Windows Server OS: Windows Server 2008 R2 SP1, Windows Server 2012/2012 R2, and Windows Server 2016
.NET Framework:
Any .NET Framework that goes with your OS: 3.5 SP1, 4.0, 4.5, or 4.6
Installer:
Windows Installer 3.1 and above