Netwrix Auditor for
Exchange
Complete visibility into what's happening in your
on-premises Exchange and Exchange Online systems
Microsoft Exchange Auditing for On-Premises and Cloud-Based Environments
Netwrix Auditor for Exchange simplifies Exchange auditing across on-premises and cloud-based environments and provides actionable audit data, all in one place. See who has access to what, monitor non-owner mailbox access events, and track Exchange configuration and permission changes, so you can prevent data breaches, prove IT compliance and ensure ongoing availability of email services.
Empowers you to quickly find out which users and groups have access to what in your Exchange Online and see exactly how permissions were granted, so you can create a more manageable and secure cloud environment.
Simplifies Microsoft Exchange auditing by delivering detailed, actionable information about each change, including when it occurred, who made it, exactly what was changed, and the current and previous values.
Reports to IT staff and mailbox owners about non-owner mailbox access events. You can see who accessed which mailbox, when and from which IP address the access occurred, and what messages or other items were viewed, edited or deleted.
Notifies you about suspicious activity, such as modifications of access rights to sensitive data, critical configuration changes or unauthorized actions performed on a CEO's mailbox by delegates.
Easy-to-read audit reports and overview dashboards
Supplies audit data to anyone who needs it in a human-readable format. Predefined reports and dashboards are easy to customize using built-in filtering and sorting. Export and subscription options simplify Exchange reporting routines.
Makes it easy to prove you have proper Exchange security controls in place by providing out-of-the-box reports mapped to specific regulatory compliance standards, including PCI DSS, HIPAA, SOX, GLBA, FISMA/NIST, CJIS and GDPR.
Enables you to quickly sort through Exchange Online and Exchange Server audit data and fine-tune your search criteria until you find the information you need. Easily save your searches as custom reports that you can run on demand or have delivered to you on schedule.
Simplifies Exchange auditing by detecting hidden threats that might endanger the security of or stability of email operations, such as suspicious activity outside of business hours or unusual non-owner mailbox logon attempts.
Automated incident response
Enables you to automate response to common and anticipated incidents, like password resets or mailbox lockouts, by embedding scripts in alerts. Ensure prompt and accurate response while staying focused on your other important tasks.
Identifies high-risk users by aggregating their anomalous activity across your on-premises and cloud-based Exchange, as well as other critical systems like Active Directory, SharePoint and SharePoint Online. Spot identity theft, privilege escalation and other threat.
User profile information
Speeds investigations and helps you ensure individual accountability by presenting key details about user accounts involved in an incident, all in a single place.
Non-intrusive architecture
Audits your on-premises, cloud-based and hybrid Exchange environments without using agents, so the auditing process never degrades system performance or causes downtime.
Exchange Server and Exchange Online auditing for strong security and high availability
Effective Exchange auditing is essential for ensuring the security of email data and the availability of email services, as well as for proving compliance. How much time do you normally spend trying to figure who has access to your online mailboxes or what critical changes were made to your Exchange Server infrastructure? Unlike native solutions, Netwrix Auditor can quickly deliver you this actionable information, all in a single place.
Regularly audit Exchange permissions to reduce the exposure of your mail
Gain complete visibility into who has access to which mailboxes and specific folders in Exchange Online. Actionable access reports make it so easy to audit Exchange permissions that you can perform regular privilege attestations. Identify excessive permissions to critical mail and revoke them in a few clicks to minimize the risk of a breach, impress auditors and pass compliance checks on your first try.
Detect and investigate suspicious mailbox actions with mailbox audit logging on premises and in the cloud
If someone got full access to your CEO's email, you'd need to quickly determine what actions they took and how the privilege escalation happened. But most organizations don't enable mailbox auditing by default because it generates too many mailbox audit log entries, so you might not have any helpful records of the user's activity. Netwrix Auditor, on the other hand, will provide the actionable intelligence you need to quickly spot and investigate the incident, and take steps to avoid similar problems in the future.
Speed troubleshooting with comprehensive Microsoft Exchange auditing
A single improper change to an Exchange object, server configuration or mailbox permissions could leave your employees without email services for hours. With Netwrix Auditor, you can audit Microsoft Exchange environments without spending hours writing PowerShell cmdlets or analyzing hundreds of audit event records. Get detailed information on critical events in a few clicks and revert problematic changes before users even notice anything amiss.
Streamline compliance with continuous Exchange Server and Exchange Online auditing and reporting
Exchange administrators need to perform regular Exchange audits to ensure compliance with internal policies, external requirements and security best practices. Netwrix Auditor simplifies the job by providing out-of-the-box reports mapped to many common regulatory standards, including PCI DSS, HIPAA, SOX, GLBA, FISMA/NIST, CJIS and GDPR.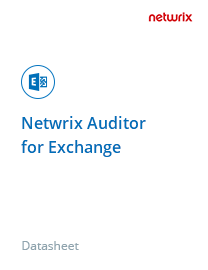 Learn more about how Netwrix Auditor for Exchange helps organizations just like yours improve detection of insider threats and pass compliance audits with less effort.
Download Datasheet (.pdf)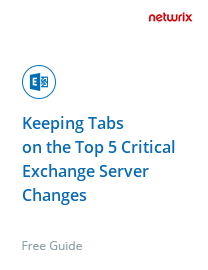 See how Netwrix Auditor's actionable intelligence can help you keep tabs on the 5 most critical Exchange Server changes by providing raw log data in a  human-readable format.
Download Free Guide (.pdf)
Find out how small companies and enterprises use Netwrix Auditor for Exchange to enhance data security and streamline compliance
"Instead of hopping around 130 different servers, looking at logs and trying to figure out who made what change that caused an issue, I receive the answer right away in Netwrix Auditor. The platform saves me at least six hours per week. That is priceless."

Dominick Napodano, Systems and Network Administrator,
The Kirlin Group