Netwrix Auditor for
Exchange
Complete visibility into what's happening
on your Microsoft Exchange Server
No need to deploy the product
Microsoft Exchange Server
Auditing Software
Netwrix Auditor for Exchange simplifies Microsoft Exchange Server auditing. Monitor non-owner mailbox access events and track changes made to Exchange server configuration and permissions to prevent data breaches, prove IT compliance and ensure ongoing availability of email services.
Simplifies Microsoft Exchange auditing by delivering detailed information about all changes, including when each change occurred, who made it, what exactly was changed, and the current and past values.
Reports to IT staff and mailbox owners about non-owner access to specified mailboxes. You can see who accessed which mailbox, when and from which workstation the access occurred, and what items were viewed, edited or deleted.
Speeds detection of data breaches by alerting you about suspicious activity, such as critical changes to permissions or unauthorized non-owner mailbox access to the CEO's mailbox.
Easy-to-read reports and overview dashboards
Supplies audit data to anyone who needs it in a human-readable format. Predefined reports and dashboards are easy to customize using built-in filtering and sorting. Export and subscription options simplify reporting routines.
Streamlined compliance reporting
Makes it easy to prove your Exchange Server security controls are in place with hard evidence by providing out-of-the-box reports mapped to specific regulatory compliance standards, including PCI DSS, HIPAA, SOX, GLBA, FISMA/NIST, CJIS, GDPR and more.
Enables you to quickly sort through Exchange Server audit data and fine-tune your search criteria until you find the information you need. Save your searches as custom reports that you can run on demand or have delivered to you on schedule.
Identifies high-risk user accounts by aggregating their anomalous activity across Exchange Server and other critical systems such as Active Directory and Windows Server.
Simplifies Exchange security audit by detecting hidden threats that might endanger your Microsoft Exchange Server, such as suspicious activity outside of business hours or unusual non-owner mailbox logon attempts.
Non-intrusive architecture
Audits Exchange infrastructure without using agents, so the auditing process never degrades system performance or causes downtime.
Enable control over Exchange audit with Netwrix Auditor
to maintain security and
prove compliance
Having an Exchange Server auditing tool is essential for maintaining the security of data in email, proving compliance, and ensuring ongoing email availability. How much time do you normally spend trying to figure what changes were made to your Exchange infrastructure? Unlike native logging tools, Netwrix Auditor can deliver you this information in a few minutes.
Detect unauthorized Exchange changes and security incidents
faster with
advanced alerting
Although native tools can help you audit Exchange permissions changes and perform some other basic admin tasks, they lack any advanced alerting functionality. Netwrix Auditor enables you to set up alerts on critical actions, such as changes to delegation settings or permissions, the creation of a new Exchange Server, or a non-owner mailbox access to a particular mailbox, so you can respond to unauthorized activity in  a timely manner.
Mitigate the risk of a data breach by quickly
investigating
suspicious activity
Imagine someone got access permissions to your CEO's mailbox and you need to quickly understand how that happened and make sure no harmful actions were performed. Most organizations don't keep native mailbox audit logging turned because it consumes too many system resources, so it will likely be of no help. But Interactive Search can help you quickly investigate the incident so you can take precautions to avoid such problems  in the future.
Speed up troubleshooting of disruptive changes with
comprehensive
Microsoft Exchange reporting
Some improper changes made to Exchange Server objects, configuration or permissions could leave your employees without email services for hours. Netwrix Auditor makes Exchange Server change audit and management easier with predefined reports that provide detailed information on most critical  Exchange changes.
Streamline compliance with continuous
Exchange auditing
Perform regular Exchange audits to make sure everything is aligned with internal policies, external requirements and security best practices using out-of-the-box compliance reports mapped to regulatory compliance standards such as PCI DSS, HIPAA, SOX, GLBA, FISMA/NIST, CJIS,  GDPR and others.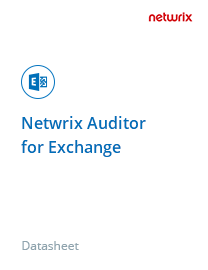 Learn more about how Netwrix Auditor for Exchange helps organizations just like yours improve detection of insider threats and pass compliance audits with less effort.
Download Free Guide (.pdf)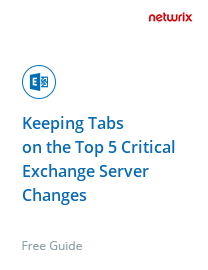 See how Netwrix Auditor's actionable intelligence can help you keep tabs on the 5 most critical Exchange Server changes by providing raw log data in a  human-readable format.
Download Free Guide (.pdf)
Find out how organizations of all sizes use Netwrix Auditor for Exchange
to enhance data security and
streamline compliance
"We implemented mailbox auditing with Netwrix Auditor and it is reporting on what we hoped it would. All Netwrix products we are using are working well. Thank you!"

Sean Martin, Technical Services Manager,
NightOwls IT Services
Microsoft Exchange Server auditing for security
and compliance
Microsoft Exchange is the most critical system for most organizations. Ensuring the confidentiality of corporate email data and the continuous availability of email service are critical, since loss of sensitive email data to unauthorized strangers or Exchange Server downtime may cost an organization millions of dollars and damage its reputation. The ability to audit Exchange mailbox access, mailbox settings and changes to Exchange Server configuration is critical to ensure data security, compliance and ongoing email availability.
A comprehensive solution for
Exchange reporting
Netwrix Auditor for Exchange is a comprehensive Microsoft Exchange reporting solution that helps you stay on top of changes made to Exchange server configuration and permissions, including changes to public folder permissions. It delivers easy-to-read reports that show in detail all objects that have been created, deleted or modified and all changes to settings, including who changed what and when and where the change happened, so Exchange admins can keep an eye on activity and quickly respond to inappropriate or unauthorized actions. Going far beyond what native admin tools can offer, the application also helps admins gain control over non-owner mailbox access events.
Email server monitoring with Netwrix Auditor
for Exchange
Organizations need to protect sensitive and business-critical data contained in Exchange mailboxes and databases from leaks and losses. Therefore, auditing of Exchange Server is an essential part of any IT security program.
Netwrix Auditor for Exchange is a dedicated software application for auditing activity in the Microsoft Exchange environment. It provides continuous tracking, simple reporting and long-term archiving of detailed information about changes made to Exchange server objects, configuration and permissions, as well as monitoring of Exchange email access by non-owners. This helps organizations protect confidential and sensitive data from being compromised.
Keep a tight grip on Exchange activity with comprehensive
Microsoft Exchange monitoring
Staying abreast of activity across your Exchange Server is essential to maintaining efficient Exchange management, securing data in mailboxes and diligently adhering to compliance requirements. Netwrix Auditor for Exchange offers Microsoft Exchange monitoring software that enable you to gain visibility into user activity, critical changes (such as changes to users' Exchange Server roles), server configuration, permissions and client access events. Complementing the capabilities of native tools, Netwrix Auditor for Exchange won't let any aberrant activity across your Exchange environment slip under your radar.
Mailbox audit logging to stay on top
of privilege abuse
Do you know which admins and employees in your Exchange Server network have full access permissions to other user's mailboxes? Can you be 100% sure that these users won't abuse your trust and take advantage of their privileges to view, edit or delete sensitive information from the CEO's mailbox or an Accounting department shared mailbox? To shore up your defenses against privilege abuse, you need efficient Exchange mailbox auditing that enables you to keep an eye on unauthorized non-owner actions, such as access to another user's mailbox, along with any reads, modifications and deletions performed in it. Netwrix Auditor for Exchange collects and stores a complete Exchange audit log and delivers ready-to-use reports with deep insights about who accessed another user's mailbox and more, eliminating the need to write and run numerous PowerShell scripts.