Netwrix Auditor for
Exchange
Continuous Exchange Monitoring
Non-owner mailbox access events
Many mailboxes, such as your CEO's mailbox, contain sensitive and business-critical messages, so it's important to keep a close eye on each non-owner access attempt, whether the mailbox is stored on premises or in the cloud. With Microsoft Exchange monitoring software from Netwrix, you can see who accessed which mailbox, when and from which IP address the attempt was made, and exactly which items were viewed, edited or deleted, so you can respond promptly and prevent a data breach.
Identify high-risk user accounts on the prowl
Office 365 and third-party monitoring tools provide basic threshold-based alerts on changes to the Exchange database and mailboxes, but they are likely to miss more sophisticated threats. Netwrix Auditor provides a unified view of all anomalous activity alerts triggered by an individual across all audited systems, along with each user's cumulative risk metrics, to improve detection of threat actors and help you make more informed remediation decisions faster.
Investigate operational incidents and troubleshoot issues faster
Whenever Exchange services go down or Outlook status indicates connectivity problems, you don't have time to slog through cryptic native logs for mail client failures or painstakingly analyze the mail queue. Netwrix Auditor's Interactive Search empowers you to quickly sort through your audit data and fine-tune your search criteria until you find the root cause of the problem. Save your queries as custom reports to speed investigation of similar incidents in the future.
Simplify compliance audit preparation
Even if you carefully monitor Exchange Server and Exchange Online and set up proper alerts, it can still be challenging to demonstrate to auditors that you are in full compliance with regulatory requirements. With Netwrix Auditor, you can pass compliance audits faster and with less effort by providing auditors with ready-to-use compliance reports mapped to common regulatory standards, including PCI DSS, HIPAA, GDPR, SOX, GLBA and FISMA/NIST.
What else do I get with Netwrix Auditor
for Exchange?
Easy integration with your ecosystem
Netwrix Auditor can be integrated with any ecosystem through its RESTful API, so you can easily monitor multiple IT systems and applications from a single place. Free, ready-to-use add-ons are available for many common applications, including SIEM solutions.
Automated incident response
Routine tasks, like expanding mailbox storage capacity when the limit is close to being reached, can take a lot of your time and distract you from other important duties. With Netwrix Auditor, you can automatically handle tasks like these by embedding scripts in alerts, ensuring a prompt and accurate response without interrupting your work.
Cost-effective data storage
Native Microsoft Exchange monitoring tools and Office 365 don't provide an easy way to retain all audit data. Netwrix Auditor stores your audit trail in a two-tiered (file-based + SQL database) storage for more than 10 years, while enabling quick and easy access to the archived data for historic reviews and inquiries.
Granular access to the platform
To ensure that your Exchange infrastructure monitoring process is secure, Netwrix Auditor empowers you to granularly assign the appropriate access rights to IT administration and business team in accordance with their job responsibilities, helping you strictly adhere to the least-privilege principle.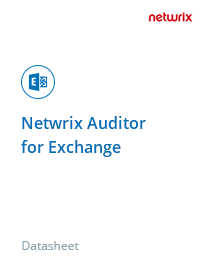 Learn more about how Netwrix Auditor for Exchange can help you streamline server auditing, pass compliance audits with less effort and ensure high email service availability.
Download Datasheet (.pdf)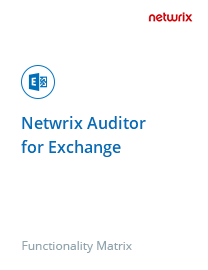 Get a convenient list of capabilities of Netwrix Auditor for Exchange in a fill-in-the-blank format that streamlines comparison with Exchange Server monitoring software from other vendors.
Download Matrix (.pdf)