Netwrix New Releases and News – May 2011
Check out recent releases, learn about Netwrix´s recent Best of TechEd honors, get access to Don Jones´ free white paper about Active Directory auditing, have a laugh with the Comic Cartoon of the Month, and much more.
Did you know that Netwrix is on LinkedIn? Join our group today to connect with fellow IT professionals.
SCOM Management Pack for Netwrix Change Reporter Suite
IT infrastructure change reporting integrated with System Center Operations Manager
Netwrix recently released the SCOM Management Pack for Change Reporter Suite for automated auditing of the entire IT infrastructure. This MP captures all changes made to Active Directory, GPO,  MS Exchange and other systems.
Change Reporter For Virtual Machine Manager
Version 2.0 released with Who, What, When and Where Reporting on all SC VMM Changes
Netwrix Change Reporter for System Center VMM automatically reports who changed what, when and where in the entire SC VMM configuration such as changes made to virtual machines, host groups, libraries, hosts etc.
Privileged Account Manager
Version 4.1 with new freeware edition
This product provides a secure web-based portal for accessing all shared administrative user accounts (such as Administrator and root) with auditing of who used what accounts and when. New features and the freeware edition of this product are now available.
Netwrix at TechEd North America 2011
Meet the Netwrix team in Atlanta next week
Netwrix will be at Microsoft TechEd North America in Atlanta, GA next week from May 16-19. Don´t forget to visit Netwrix booth #1047 for a product demo and your chance to take a spin on a Netwrix roulette wheel to win Amazon Kindles, T-shirts and more. Everyone wins! Respond to this e-mail to set up a meeting.
Netwrix Password Manager Named Best of Tech•Ed Finalist
Windows IT Pro Selects Netwrix in Systems Management and Compliance Category
Windows IT Pro has selected Password Manager as a Best of TechEd Award Finalist in the Systems Management and Compliance Category, selected out of more than 45 nominees. Netwrix Password Manager allows end users to securely manage their passwords.
5 Reasons to Read the Netwrix Blog
One visit and we´ll become an instant favorite
1) Expert Analysis: Articles from industry experts.
2) Exclusive Offers: Provides readers of its blog with exclusive offers.
3) Timely Information: Provides readers with timely information about the IT industry.
4) Express your thoughts: Let your voice be heard by way of provocative comments.
5) Easy Access: Subscribe via RSS and read new content regularly.
Comic Cartoon of the Month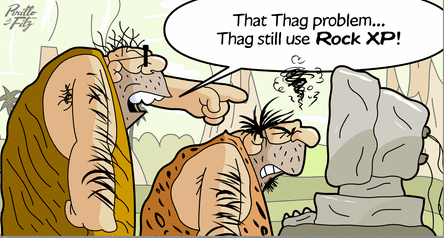 To get updates and engage in conversations, please connect with Netwrix on Facebook, Twitter, LinkedIn and Netwrix blog at our Social Communities page.