Netwrix Auditor for
SQL Server
SQL Server Security Auditing
Information on successful and failed login attempts
For security and compliance purposes, it's important to audit every login attempt to your SQL Server databases. Netwrix Auditor delivers visibility into successful and failed logins to SQL Server instances through Windows or SQL Server authentication, along with details about the name of the account and the application used to log in. This facilitates prompt detection of unauthorized access and possible attacks.
Insight into data sensitivity
To protect your sensitive data, you need to know exactly where it resides on your SQL servers and the level of security around it. Netwrix Auditor's Data Discovery and Classification enables you to identify sensitive data across your SQL Server instances so you can make sure that no critical information is stored outside of a secure location in violation of corporate security controls and regulatory standards.
Improve detection of abnormal behavior
Insiders can tread carefully as they conduct reconnaissance and slowly home in on sensitive information. To make sure that no malicious insider slips under your radar, Netwrix Auditor provides a single view of all anomalous behavior in your environment, highlighting the users who pose the highest risk.
Investigate security incidents and troubleshoot issues faster
If someone deletes one of your databases, you'll want to immediately investigate how that happened. Instead of manually reviewing native database audit events, use Netwrix Auditor's Interactive Search to quickly address your specific questions. Plus, you can create custom reports and set up alerts based on your findings to stay aware of similar incidents in the future.
Pass compliance audits with less effort
Whenever you prepare reports for auditors, going through the native SQL Server audit logs is time-consuming and not very efficient. With Netwrix Auditor, you can slash time on audit preparation by making use of out-of-the-box compliance reports tailored to PCI DSS, HIPAA, GDPR, SOX, GLBA, FISMA/NIST and other common regulatory standards.
What else do I get with Netwrix Auditor
for SQL Server?
Easy integration with your ecosystem
Unlike many other SQL Server security auditing solutions, Netwrix Auditor has a RESTful API that lets you integrate it with other security, compliance and IT management tools so you can expand visibility to other systems and have your entire audit trail available from a single place.
Automated incident response
With Netwrix Auditor, you can automate response to common SQL Server management tasks and anticipated incidents by embedding scripts in alerts. For example, you can lock out an admin user who is trying to alter SQL Server configuration. This functionality empowers you to react to threats faster and ensure a prompt and consistent response.
Cost-effective data storage
Many regulatory compliance standards require retaining the SQL Server audit trail for extended periods. Netwrix Auditor security auditing software can store your audit trail in a two-tiered (file-based + SQL database), cost-effective storage for more than 10 years, while enabling easy access to the archived data for historic reviews and inquiries.
Granular access to the platform resources
To keep the SQL Server auditing process secure, Netwrix Auditor enables you to granularly assign the appropriate access rights to specific administrators or groups of users in accordance with their job responsibilities, enabling you to adhere to the least-privilege principle.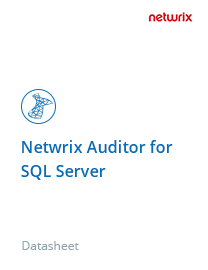 Read how Netwrix Auditor for SQL Server can help you detect database security threats, pass compliance audits with less effort and increase the productivity of your DBAs.
Download Datasheet (.pdf)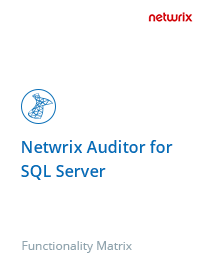 Get a convenient list of the functionality of Netwrix Auditor for SQL Server in a fill-in-the-blank format that facilitates comparing it with other SQL Server security auditing tools.
Download Matrix (.pdf)