Find out which specific CCPA compliance requirements you can address with Netwrix solutions
The California Consumer Privacy Act (CCPA) came into force on January 1, 2020. This data protection regulation grants California residents more control over their personal information collected by large organizations, regardless of location, including the right to inspect their personal data, opt out of its sale to third parties and request its deletion. The CCPA compliance platform from Netwrix can help you establish a comprehensive compliance plan, implement proper data security controls and provide evidence that those controls are aligned with the following CCPA data privacy requirements:
§ 1798.100
§ 1798.105
§ 1798.110
§1798.110 (b)
§1798.110 (с)
§ 1798.115 
§1798.115 (b)
§1798.115 (с)
§ 1798.120
§ 1798.130
§ 1798.150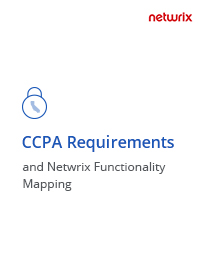 Learn more about how Netwrix can
support your CCPA compliance
privacy program.
Depending on the configuration of your IT systems, your internal procedures, the nature of your business and other factors, Netwrix might also facilitate compliance with provisions of the CCPA 
not listed above.
See how you can ensure and prove CCPA compliance using Netwrix solutions
CCPA compliance software from Netwrix enables you to easily identify where CCPA-regulated data resides in your IT infrastructure, who has access to it and how it is used, as well as keep an eye on suspicious activity around it, so you can ensure that no consumer information is overexposed or misused, promptly satisfy  data subject access requests, and easily pass CCPA compliance audits. 
Start your compliance program by knowing what data you store
Locate and tag all the CCPA-regulated information you store across all of your structured and unstructured data silos.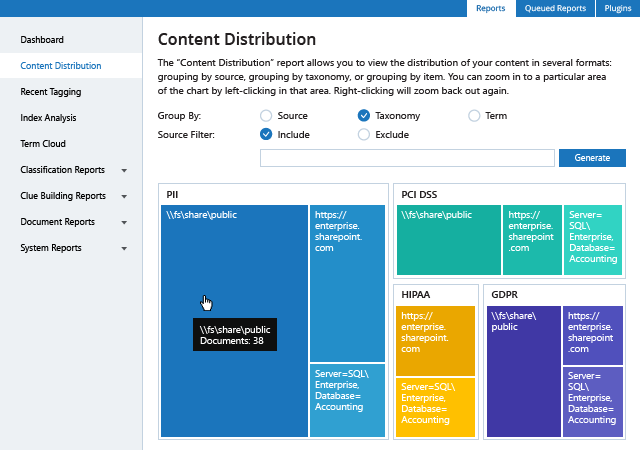 Continuously assess and minimize data and infrastructure security risks
Identify both data and infrastructure security gaps in your environment, such as a large number of inactive user accounts or empty security groups. Prioritize and mitigate those risks, and prove to auditors that you're actively reducing your attack surface area.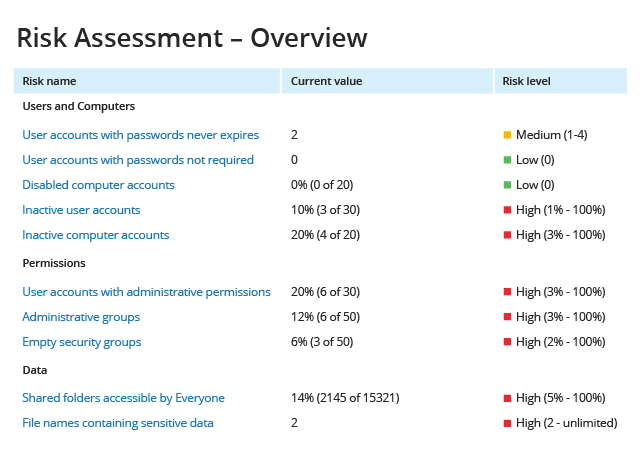 Identify sensitive data that is overexposed and protect it
Continuously look for files containing regulated data that pop up in unsecure locations or have excessive access rights assigned to them. Automatically move them to a more secure area or remove the inappropriate permissions in order to avoid data breaches and costly audit findings.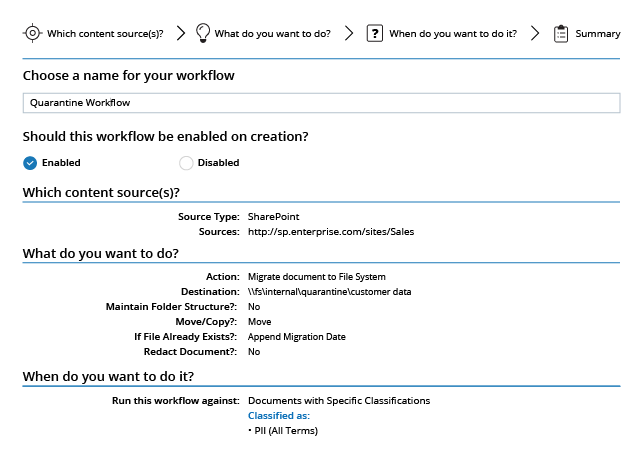 Fulfill data subject access requests with less effort and expense
Automatically locate all the information about California consumers who submit DSARs to dramatically reduce the effort and budget required to satisfy these requests and avoid fines and other penalties for non-compliance.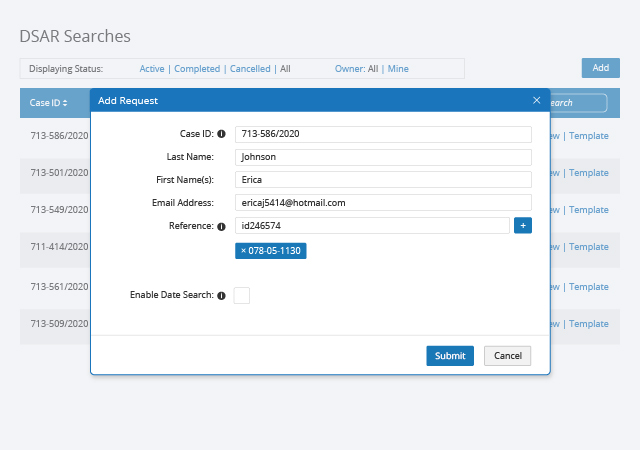 Check out how Netwrix helps companies like yours secure regulated data and prove their compliance
customer success
Peoples Savings and Loan Company keeps customer PII safe and easily passes government audits. 
Read the Story
customer success
First National Bank classifies all the regulated data it stores and ensures prompt detection of suspicious activity. 
Read the Story