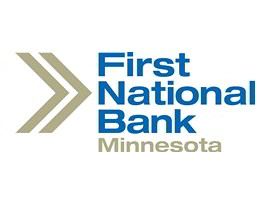 First National Bank MN
Bank Secures Sensitive Data and Rebuilds its Active Directory in Three Weeks Instead of Six Months
8 times faster
Active Directory cleanup
Netwrix helps us be more proactive. We can quickly catch malicious activity in the network we might not otherwise see. Our sensitive data is more secure because Netwrix enables us to know exactly where it resides and who has access to it. I don't want to think of life without Netwrix. It makes things so much easier.

Holly McCoy, Senior Information Systems Officer, First National Bank Minnesota
Rebuild Active Directory to reduce its complexity and improve security.
Secure the sensitive financial data of the bank's customers, such as income verification, Social Security numbers and employment history.
Mitigate risk of data breaches.
It would have taken us at least six months to upgrade Active Directory. With Netwrix Auditor, it was a three-week project. I also know that we have done it completely accurately, thanks to the precise information it provides. Now the environment is much more secure and we do not have any loose ends or broken GPOs in Active Directory.

Holly McCoy, Senior Information Systems Officer,

First National Bank Minnesota
Holly opted for Netwrix because of rich feature-set and ease of use, so she didn't have to appoint a dedicated employee to run the software.
Discover, classify and secure sensitive data. Holly ensures that customer data is located only in secured locations and that only authorized users can access it. Holly knows exactly what kind of data an organization stores and where; what information needs to be encrypted, relocated or erased; and whether access to it is granted on the need-to-know basis.
Detect suspicious activity faster. Daily activity summaries and alerts on the most critical actions enable Holly to timely detect suspicious activity in all business-critical IT systems. She receives alerts on anything that is out of whack and might require attention: logins outside of business hours, mass modifications of sensitive files, and unauthorized access to data. These alerts are brilliant for early warnings of ransomware or insider misuse, or stable operations.
Rebuild AD with less effort. Reports on the state of GPOs and the membership of security groups enabled Holly to slash the time required to clean up Active Directory. As an added value, Netwrix reduced Holly's daily workload, so she could focus on more strategic tasks. She needs mere minutes to do monthly audits of group membership and ensure that employees have access to all the applications and data they need for their job and no more.
Key Benefits
Sensitive data moved to secure location
Data access on the need-to-know basis
Fast infrastructure cleanup
First National Bank Minnesota (FNB MN) was founded in 2005 as a result of the merger of the Security State Bank of Mankato and the First National Bank of St. Peter, which dates back to 1857. FNB MN has offices in St. Peter, Mankato and Gaylord, Minnesota, U.S. It offers a wide variety of personal banking products and services, business banking solutions, and investment services.
Customer: First National Bank MN
Industry: Financial Services
Website: fnbmn.com