Data Classification Software
that Empowers You to Identify and Secure
Sensitive Content
Most data classification tools don't go the extra mile. Their technology only looks for specific terms in your files; it doesn't provide the intelligence you need to secure the personal information of your customers or employees. Netwrix Auditor is capable of more than simply classifying your data — it provides complete visibility into where sensitive files are, what content is inside, who can access the files and who actually
uses them.
No need to deploy the product
Predict
Use data classification to locate
and understand your sensitive data
Gain a high-level view of the sensitive data
you store
Go beyond traditional guidelines for data classification and identify exactly what kinds of protected information you have on your shares, including financial data, medical records and other
types of PII.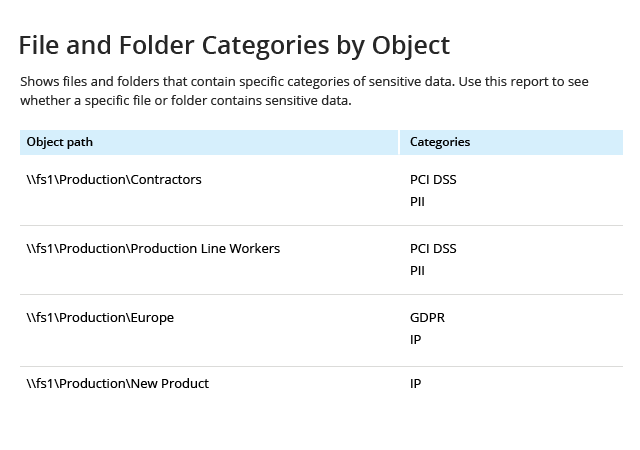 Prioritize your efforts and spending on the most critical
assets first
Perform classification of data to determine the sensitivity levels of information stored on your organization's file servers. Identify the shares with the highest concentrations of sensitive data and make sure to design and implement risk-appropriate access controls
for them first.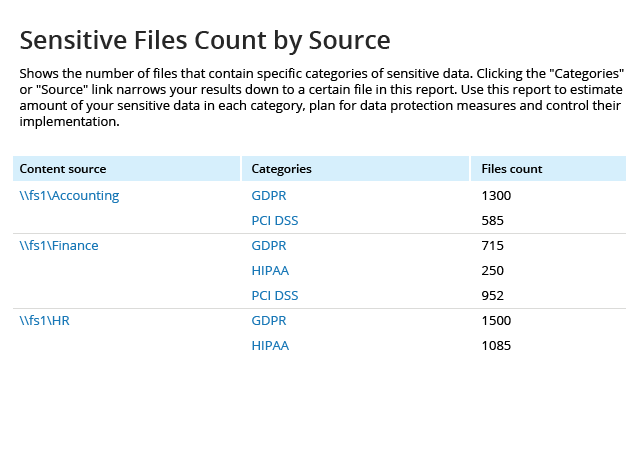 Be ready to accommodate new data
security regulations
Easily discover the data that GDPR and other data protection standards require you to protect. Customize your data classification schemes and criteria to establish a solid foundation for complying with future data protection requirements, as well as industry best practices
and classification guides.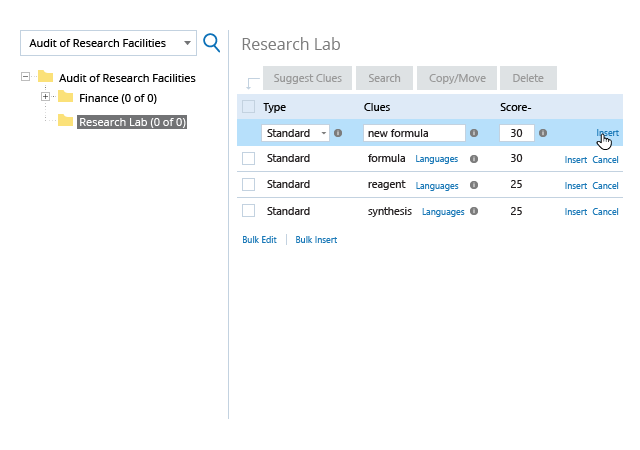 Prevent
Reduce your attack surface by involving
key stakeholders in data security
Identify owners of
sensitive data
Examine data classification results to easily determine who owns each sensitive file. Work with them to make more informed data management decisions, including creating and maintaining risk-appropriate access policies
around this data.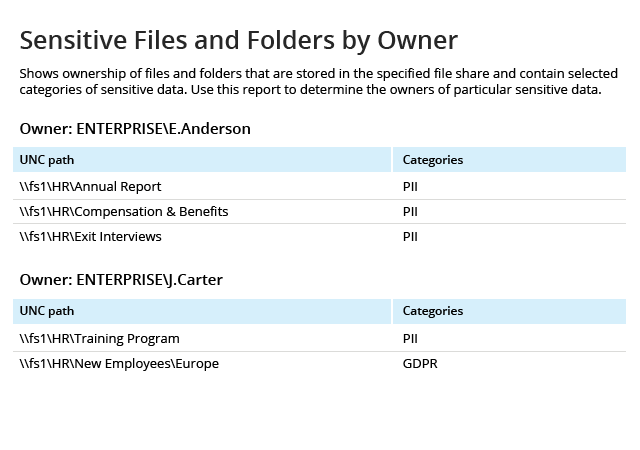 Streamline permissions attestation procedures
Unlike legacy data discovery tools, Netwrix Auditor enables you to review user entitlements. Assess whether access rights to file server resources in your network are aligned with the roles and responsibilities of business users, and pass this intelligence to your IT operations team so they can revoke
excessive permissions.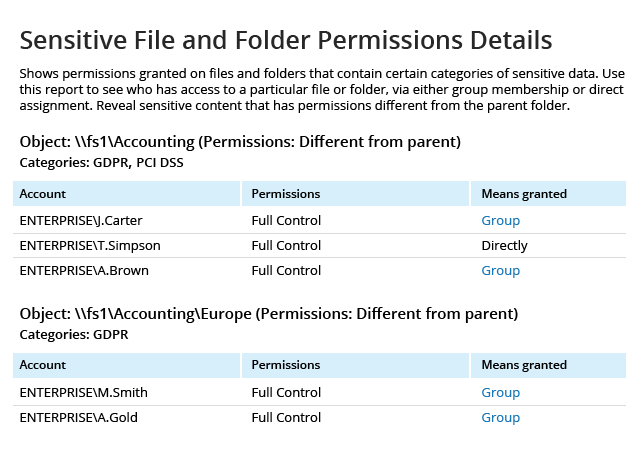 Detect
Classify your data to prioritize security incidents that threaten sensitive information specifically
Discover sensitive data outside of dedicated
secure locations
Detect any PII, PCI, PHI or copyright-protected information that surfaces outside of a secure location to minimize the risk of it going public. See which types of data are involved, how much data is threatened and how many people can access it so you can
respond appropriately.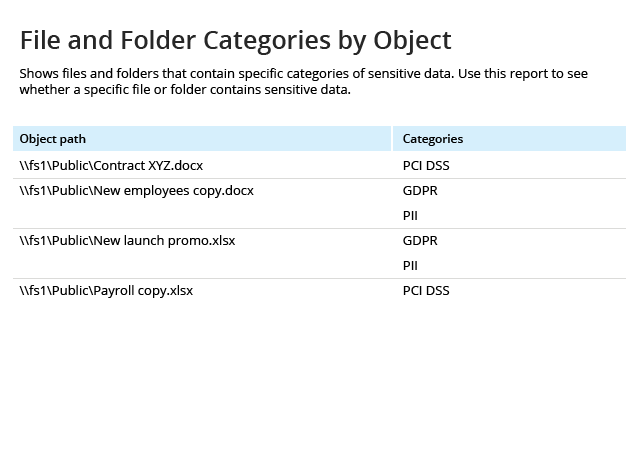 Detect unauthorized activity around your
sensitive data
Get the full context around activity with protected information and ensure that events that threaten that data, such as improper permissions changes or repeated failed read attempts, are captured, alerted on, reported on and stored in your database for
later review.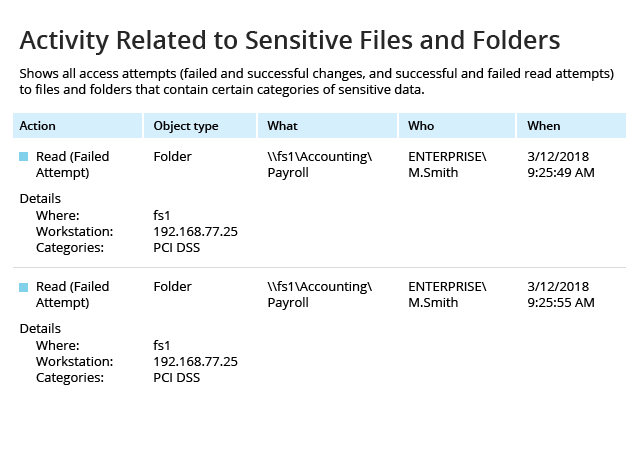 Prove the effectiveness of your data security policy
to compliance auditors
Demonstrate that you know exactly where sensitive data resides and quickly provide evidence that only eligible employees can read, modify, share or delete those
critical files.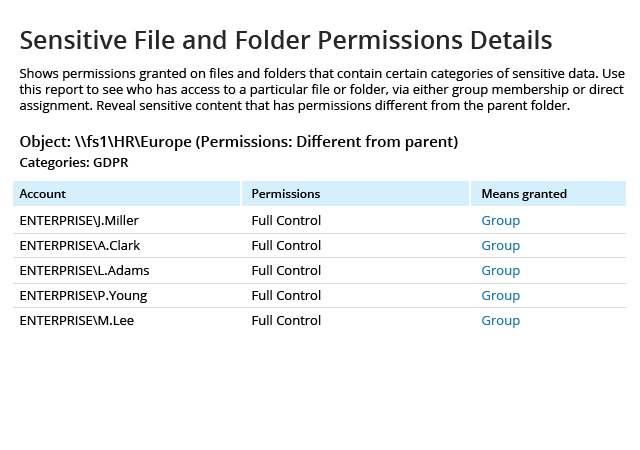 Respond
Use data classification software to examine
the outcome of a breach
Determine the severity of
a data breach
Analyze how much data a malicious insider or a compromised internal account had access to and exactly which pieces of data were actually viewed, modified or deleted, so you can notify all affected parties, including regulatory administration bodies, and take other
appropriate steps.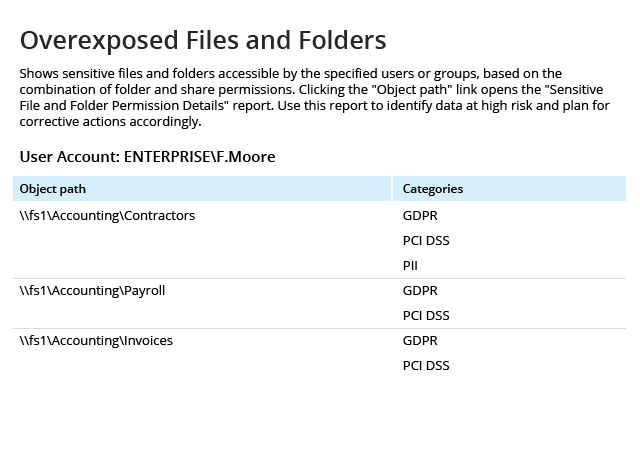 What's Netwrix Auditor's Data Discovery

and Classification?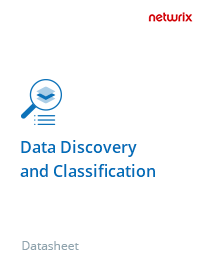 Learn more about how Netwrix Auditor's Data Discovery and Classification empowers organizations just like yours to prioritize their efforts and secure data in accordance with its value or sensitivity.
Do you want to know more about the roadmap of Netwrix Auditor's Data Discovery and Classification? Are you interested in high-performance classification of data in the cloud and on-premises systems other than file shares? We look forward to hearing from you.
Contact Us