See which audit requirements
you can address to pass
FFIEC audits
The provisions of the Gramm-Leach-Bliley Act (GLBA) that regulate the security of nonpublic personal information are presented in Title V – Privacy. These provisions stipulate that financial institutions doing business in the United States must establish appropriate information security controls to ensure the security and confidentiality of customer records and information, protect against unauthorized access to or use of such records or information which could result in substantial harm or inconvenience to any customer, and protect against any anticipated threats or hazards to the security or integrity of such records.
The Federal Financial Institutions Examination Council (FFIEC) designs and supervises audits for most federal agencies that oversee financial institutions. The FFIEC provides extensive guidelines for information security and risk management that help financial organizations achieve and prove compliance with GLBA safeguards and rules. Netwrix can help you pass GLBA audits by ensuring continuous compliance with the following FFIEC requirements:
II. Information Security Program Management
II.A Risk Identification
II.A.2 Vulnerabilities
II.B Risk Measurement
II.C Risk Mitigation
II.C.5 Inventory and Classification of Assets
II.C.7 User Security Controls
II.C.7(c) Segregation of Duties
II.C.10 Change Management Within the IT Environment
II.C.10(a) Configuration Management
II.C.13 Control of Information
II.C.13(a) Storage
II.C.15 Logical Security
II.C.15(a) Operating System Access
II.C.15(b) Application Access
II.C.15(c) Remote Access
II.C.18 Database Security
II.C.22 Log Management
II.D Risk Monitoring and Reporting
III. Security Operations
III.A Threat Identification and Assessment
III.B Threat Monitoring
III.C Incident Identification and Assessment
III.D Incident Response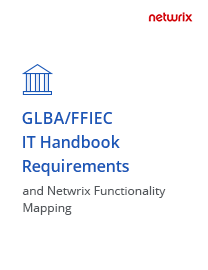 Learn more
about how
Netwrix can help you pass
FFIEC
compliance audits.
Depending on the configuration of your IT systems, your internal procedures, the nature
of your business and other
factors, Netwrix might also facilitate compliance with
provisions of the FFIEC IT Handbook
not listed above.
Find out how exactly Netwrix solutions can support your
compliance program
The Netwrix solutions enable control over changes, access events and configurations to help ensure the confidentiality, integrity and availability of sensitive financial data in both on-premises and cloud-based IT systems and applications. This GLBA compliance software provides security intelligence to identify security holes, streamline user behavior analysis and investigate threat patterns in time to prevent disclosure of customer
personal information.
Get a bird's-eye view of your security weak spots
You don't need to have a separate GLBA risk assessment software tool; with Netwrix, you get risk assessment and other compliance functionality all in one solution. It provides an overview of your security gaps in three major areas: account management, security permissions and
data governance.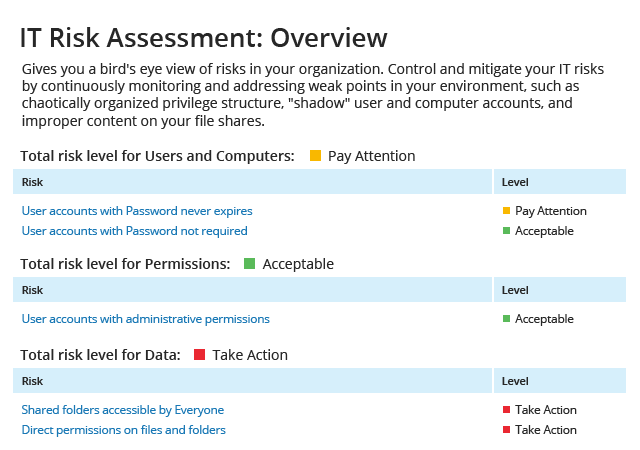 Discover and mitigate customer financial data outside of a secure location
Netwrix reports on the exact location of regulated data stored on your file servers. Regularly review this information to detect sensitive data that surface outside of a secure location in a timely manner to minimize the risk of a data breach. See exactly which data is at risk so you can protect
it appropriately.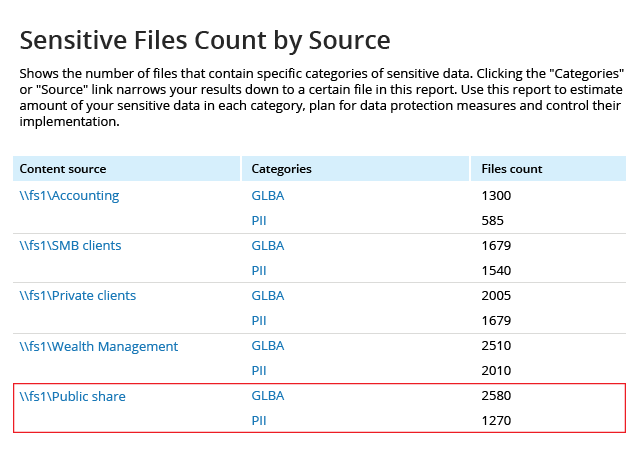 Stay on top of malicious activity
Get alerted about all suspicious activity to block attacks in their early stages. For example, a login attempt to one of your network devices using the credentials of a disabled account might indicate external attackers trying to lay their hands on your
critical resources.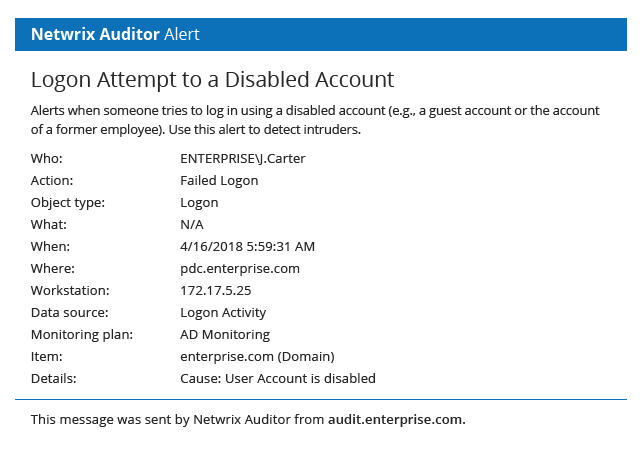 Streamline regular attestations of access rights to sensitive financial records
Improve the security of customer financial data with regular monitoring of data access rights. Verify that permissions are aligned with your enterprise security policy and employees' job description. Contact data owners to get them involved in determining who should be able to view, edit, share or delete
sensitive data.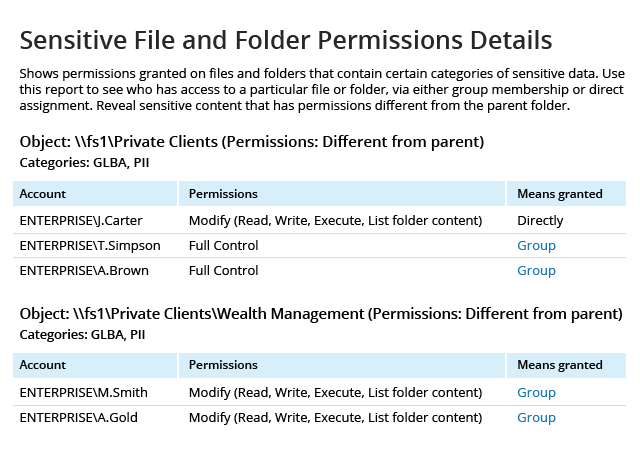 Quickly get answers to unexpected questions from auditors
Unlike native log management tools, Netwrix enables you to quickly find the information in your complete audit trail; just fine-tune your search criteria until you find the exact
information you need.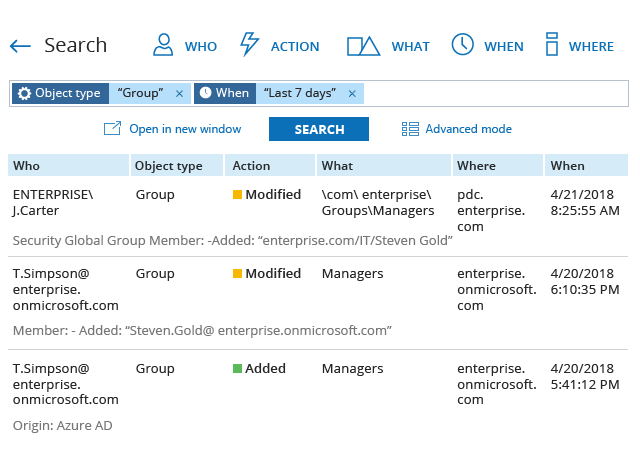 Read our case studies to discover why financial companies make Netwrix an inherent part of their
compliance programs
customer success
Forreston State Bank
saves 8 hours a week on auditing processes
and ensures continuous compliance with FFIEC and
GLBA requirements.
Read the Story
customer success
Bank of the South consistently receives high ratings from the examiners and stays compliant with GLBA and PCI DSS regulatory standards.
Read the Story