Many enterprises rely on security information and event management (SIEM) platforms to solidify the security of their IT infrastructures and ensure compliance with regulatory standards. Designed to collect and analyze vast amounts of machine-generated data from anywhere in the IT environment, SIEM solutions are expected to detect security incidents and prevent data breaches. However, studies show that only 8% of data breaches in recent years have been discovered by SIEM systems.
To get more value from your SIEM and improve your IT governance strategy, integrate your SIEM solution with Netwrix Auditor. This integration enables you to feed more granular data into your SIEM system and bring more context to SIEM output data. As a result, you can speed investigations of SIEM alerts on user behavior anomalies and minimize the volume of indexed data — making your SIEM more cost-effective.
Netwrix Auditor can be integrated with any existing SIEM solution — Splunk, HP ArcSight, IBM QRadar, LogRhythm and others — through a RESTful API. Simply choose the free add-on designed to export data from Netwrix Auditor in the format your SIEM software supports as input: CEF format or event log format. Both add-ons for SIEM integration are available for download in the Netwrix Auditor Add-on Store.
Event "Default Domain Policy Change" provided by SIEM before
Netwrix Auditor integration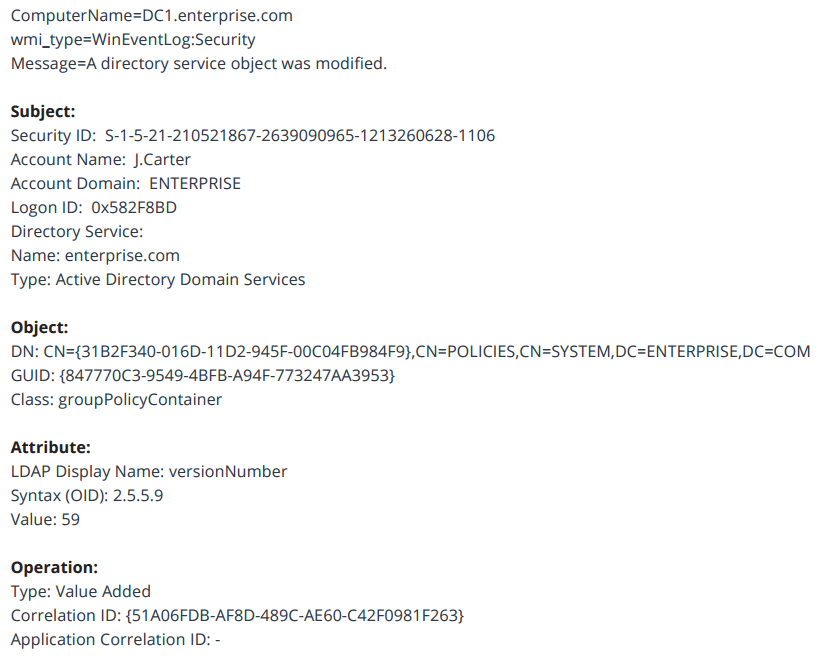 Event "Default Domain Policy Change" provided by SIEM after
Netwrix Auditor integration