Netwrix Auditor for
SharePoint
SharePoint Auditing Software
Read events for documents and lists
If you don't regularly audit who accesses which documents and lists in your SharePoint environment, someone might view a file that they are not supposed to see and you won't know about the violation. Netwrix Auditor makes it easy to regularly review read access events so you can make sure that corporate data is not touched by unauthorized personnel.
Insight into data sensitivity
If your organization has to comply with regulatory standards, it's crucial for you to know what kinds of sensitive information you store and whether it's properly secured. The Data Discovery and Classification edition empowers you to find sensitive data stored on your SharePoint Server so you can make sure it is protected in accordance with corporate security policies and regulatory standards.
Improve detection of internal and external threats
If an attack is sophisticated, basic alerting is not enough. While many solutions can alert you when a single event occurred or when a specific threshold has been exceeded, some threats involve a chain of suspicious actions stretching across time. Netwrix Auditor provides a single view of all anomalous activity alerts triggered by an individual across all audited systems and the cumulative risk score so you can spot malicious insiders and compromised accounts — even if they tread carefully.
Slash investigation time with interactive search of audit data
Whenever you need to investigate a security incident, figure out what caused downtime or address ad-hoc questions from auditors, Netwrix Auditor's Interactive Search saves you from having to dig this information out of native SharePoint audit logs. With Interactive Search, you can quickly find answers to specific questions that fall outside of the predefined reports, such as who deleted files stored in a document library or who changed group membership. Plus, you can create custom reports based on your search criteria to stay aware of similar incidents in the future.
Streamline compliance audit preparation with ready-to-use reports
If you rely solely on native SharePoint auditing tools, it can be hard for you to demonstrate to auditors that you do everything possible to secure your data. Netwrix Auditor makes this task simple with out-of-the-box compliance reports tailored to the requirements of PCI DSS, HIPAA, GDPR, SOX, GLBA, FISMA/NIST and other regulatory standards so you can pass audits with far less time and effort.
What else do I get with Netwrix Auditor
for SharePoint?
Easy integration with your ecosystem
To provide a unified audit trail for the broadest range of different data sources, Netwrix Auditor has a RESTful API that allows you to integrate any type of commercial or custom application with the Netwrix Auditor platform. Free, pre-built add-ons are available for most common applications, including SIEM solutions.
Automated incident response
Responding manually to common and anticipated incidents can eat up a lot of time and increases the risk of mistakes. With Netwrix Auditor, you can automate response to incidents by embedding scripts in alerts, which ensures a consistent, timely response without distracting you from more important tasks.
Cost-effective data storage
Many regulatory compliance standards require retaining the SharePoint audit trail for extended periods. Netwrix Auditor can store your audit trail in a two-tiered (file-based + SQL database) cost-effective storage for more than 10 years, and enables easy access to archived data for historic reviews and inquiries.
Granular access to the platform resources
You can make sure that only authorized personnel can configure auditing and view audit reports in Netwrix Auditor. Simply granularly assign the appropriate access rights to each IT administration and business team in accordance with the least-privilege principle.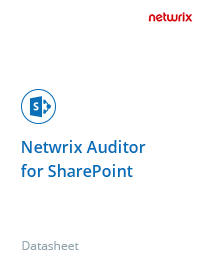 Learn how features of Netwrix Auditor for SharePoint can help you detect data security threats, successfully pass compliance audits and increase the productivity of your IT team.
Download Datasheet (.pdf)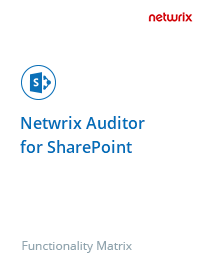 Quickly review the functionality of Netwrix Auditor for SharePoint in a format that facilitates comparing it with similar products.
Download Matrix (.pdf)