Tame Your Unstructured Data with
File Analysis
File analysis in Netwrix Auditor software helps organizations improve their information governance and policy management practices by providing insight into their unstructured data. For example, detailed information about duplicate files and stale data helps them keep their data stores orderly and efficient, and identification of both owners and primary users of data enables better information
management decisions.
Manage the growth of
unstructured data
with file analysis to control storage costs and enhance
user productivity across
the enterprise
Detect redundant copies
of information
Quickly detect copies of files and delete or archive them to free up valuable storage space and eliminate confusion about which copy is authoritative and should be used for decision-making
or business analysis.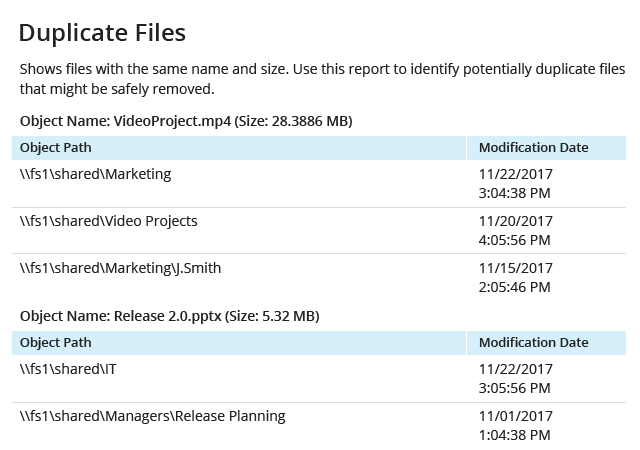 Ensure that stored data is archived in
a timely manner
A significant portion of the data that organizations store is often dark data that is not actually being used. Archiving stale data can reduce storage costs and mitigate security risks, including data exfiltration and
ransomware attacks.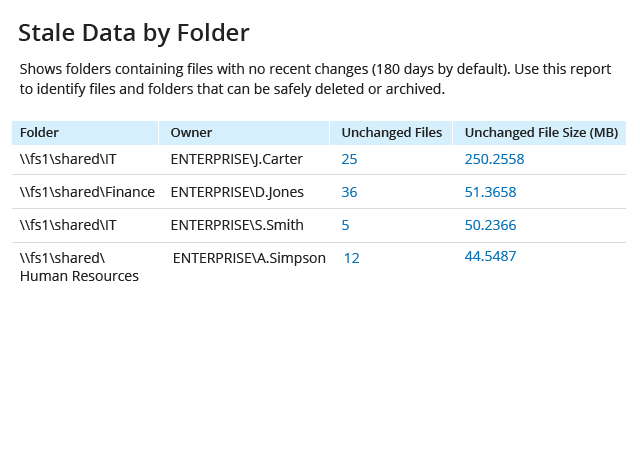 Gain a bird's-eye view of your file
share structure
Get an overview of your file share, including the number of files, folders and data owners, as well as the total file size. Use this information to keep an eye on the use of storage quotas and spot sudden spikes in the number of files
on the share.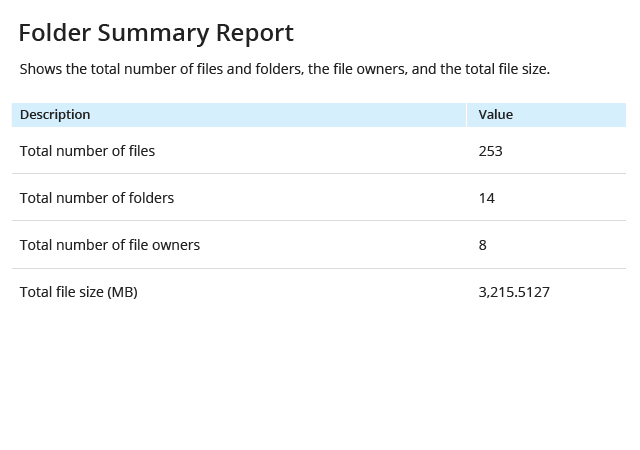 Get details about the largest files on
your file servers
Identify the largest files on your network storage devices and determine how to best approach them with details about who the file owners are; where the files are located; and when they were created, last modified
and last accessed.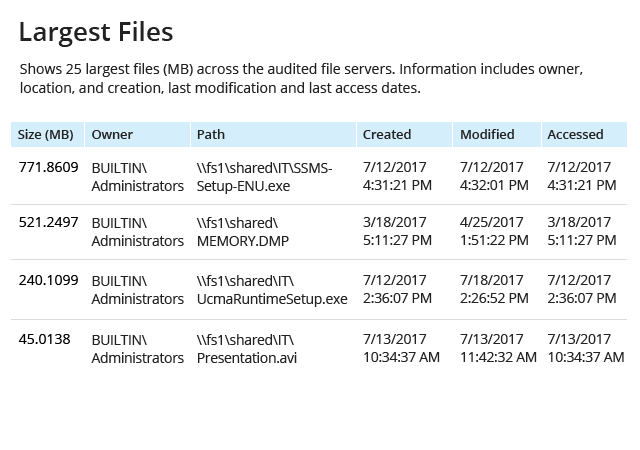 Clean up your
data structures
Identify and remove empty folders to ensure your file shares are efficient and easy to use. Netwrix Auditor shows where each empty folder is located, who owns it and when
it was created.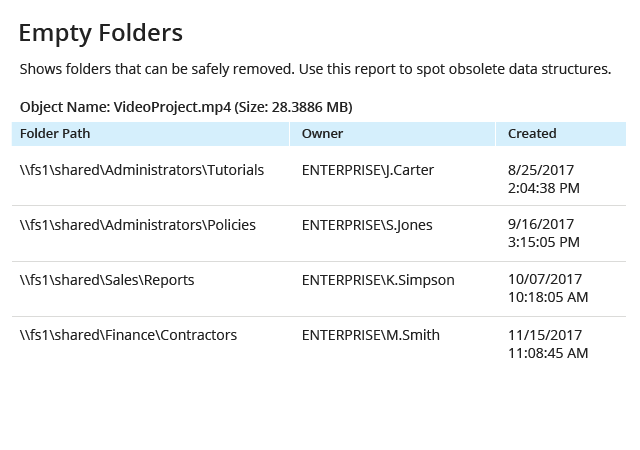 Identify both data owners and
data users
so you can involve them in the data management
process and thereby avoid user downtime
and
improve accountability
Determine who owns
what data
Easily identify who owns what data within a file share so you can involve them in decision-making and ensure they follow proper records
management practices.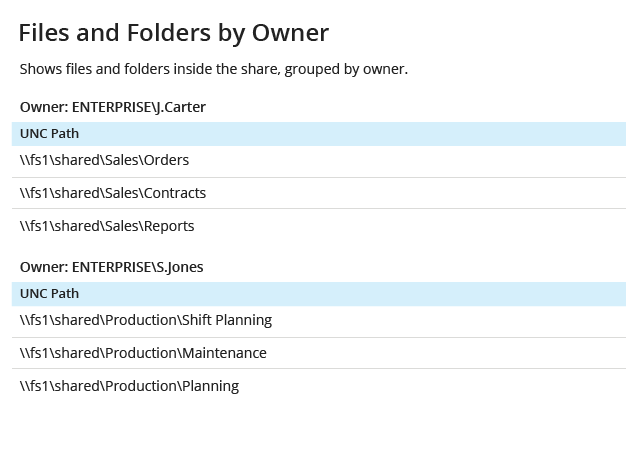 Identify primary
data users
Review data usage patterns to identify both data owners and users who depend on the data to do their jobs, so you can make better data management decisions that do not disrupt
business productivity.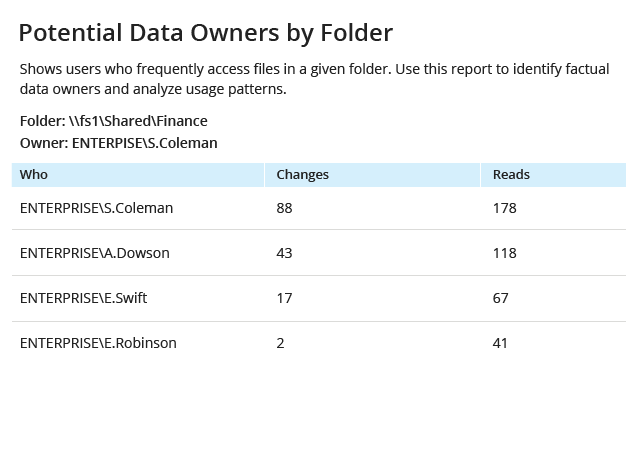 See who owns the most data on your
file servers
Quickly spot data owners who use the most storage capacity and work with them on optimizing
their storage use.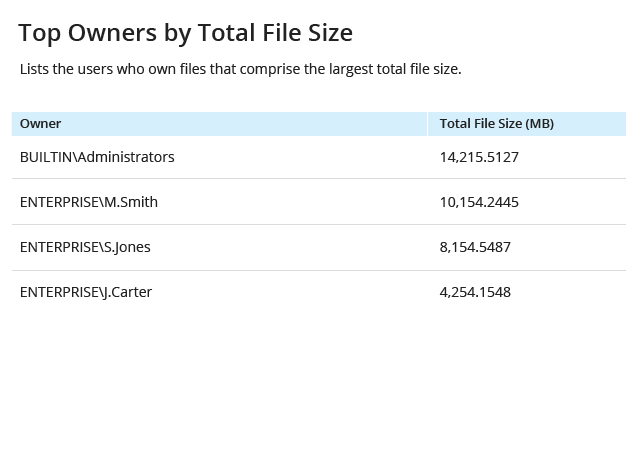 File analysis enables storage managers, legal and security professionals, and business analysis to understand and manage unstructured data stores to reduce costs and risk, increase efficiency of business-critical data, and make better information management decisions for

unstructured data.
Want to also keep data access permissions
and file activity
under control?
Learn how you can do it with Netwrix Auditor
Data Access Governance
Explore how you can achieve strong data access governance across your environment
with Netwrix Auditor.
Learn more
Netwrix Auditor for Windows
File Servers
Stay on top of data and permissions changes, data access events, and file activity on
your file servers.
Learn more