Native Auditing
Netwrix Auditor for Windows Server
Steps
Open the PowerShell ISE → Connect to the computer from which you want to get a list of all local groups by running the following cmdlet and entering appropriate credentials:
Enter-PSSession computername -Credential Enterprise\T.Simpson
Run the following script on each workstation from which you need to get a list of local groups, specifying the network path for export:
Get-LocalGroup | select name | Out-File \\fs1\shared\IT\scripts\localgroups.csv
Open the file produced by the script in MS Excel.

Sample report: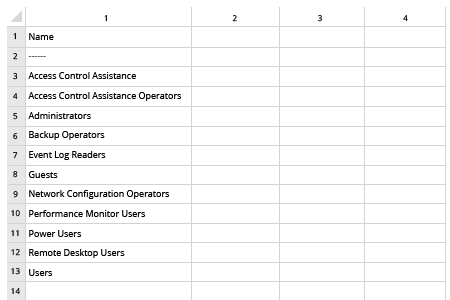 Run Netwrix Auditor → Navigate to "Reports" → Expand the "Windows Server" section → Go to "Windows Server – State-in-Time" → Select "Local Users and Groups" → Click "View".
Set the "Type" filter to "Group".
To save the report, click the "Export" button → Choose a format from the dropdown menu → Click "Save".

Sample report: