Native Auditing
Netwrix Auditor for Windows Server
Steps
With native auditing, you need to run a standalone tool each time you want to record user activity on a specific workstation.
Run PSR.exe (Steps Recorder) → Click "Start Record".
Perform the necessary changes → click "Stop Record".
Click "Save As" → Select the path where you want to save the recorded data → Click "Save".
To view the recorded steps, open the produced mht file in Internet Explorer → Review the screenshots with the recorded steps.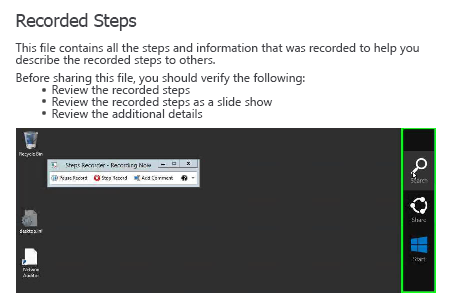 With Netwrix Auditor, you need to enable video recording just once. To enable video recording for a particular workstation:
Run Netwrix Auditor → Navigate to the "Monitoring Plans" tile → Select "Add Plan" → Fill out details and add a new plan.
To view a video record, go back to the main Netwrix Auditor page and navigate to "Reports" → Expand the "Windows Server" section → Go to "User Activity" → Select "All User Activity" → Click "View" → Specify the "From:" and "To:" values → Click "View Report" → Click on the desired time to play the video.