Identity Governance and Administration Leadership Compass by KuppingerCole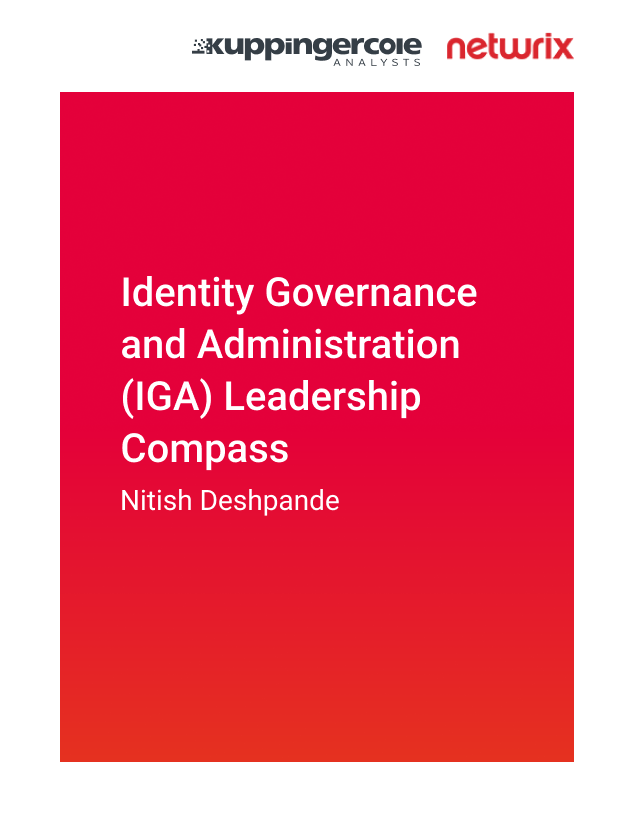 The annual Identity Governance and Administration Leadership Compass from KuppingerCole Analysts AG offers an overview of the IGA market, giving you a roadmap to discover products that satisfy your requirements for implementing a successful IGA program. In the 2022 report, you will find:
IGA market insights
Objective and practical information about IGA products
Impartial evaluations of 25 IGA product vendors
This year, Netwrix was named an Overall Leader, a category that combines an organization's Product Leadership, Innovation Leadership and Market Leadership ratings. The report recognizes the advantages of Netwrix Usercube, including:
Well-balanced set of IGA capabilities
Robust identity management and policy management
Real-time access review and certification
Risk-based access governance
Ease of deployment
If you're looking for a powerful and cost-effective IGA solution, take a look at Netwrix Usercube. It enables you to easily automate, govern and control your enterprise identities through a fully SaaS delivery model. As a result, you can effectively address the security, compliance and efficiency issues associated with people joining, leaving and changing roles within your organization.