SLASH YOUR TIME
ON IT OPERATIONS
MANAGEMENT
IT Operations Management Software
IT operations management (ITOM) is the process of managing the provisioning, performance, availability and capacity of the computing, networking and application environment. Whenever an operational incident or user issue occurs, IT teams are expected to resolve it without a hitch, even though they are often short staffed. That's a lot on their plate, especially if they lack modern software to help. Netwrix solutions reduce the time IT teams spend on ITOM, empowering them to meet user expectations and keep pace with evolving business needs without constantly staying late.
RESOLVE INCIDENTS
Reduce helpdesk workload by addressing
issues more efficiently
Fix user issues before they become
real problems
Improve your users' experience and prevent your IT support team from being swamped with tickets on common user issues, such as expired passwords or inability to access required resources. Have detailed tickets automatically generated in your IT service management software based on Netwrix Auditor's actionable data so you can
initiate informed incident response
before users even
report a problem.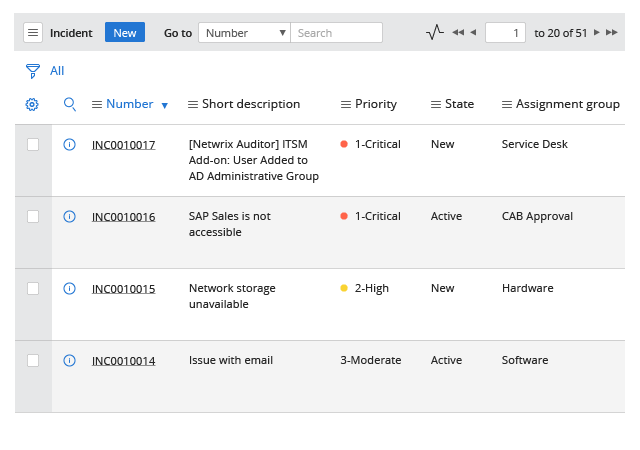 Be the first to know about events that might
cause downtime
Get notified about critical events, such as the deletion of an organizational unit or a database with customer information, so you can respond before the business is affected.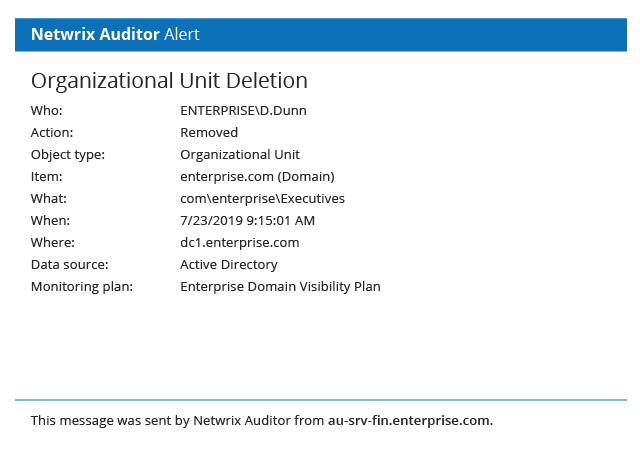 Swiftly find the root cause of operational incidents
Get to the bottom of operational incidents without the pain and delay of crawling through logs or writing scripts. Whether you want to know why a network switch stopped working or how your private cloud configuration was changed, Netwrix Auditor simplifies log management by keeping
all audit data from different systems in one place
and enables you to quickly analyze them, so you can resolve issues before users have
time to complain.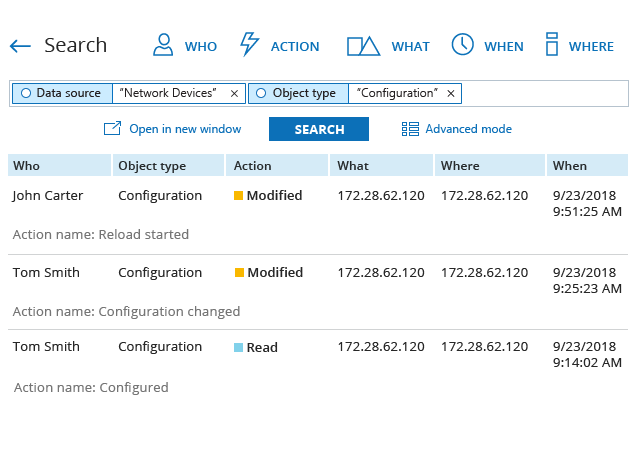 Troubleshoot user issues
in less time
Enable users to get right back to work by addressing their daily challenges in a few clicks. Whenever employees can't access a business-critical application or your customer service department wants to know why a specific digital record with a client's personal data is gone, you'll find the answer at the drop of a hat.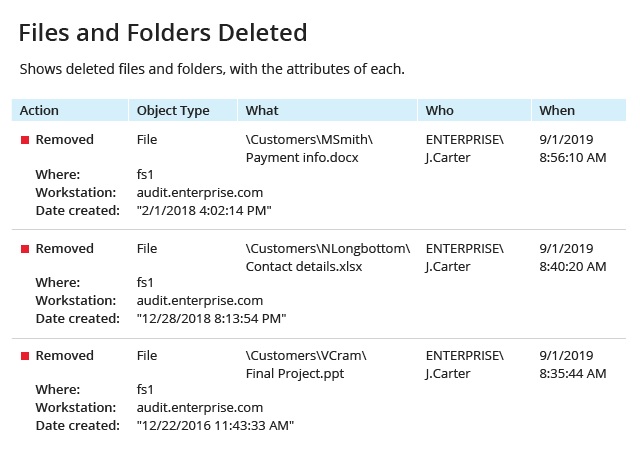 AUDIT & REPORT
Cut the time spent on change monitoring, configuration
baselining and reporting
Get a clear picture of what
was changed
Keep tabs on what's changing across your hybrid, cloud or on-premises infrastructure so you can spot and remediate issues before they stifle business processes and user productivity. As a result, you can
deliver uninterrupted business services
and meet your SLAs and user expectations consistently — without spending money on expensive security
operations software.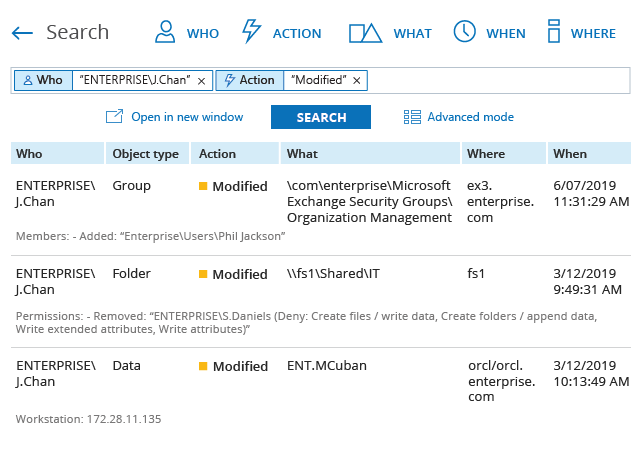 Make sure your change management process
works as expected
Are modifications that might affect the availability of IT systems being made outside of your change management process? Spot them by easily reviewing the details about who made each change and why. Use this actionable information to improve event management across your IT environment and
hold users accountable
for their actions.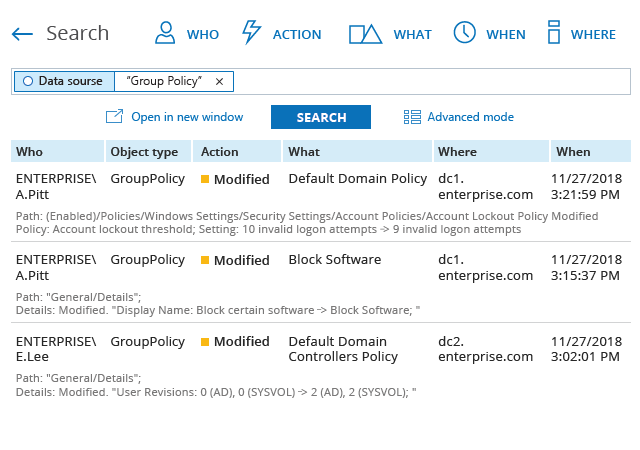 Review system configurations and spot deviations from a known
good baseline
Facilitate configuration management with Netwrix ITOM software by determining the current state of your critical IT assets in a few clicks. Check whether your configurations match your requirements and spot any deviations from your known good baseline, so you can remediate issues to
prevent system downtime
and user disruption.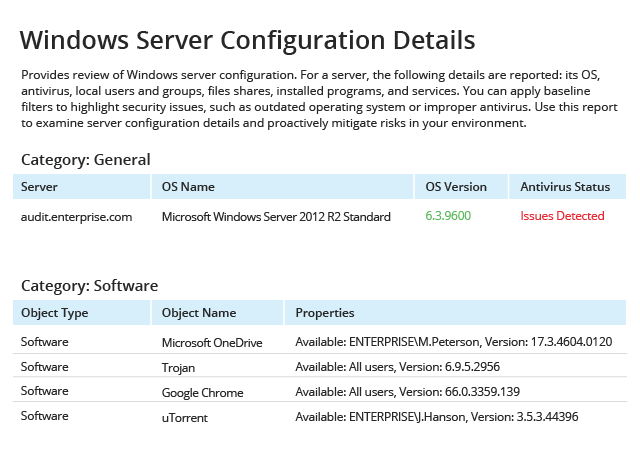 Assemble information required by stakeholders
in a snap
Whenever stakeholders make a request, whether it's for a list of who has access to a particular folder or proof that there are no inactive users in the IT environment, respond quickly with
ready-to-use, human-readable reports
. Stop being a reporting bottleneck by subscribing stakeholders to specific reports or giving them granular access to the platform so they can get the data they need
whenever they like.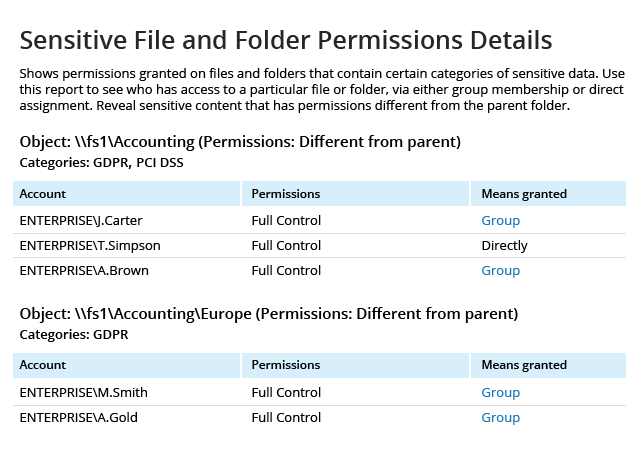 MANAGE YOUR DATA
Streamline your data management tasks
Make storage more efficient and users
more productive
Identify redundant and obsolete content filling up your data storages. Eliminate this clutter to reclaim the time you would have spent helping users find what they need in all the mess. Create more accurate storage forecasts and
reduce the need to seek additional budget
for more storage hardware
for your data center.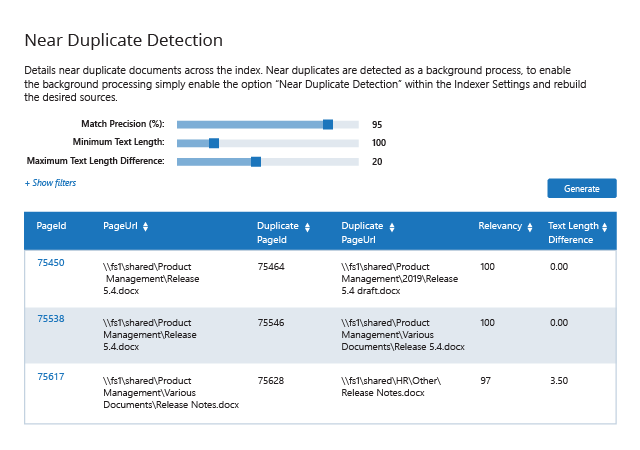 Simplify and speed data migrations
Improve your data migration project with effective preparation. Limit the scope of the migration by identifying business-critical content that should be included and excluding other data. Make your bosses happy by reducing migration costs and timelines, and save yourself hours of post-migration cleanup work.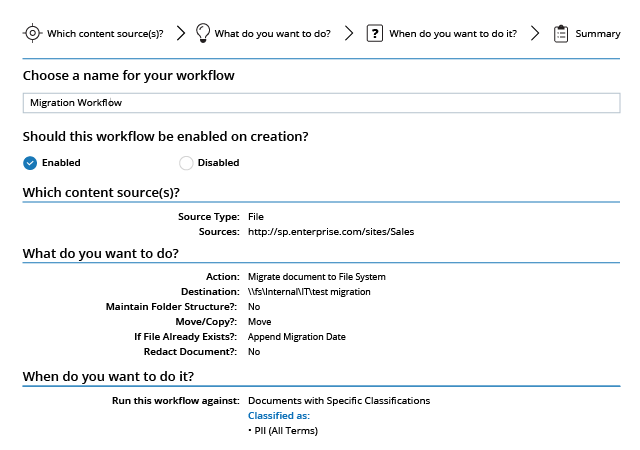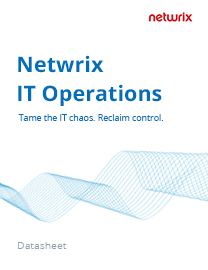 See the full list of advantages and learn how Netwrix solutions can help small businesses and enterprises solve their most pressing IT operational needs.
See how IT teams rely on Netwrix to ensure smooth
IT operations enterprise-wide