Netwrix Auditor for
NetApp
NetApp Reporting Software
Successful and failed access attempts to files and folders
Native logs are noisy and contain so many access events that it's hard to dig out the truly valuable information. This NetApp reporting software from Netwrix empowers you to gain control over user activity by providing actionable reports on both successful and failed access attempts to your data, so you can quickly detect suspicious attempts to access sensitive data.
Data classification reports
In order to protect your sensitive files and comply with regulatory standards, you need to know what kinds of information is stored in your IT infrastructure, exactly where that data is located, and who has access to it, as well as stay informed about every action that might threaten it. Netwrix Auditor in combination with Netwrix Data Classification identifies the types of sensitive information you store, their location and whether this data is overexposed. Plus, you can quickly check who has access to critical data and get a clear picture of what's going on around it. Regularly review this information to minimize the risk to data security.
Stay current on suspicious activity around data
To maximize data protection, you need to constantly monitor suspicious actions around your sensitive data. For instance, the sooner you spot a ransomware attack, the better your chances of saving most of your critical data. With threshold-based alerting from Netwrix, you'll be the first to know about critical events, such as when someone is trying to modify too many files at a time, so you can block such attacks before it's too late.
Spot even subtle indicators of compromise and security blind spots
To strengthen the security of your sensitive data, it's critical to find even subtle signs of account compromise, such as suspicious surges in data access or activity outside business hours. With reports on user behavior and blind spot analysis, you can quickly identify these subtle indicators of threats and remediate them promptly.
Gain a high-level view of anomalous surges in user activity
It's easy to miss an important piece of information while crawling through the cryptic native logs. To spot unusual surges in user activity, you need a single-pane-of-glass view. Netwrix Auditor's overview dashboard shows activity by date, along with the users who are most active, the file systems that are most frequently changed and the number of reads compared to the number of changes.
What else do I get with Netwrix Auditor
for NetApp?
Easy integration with your ecosystem
With a RESTful API, Netwrix Auditor can be integrated with any ecosystem, so you can audit file storages and your other commercial or custom applications from a single place. Free, ready-to-use add-ons are available for many common applications, including SIEM solutions.
Automated incident response
Routine tasks, like locking users that generated multiple failed access events, can distract you from more important duties. With Netwrix, you can automatically handle tasks like these by embedding scripts in alerts, which ensures a prompt response and saves you valuable time.
Cost-effective data storage
Native tools don't provide an easy way to retain all audit data. Netwrix Auditor securely stores your audit trail in a two-tiered (file-based + SQL database) storage for more than 10 years, while enabling quick and easy access to the archived data for historic reviews and legal inquiries.
Granular access to the platform
To ensure that your auditing process is secure, Netwrix Auditor empowers you to granularly assign the appropriate access rights to everyone who needs them, so you can be confident that only authorized personnel can view security analytics, export audit data and configure settings.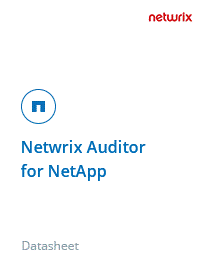 Learn more about how Netwrix Auditor for NetApp can help you streamline NetApp storage reporting, strengthen data security and prove compliance.
Download Datasheet (.pdf)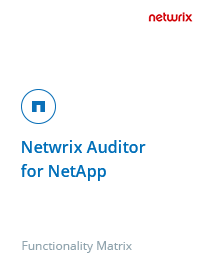 Get a convenient list of functionality of Netwrix Auditor for NetApp in a fill-in-the-blank format that streamlines comparing it with other NetApp monitoring products.
Download Matrix (.pdf)