NetApp Filer Auditing Software
Netwrix Auditor for NetApp provides complete visibility into everything going on in your file storage. The application delivers granular audit data with deep insights into changes to files, folders, shares and permissions, and it reports on both successful and failed access attempts.
File analysis reports
Provides actionable details on data ownership; reports on data usage and data volumes; and identifies stale and
duplicate files.
Complete visibility into every change
Delivers human-readable information on who changed what and when and where each change was made in
NetApp filers.
Deep insights on access permissions and access attempts
Delivers detailed reports on attempts (both failed and successful) to modify or access files, helping ensure data security on
NetApp storage.
Clear audit reports and dashboards
Supplies predefined, customizable reports and dashboards with data in a human-readable format. E-mail subscription and export options ensure data is available to anyone
who needs it.
Compliance reporting with less effort
Includes predefined reports mapped to specific compliance standards, including PCI DSS 3.0, HIPAA, SOX, FISMA/NIST800-53 and
ISO/IEC 27001.
Agentless mode of operation
Doesn't get in the way of system processes and performance, ensuring the seamless
flow of operations.
Netwrix Auditor enables NetApp reporting and ongoing monitoring of changes and data access on NetApp filers, supporting all the latest versions of clustered Data ONTAP operating system. With more visibility into what's going on in NetApp filer storage, you can pass compliance audits with less effort; address auditors' questions; and solidify data security across your organization. With separate applications, Netwrix Auditor also supports auditing of
EMC storage
and
Windows-based file servers
.
"When we implemented Netwrix Auditor, we got a very easy-to-use solution to tell us the who, what, when and where details for all changes, easily saving us hours of investigative work tracking down who made a specific change."
Jeff Salisbury, Director of Global IT Operations,
Belkin International, Inc.
Ensure compliance with on-going
NetApp auditing
Ensure compliance with on-going
NetApp auditing
Effortlessly provide answers to auditors' inquiries, such as who accessed sensitive files without proper rights or who tried to change file ownership. The complete audit trail is stored in the two-tiered (file-based + SQL database) AuditArchive™ for years and is available
within minutes.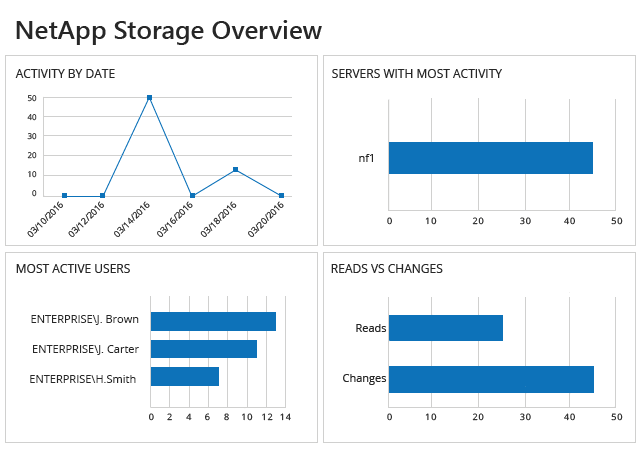 Detect unauthorized changes quicker with
predefined reports
Overcome the limitations of native auditing tools with Netwrix NetApp reporting software. Netwrix Auditor automates NetApp filer auditing and enables IT pros to prepare reports on changes to files, data usage and data access in minutes. With predefined reports at hand, they can identify suspicious activity and proactively investigate the root cause of any unwanted change, such as an unauthorized attempt to delete a folder or change
file permissions.
Prevent data breaches with prompt investigation of
suspicious activity
To strengthen data security, deploy Interactive Search to dig deeper into the root cause of an issue and investigate suspicious activity in NetApp. Monitoring every change and data access attempt enables you to quickly detect any suspicious activity. Predefined reports empower IT admins to track both successful and failed file change, read
and delete attempts.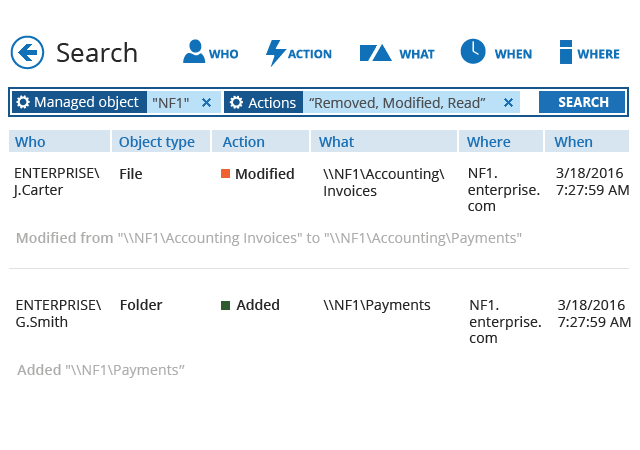 Upgrade decisions on how to manage
unstructured data
To improve user productivity and reduce costs, Netwrix Auditor for NetApp facilitates cleanup of NetApp filers. It identifies and reports on empty folders and duplicate and unused files, so you can delete the ones you no longer need and optimize
storage use.
"We audit file servers and manipulations of critical data that seems to have been deleted or moved around. Now we can answer a question like, "I had this file here, but it is missing now. Who has deleted it?" It would be very difficult to give a precise person-date-time answer without
Netwrix Auditor."
Jacob Espinoza, West Coast IT Lead Technician,
The Safariland Group.
Free guide:
Keeping Tabs on the Top 3 Critical Changes in File Servers with Netwrix Auditor
Datasheet:
Complete Visibility into IT Infrastructure with Netwrix Auditor
Learn more about how organizations of all sizes deploy Netwrix Auditor to strengthen security, demonstrate compliance
and facilitate growth
Netwrix empowers over 160,000 IT departments globally to strengthen security of IT infrastructure, pass compliance,
and optimize operations