Netwrix Auditor for
NetApp
Complete visibility into сhanges, data access, effective
permissions and data ownership on NetApp filers
NetApp Filer Auditing Software that Enables NetApp
CIFS Audit
Netwrix Auditor for NetApp provides complete visibility into everything going on in your NetApp storage system. The application delivers deep insight into sensitive data (in conjunction with Netwrix Data Classification); changes to files, folders, shares and permissions; effective permissions; successful and failed access events; and data usage and data ownership.
Compliance reporting with less effort
Includes predefined reports mapped to specific compliance standards, including PCI DSS, HIPAA, SOX, GLBA, FISMA/NIST, CJIS, GDPR and more.
Makes it easy to dig deeper into the root cause of an issue and investigate suspicious activity. Simply adjust your search criteria to find exactly the audit events you need.
Helps improve data security by identifying security gaps, such as inappropriately configured data access rights, overexposed data, and potentially harmful files on your NetApp filers.
Improves detection of malicious actors in your environment by delivering an aggregated trail of anomalous user activity with the associated risk scores, so you can prioritize your investigation efforts.
User Behavior and Blind Spot Analysis
Provides security intelligence about suspicious file access events, including access to archive data, and reports on excessive access rights, so you can mitigate the risk of a data breach.
Non-intrusive architecture
Doesn't get in the way of system processes and performance, ensuring the seamless flow of operations.
Ensure regulatory compliance and improve the security of sensitive files on CIFS shares with continuous
NetApp auditing
Netwrix Auditor enables NetApp auditing by providing capabilities for NetApp CIFS audit, including monitoring of changes and data access, and the discovery and classification of sensitive data on NetApp filers. It supports all the latest versions of the clustered Data ONTAP operating system. With more visibility into what's going on in your NetApp filer storage, you can pass compliance audits with less time and effort, address auditors' questions faster, and solidify data security across your organization.
Detect unauthorized changes quicker
Stay abreast of illicit data and permissions changes that undermine your security policy and can lead to data breaches. Use pre-built alerts or set up custom alerts on any events audited by Netwrix Auditor for NetApp that you want to be aware of.
Prevent data breaches with prompt investigation
suspicious activity
of
Instead of painstakingly sifting through native audit logs, use Netwrix Auditor's flexible search engine to quickly narrow down your search to the particular NetApp Data ONTAP events you are looking for. For example, you can focus on a particular admin who has just changed access rights to the accounting folder and easily view what else they have been up to in your environment.
Prove to compliance auditors that you have
strict control over
regulated data
Combine Netwrix Auditor with Netwrix Data Classification to demonstrate that the regulated data is stored only in secure dedicated locations, access rights to that data are assigned properly and you closely monitor activity around the data. The two-tiered (file-based + SQL database) data storage ensures you can keep your audit records for as long as the regulation requires.
Better manage your unstructured data
To improve user productivity and reduce costs, Netwrix Auditor for NetApp facilitates cleanup of NetApp filers. It identifies and reports on empty folders and duplicate and unused files, including the path to these files and folders, so you can back up or move a file directory you no longer need to optimize storage use.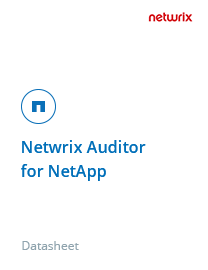 Discover how Netwrix Auditor for NetApp can help you improve data security, prove compliance and enhance data governance across your NetApp filer appliances.
Download Datasheet (.pdf)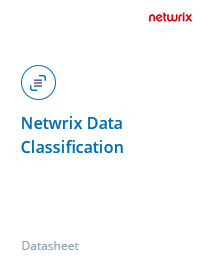 Check out how Netwrix Data Classification empowers you to locate critical data and focus your auditing efforts in accordance with its value or sensitivity.
Download Datasheet (.pdf)
Learn more about how organizations, from SMBs to enterprises, deploy Netwrix Auditor to strengthen security, demonstrate compliance and
facilitate growth
"I love Netwrix Auditor for the complete visibility it provides for file servers. It helped me identify and recover files affected by malware. The software also comes in handy when employees accidentally move or delete other users' files. Combined with NTFS permissions, files are safer and more reliable. When preparing for and passing internal audits, the software saves us a great amount of time."

Dotan Akiva,
Director of IT, Miller & Milone, P.C.