Adopting cloud services increases the complexity of your IT environment. While the native Azure Active Directory audit log and Azure Resource Manager give you some ability to manage your cloud infrastructure and the resources, they have important limitations. By investing in Netwrix Auditor, you can dramatically improve security and compliance while reducing IT workload.
Benefits and Limitations of the Azure Audit Log
All Azure config changes, system events and user actions are gathered in the Azure audit log. This includes:
Changes to users and permissions
Logon activity
Azure application events
Changes to Azure resources, such as virtual machines and networking
Changes to Azure subscriptions
Changes to Azure tenants
However, the Azure audit log has several significant drawbacks:
Working with a voluminous audit trail via web access without automation can be unbearably slow. On top of this you will have to deal with different Azure log types just to find necessary information.
Limited filtering capabilities make it hard to find the details you need to investigate incidents or prepare for compliance audits.
Microsoft provides the ability to redirect logs to Blob storage and stream them to Event Hub, which adds to maintenance and reporting challenges.
To get alerts, notifications, and data ingestion and retention options, you need to license Azure Monitor Log Analytics, which adds to the cost of your Azure storage account subscription.
The retention period for activity logs in Azure depends on your subscription and can be as short as 31 day. This is not long enough for security investigations or compliance with most regulations; for example, GDPR and HIPPA require companies to keep records for up to 10 years in some cases.
Overcoming the Limitations of the Azure Audit Log with Netwrix Auditor
Netwrix Auditor for Azure helps you overcome the limitations of the native audit log and simplify crucial everyday tasks such as change monitoring, logon tracking and compliance reporting.
Simplified Azure AD Auditing
Netwrix Auditor includes built-in and custom reports that deliver detailed information about all changes, including who made the change, the date and time it occurred, exactly what was changed, and the current value. It also reports on both successful and failed logon attempts.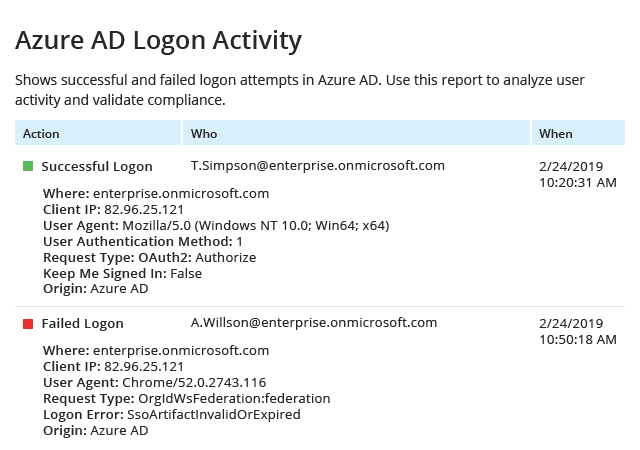 Easier Investigations
Identify and investigate suspicious activity faster with Netwrix Auditor's Interactive Search feature.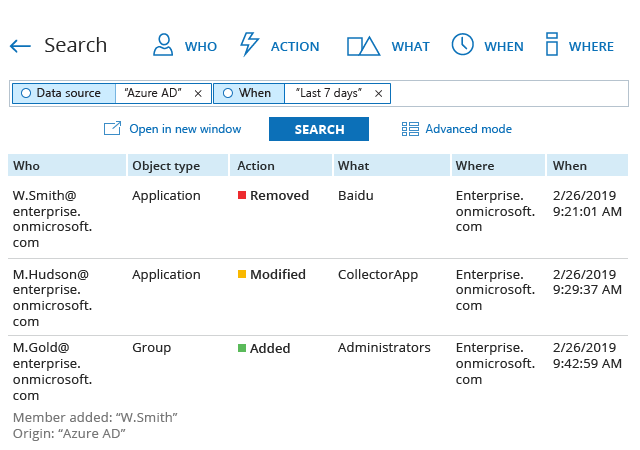 Alerts on Threats and Threat Patterns
Prevent security breaches by getting notified about suspicious activity, such as changes to a powerful security group or unusual file activity.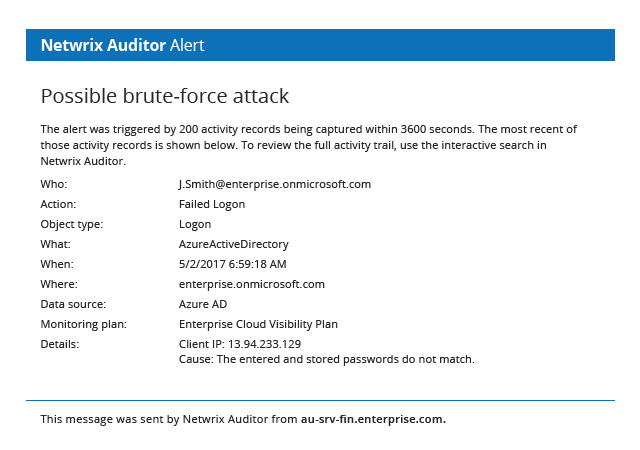 Out-of-the-Box Compliance Reports
Get insight into your compliance posture and provide human-readable reports to auditors with far less effort and expense.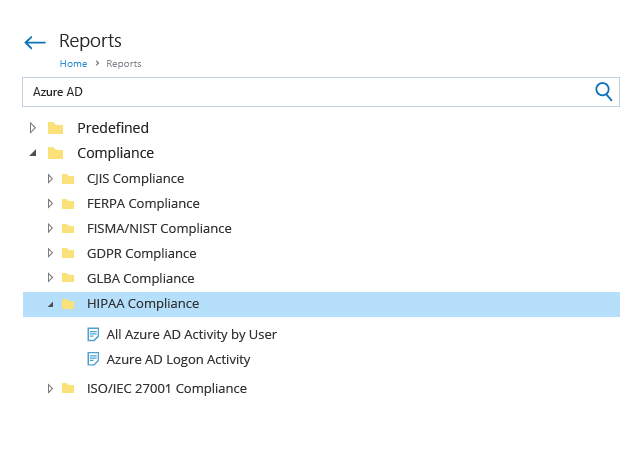 Long-Term Storage
Keep your consolidated Azure AD log data securely for over 10 years in a cost-effective two-tiered storage, while still maintaining easy, secure access to them during audits and investigations.