Netwrix Data
Classification
Maximize the Value
of Enterprise Content
No need to deploy the product
Intelligent Content Services Platform
As users generate more and more data, it's increasingly difficult to separate valuable information from clutter and turn it into actionable intelligence. Netwrix Data Classification empowers your organization to maximize the value of its content by automatically categorizing it and tagging it with metadata. This enrichment enables you to slash storage costs, enhance employee productivity and make more informed business decisions.
Reduce Costs
Slash Expenses by Optimizing Your Content
of IT infrastructure costs are used to support redundant and obsolete data.
With data storage costs dropping steadily over the past few decades, many organizations continue to ignore the proliferation of content. But why waste so much of your budget on data you don't need?
Netwrix Data Classification empowers you to clean up redundant, obsolete or trivial content to reduce storage costs. Furthermore, it facilitates the intelligent migration of valuable content to more cost-efficient storage.
is the average cost to re-create a document when it can't be found.
Manually classifying millions of documents is too costly and error prone to be feasible. But if you don't clean up your data stores, how will your employees find the data they need for their projects?
Tagging valuable content with Netwrix Data Classification empowers you to reduce non-productive time for knowledge workers and eliminate the cost of re-creating content you can't locate.
Increase Efficiency
Empower Knowledge Workers to Be More Productive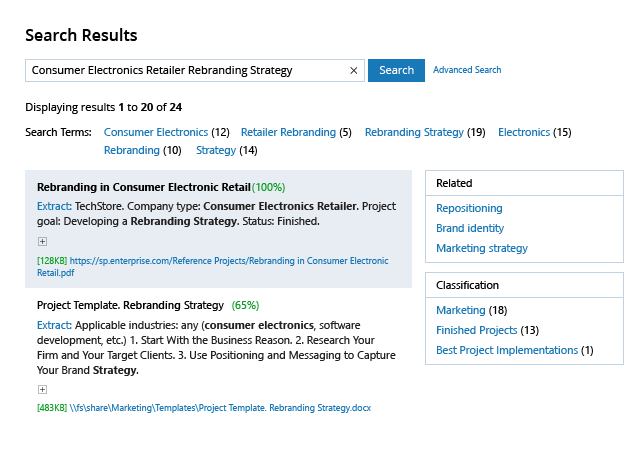 Drive Customer Satisfaction
Drive Your Business Forward and Increase Win Rates
revenue increase is expected if a median Fortune 1000 company increases the usability of its data by 10%.
Unless your sales force, support teams and business analysts are armed with consistent, readily available, high-quality information, your organization will struggle to build strong relationships with customers and partners, and decision making will be impaired by slow or incorrect analytics.
Netwrix Data Classification empowers you to categorize and optimize all data pertinent to sales, products or customers across the organization. Getting unimportant content out of the picture leaves a smaller set of relevant data to perform analytics on, enabling your teams to be more agile and effective in resolving customer issues, winning deals and more.