Native Auditing
Netwrix Auditor for Exchange
Steps
Open Exchange Administrative Console in Internet Explorer → Navigate to "Compliance management"→ Click on "Auditing" → Select "Run the admin audit log report".
To see all configuration changes made during the specified period, fill out the start date and the end date fields → Click "Search".
Sort the list by cmdlet and find the "Add-MailboxPermission" cmdlet → Click on it for details.
To find out who changed permissions, refer to the "User" section. To find out which mailbox permissions were changed and how, refer to the "Parameters" section.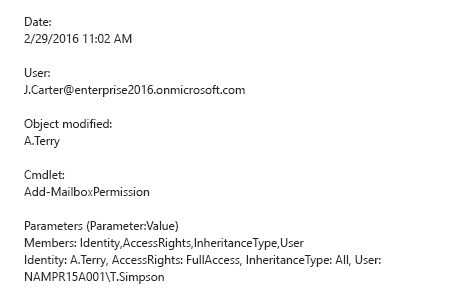 Run Netwrix Auditor → Navigate to "Search" → Click on "Advanced mode" if not selected → Set up the following filters:

Filter = "Data source"
Operator = "Equals"
Value = "Exchange Online"
Filter = "Details"
Operator = "Contains"
Value = "Access Rights"

Click the "Search" button and review what changes were made to access rights.