Without a proper reporting tool, it is hard to determine what's going on in your Office 365 environment. Streamline auditing and increase your productivity with Netwrix Auditor's Office 365 reporting capabilities.
Office 365 Usage Reports in No Time
Netwrix Auditor delivers deep visibility into your organization's IT ecosystem — including a wide range of both on-premises systems and Microsoft cloud solutions, such as SharePoint Online, OneDrive for Business, Exchange Online and Azure AD. Its out-of-the-box Office 365 reports provide all the critical details you need, in an easy-to-read format. For example, you can see every modification and know exactly who changed what, when and where each change was made, and the before and after values. You can also easily review all Office 365 logons or non-owner mailbox access events, and know who has access to what in your cloud systems. These Office 365 user activity and permissions reports make regular security and compliance checks quick and easy.
See what changed
Netwrix Auditor delivers deep insight into configuration, security, content and permission changes across your SharePoint Online, OneDrive for Business and Exchange Online.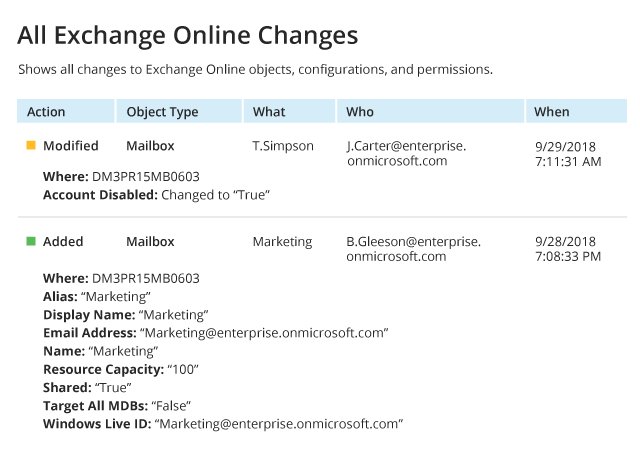 Monitor data access attempts
Netwrix Auditor features reports on which users tried to access what data in your SharePoint Online sites and OneDrive for Business, and tracks all non-owner mailbox access attempts in Exchange Online.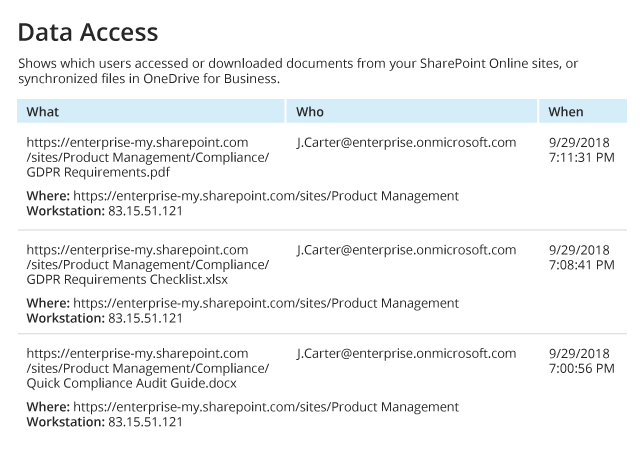 Foster regular entitlement reviews
With Netwrix Auditor, you can easily get a clear picture of permissions to data in SharePoint Online and OneDrive for Business, and to Exchange Online mailboxes and specific folders. These reports will help you understand exactly if permissions were granted directly or via group membership and identify broken inheritance in SharePoint Online, so you can easily work with data owners to hold regular entitlement reviews and create a more secure Office 365 environment.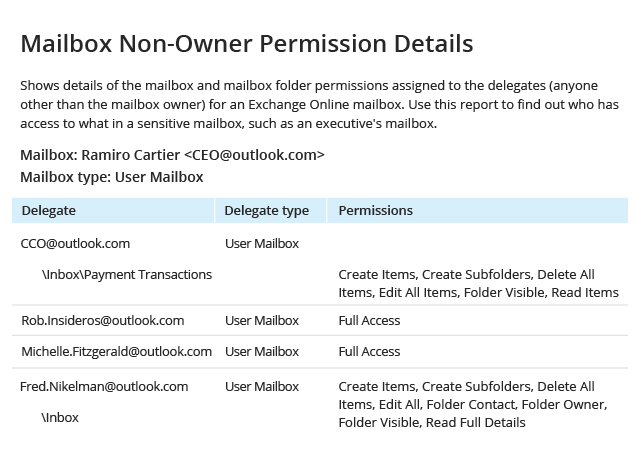 Automate your IT auditing and reporting
With Netwrix Auditor, you'll be able to spend far less time at the Office 365 Admin Center dashboard:
You won't have to spend time switching through endless pages and consoles, trying to match data — Netwrix Auditor refines and filters the data for you.
You can subscribe to any of Netwrix Auditor's built-in and custom reports and interactive search results, so you get them automatically in your inbox on the schedule you choose.
You can also subscribe any stakeholder to the reports they need, make particular reports available in a designated folder, or set up role-based access that enables individuals to get the reports they need — all without granting them admin roles or access to your Office 365 Admin Center.
Relieve your IT team from tedious reporting tasks
Using Netwrix Auditor will simplify life for your entire IT staff: instead of spending hours on tedious log analysis and PowerShell scripting tasks, they can generate user activity reports, mailbox non-owner usage reports, mailbox permission reports and compliance reports in a few clicks, or simply have them sent by email automatically.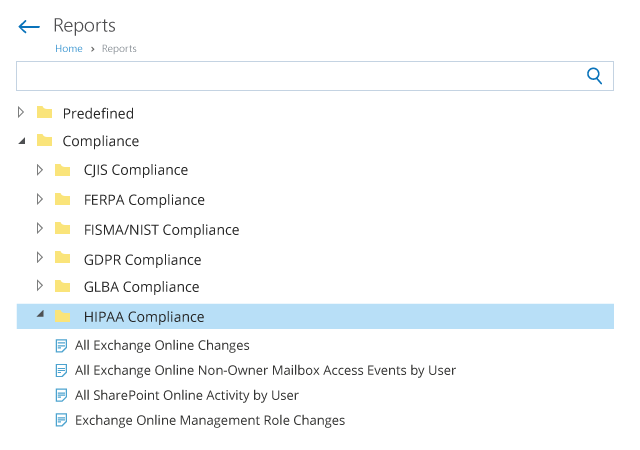 The Office 365 Reporting Solution You've Been Looking for
Netwrix Auditor includes a wide variety of reports right out of the box. For example, you can quickly report on all configuration and file changes in SharePoint Online and OneDrive for Business, or all suspicious attempts to access SharePoint Online lists and documents and OneDrive for Business files. Other reports reveal Exchange Online configuration changes or all mailbox activities in Exchange Online accounts performed by non-owners. On top of auditing Office 365, the Netwrix Auditor platform also delivers visibility into Azure Active Directory by tracking changes to cloud user accounts and logons to Microsoft cloud services.
Plus, if you have a hybrid IT infrastructure, Netwrix Auditor will report on both your cloud-based and on-premises systems in a unified way — giving you a level of visibility and control that Office 365 Security and Compliance Center simply can't provide.
Thanks to its broad reach and powerful feature set, Netwrix Auditor will help you improve security, streamline compliance and increase the effectiveness of your IT teams.