Exchange Online Auditing Software
Netwrix Auditor for Office 365 delivers complete visibility into the hosted Exchange component of Microsoft Office 365,
helping you mitigate Office 365 security risks. The application tracks and reports on administrative changes made
to your Exchange Online organization, including changes to mailboxes, mail users, groups, permissions, policies
and management roles. It also helps you establish control over non-owner mailbox access to meet
Office 365 compliance requirements.
Complete details on the full spectrum of changes
Informs you about Exchange Online configuration
changes with all necessary details, such as what was
changed, who made a change, when and where a change
occurred, improving Office 365
email security.
Scheduled and on-demand reports
and dashboards
Enables easy Office 365 reporting by delivering timely
and complete audit information in scheduled
and on-demand reports and dashboards that offer
multiple usability options, including filtering, sorting
and exporting
in various formats.
Exchange Online auditing for regulatory
compliance
Helps you establish a secure and compliant Exchange
Online organization by offering the broadest range
of scheduled and on-demand reports, dashboards
and data search to address specific requirements of PCI
DSS 3.0, HIPAA, SOX, FISMA/NIST800-53, ISO/IEC 27001
and other
compliance regulations.
Office 365 non-owner mailbox
access auditing
Detects Exchange Online mailbox access by someone
other than the owner and notifies mailbox owners about
all such activity. Reports specify exactly what actions
were performed on specific mailbox items, the client
used and the
computer's IP address.
For many organizations, cloud-based operations start with the adoption of Microsoft Office 365
and Exchange Online. However, concerns about security risks and maintaining a proper level
of control make many organizations hesitant about migrating to the cloud. Netwrix Auditor
for Office 365 provides extensive Exchange Online auditing capabilities for hosted Exchange
deployments, helping IT departments address Office 365 data security threats more effectively
and mitigate the risks of
data leakage.
"Netwrix Auditor is a solid tool for reporting on changes in your IT environment.
After researching a variety of auditing and reporting tools, we settled on Netwrix and have
been extremely happy ever since. I frequently tell my colleagues about how happy I am with
Netwrix and have no reservation in recommending them to any IT department that needs an
auditing and
reporting tool."
Michael Nedbal, VP Operations,
Makai Ocean Engineering, Inc.
Get a holistic yet detailed picture of changes and mailbox access
in Exchange Online
Get a holistic yet detailed picture of changes
and mailbox access
in Exchange Online
Stay in control of your Exchange Online deployment by ensuring no administrative change to mail server's security configuration settings goes unnoticed and no non-owner mailbox access attempt is missed. Get
at-a-glance change statistics with overview dashboards
, or go deeper into details with
excellent drill-down capabilities
. A complete audit trail is reliably preserved in a cost-effective two-tiered (file-based + SQL database) storage, enabling anytime access to consolidated historical
audit information.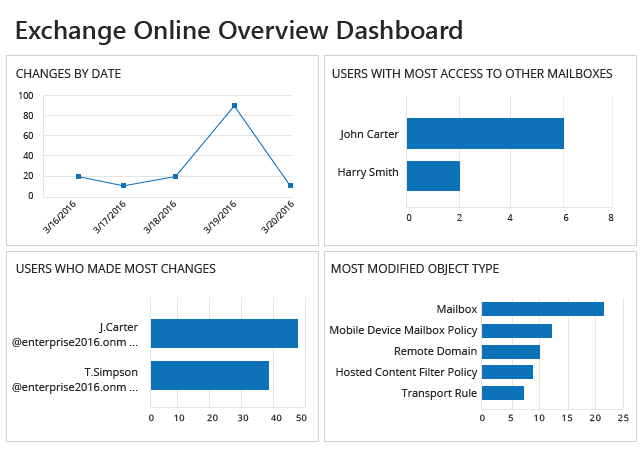 Pull up required reports faster and prove
your safeguards are in
place and working
Maintain your Office 365 security policies and
regain control over your data stored in the cloud
by getting visibility into your hosted Exchange operations and email access. Use
predefined Exchange Online reports
to easily see critical information such as who changed somebody's mailbox permissions, jeopardizing personally identifiable information (PII); how a group hierarchy was altered granting somebody the right to read someone else's messages; or whether mobile device policies were changed to allow short,
less secure passwords.
Streamline Office 365 compliance investigations
and optimize routine tasks with
Interactive Search
Benefit from the flexibility of the interactive data search when you need to satisfy key stakeholders' requests, prepare for Office 365 compliance audits or find the root cause of a process failure while troubleshooting. Has someone obtained rights to create, delete or change mail users or user attributes? How did that bogus mail user appear on your server? Who changed the email archiving policy from three years to two weeks?
Get these questions answered with just a few clicks
and easily export the search results or save your custom searches
for later use.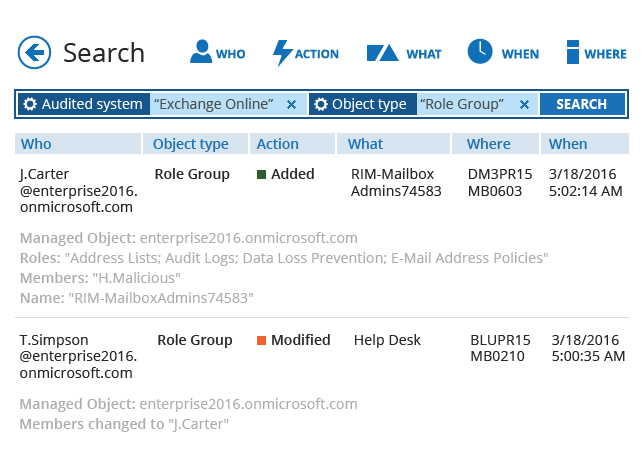 "To be compliant with regulatory standards, we are required to prove that we are in full control of our IT environment. Netwrix Auditor makes audits so much easier. We save weeks' worth of time! Now we know about every change and every user action in our IT environment, so we also know our data is more secure than before. It's a great product. I definitely
recommend it."
David Cook, Active Directory Engineer/Architect,
West Monroe Partners
Free guide:
Keeping Tabs on the Top 5 Critical Changes in Exchange Online with Netwrix Auditor
Datasheet:
Complete visibility into your on-premises or hybrid-cloud IT infrastructure
with Netwrix Auditor
See how Netwrix Auditor helps organizations of all sizes
and from many different industries maintain
secure operations
Over 160,000 IT departments worldwide rely on Netwrix to secure IT infrastructure, prove compliance and increase
operational efficiency