Netwrix Auditor for
SharePoint and Exchange
Complete visibility into what's going on in your
SharePoint Online and Exchange Online environments
Office 365 Auditing with Netwrix Auditor
Netwrix Auditor for SharePoint and Exchange provides actionable intelligence about what's going on in your Office 365 environment. See who has access to what, monitor user activity in SharePoint Online, and audit all modifications and non-owner mailbox access events in Exchange Online to enhance security and streamline IT compliance.
Empowers you to quickly find out who has access to what in your cloud systems, see exactly how permissions were granted and identify broken inheritance in SharePoint Online, so you can create a more manageable and secure Office 365 environment.
Delivers deep insight into configuration, security and permission changes across your Exchange Online, OneDrive for Business and SharePoint Online systems, including actionable who, what, when and where details and before and after values.
Reports on who accessed your SharePoint Online sites or downloaded documents from them, as well as who synchronized files in OneDrive for Business, so you can spot any unauthorized access to your sensitive data.
Content change reporting
Monitors every change to SharePoint Online sites, lists and documents and OneDrive for Business data (such as list renames, site removals and file updates) to help you detect suspicious user activity and prevent data loss.
Empowers you to secure your data and prevent downtime by alerting you to activity that needs your immediate attention, such as changes to your mail server security configuration or SharePoint Online sharing settings.
Detects non-owner access to mailboxes and notifies owners about all mailbox activities. Mailbox auditing reports specify exactly what actions were performed on specific items, as well as the source client and IP address, so you can hold individuals accountable for their actions.
Comprehensive reports and overview dashboards
Augments Office 365 audit logs by delivering predefined reports and dashboards with filtering and sorting capabilities. You can export this data to various formats, such as a .pdf or .csv file, or receive the data you need for your admin audit duties automatically by email.
Slashes time spent preparing for compliance audits with predefined reports mapped to PCI DSS, HIPAA, GDPR, SOX, GLBA, FISMA/NIST, CJIS and other common regulatory standards.
Enables you to quickly sort through your audit trail and fine-tune your search criteria until you find the information you need. Save your searches as custom reports; you can run them on demand or have the results delivered to you automatically on schedule.
Improves detection of malicious insiders and compromised accounts by aggregating their anomalous activity in Office 365 and other critical systems, both on premises and in the cloud.
Automated incident response
Enables you to automate response to common and anticipated incidents by embedding scripts in alerts, so you can ensure prompt response while staying focused on more important tasks.
Pinpoints subtle indicators of threats that might jeopardize the security of your Office 365 data, such as user and admin activity outside of business hours, so you can take action before threat actors take control.
Overcome the drawbacks of Office 365 audit logs with actionable intelligence that enhances IT security and streamlines compliance
Are you tired of crawling through endless audit logs in the Office 365 Admin Center, and switching back and forth between the Office 365 Security and Compliance Center and the Exchange Admin Center? Do you want to slash the time you have to spend on privilege attestations and compliance audits? Do you want a unified auditing platform that will securely retain logs from your SharePoint, Azure AD and other systems? Netwrix Auditor addresses all these needs.
See through the tangled permissions structure of your cloud-based systems
Gain complete visibility into who has access to what data in your Office 365 environment. Easily identify excessive permissions to critical data and revoke them in a few clicks to reduce the exposure. Make privilege attestations a snap by enabling regular review of SharePoint Online, OneDrive for Business and Exchange Online permissions, and get a step closer in passing compliance audits on your first try.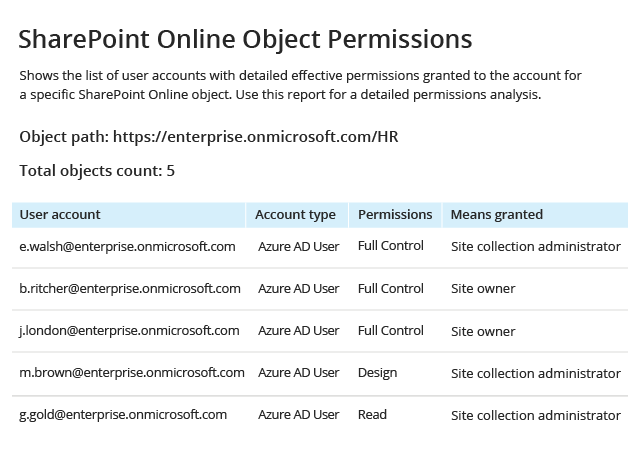 Detect threat actors in the cloud with O365 auditing software from Netwrix
It's easy to get overwhelmed trying to monitor user activities by looking through hundreds of pages with millions of records in the Office 365 Admin Center. Netwrix Auditor helps you identify high-risk users on the prowl by consolidating all their anomalous Office 365 activities, such as the deletion of sensitive files from OneDrive for Business or unapproved changes to site collection sharing policies.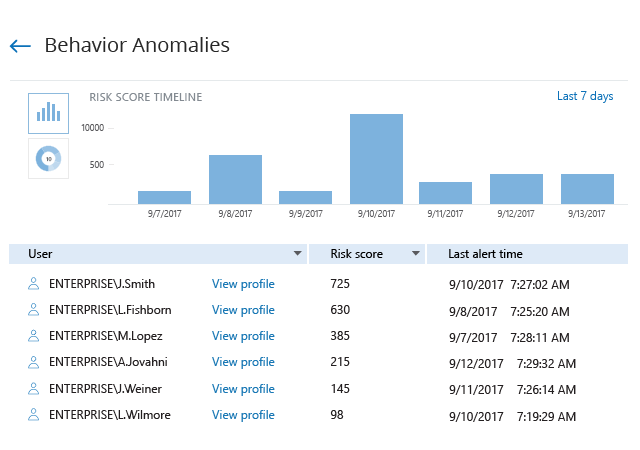 Search the audit log data faster and use the search results to troubleshoot incidents
When a user can't find a critical SharePoint document or a manager says mail has gone missing, you need to fix the issue quickly. You don't have to switch though endless Office 365 audit reports and Power Bi dashboards or do log searches in eDiscovery anymore. Simply type your query in Netwrix Auditor's Google-like search and immediately get detailed results that help you quickly resolve users' problems.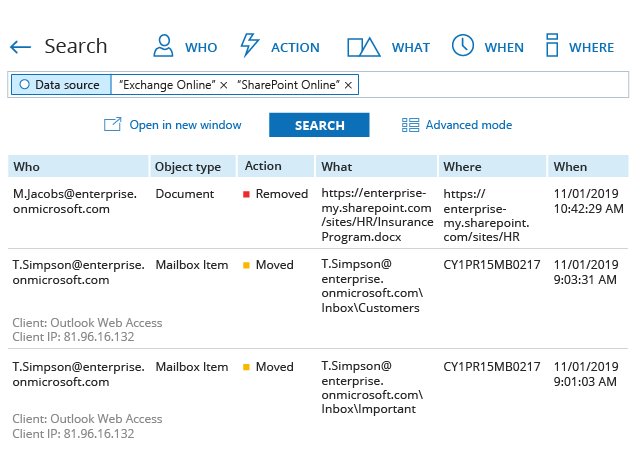 Simplify preparation for compliance audits with out-of-the-box compliance reports
Compliance auditors often ask for specific details that might not be included in Office 365 audit log reports. You don't have to spend days creating custom reports or writing PowerShell scripts to satisfy these requests. Simply use the Netwrix Auditor compliance reports mapped to specific controls of PCI DSS, HIPAA, GDPR and other compliance regulations to easily prove that your Office 365 environment meets compliance and security standards.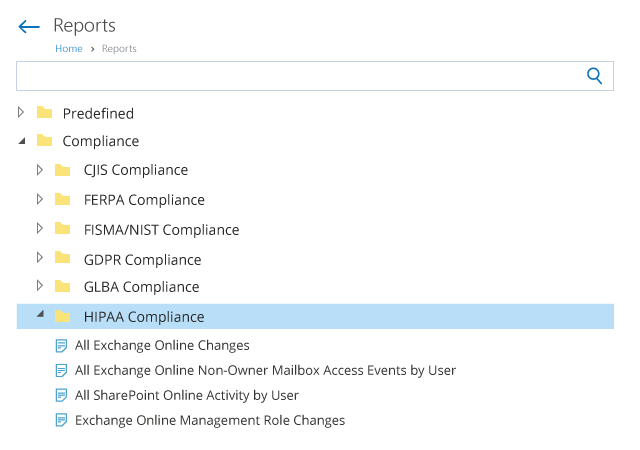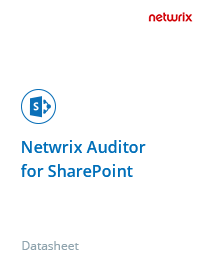 Learn more about how Netwrix Auditor for SharePoint helps organizations just like yours simplify SharePoint auditing and streamline regulatory compliance.
Download Datasheet (.pdf)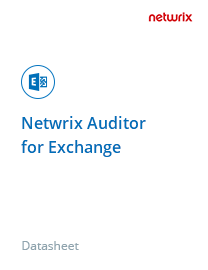 See how Netwrix Auditor for Exchange helps businesses of any sizes improve detection of insider threats and increase the productivity of IT teams.
Download Datasheet (.pdf)
See how organizations, large and small, use Netwrix Auditor to enforce IT security, maintain business continuity and prove compliance
"To be compliant with regulatory standards, we are required to prove that we are in full control of our IT environment. Netwrix Auditor makes audits so much easier. We save weeks' worth of time! Now we know about every change and every user action in our IT environment, so we also know our data is more secure than before. It's a great product. I definitely recommend it."

David Cook, Active Directory Engineer/Architect,
West Monroe Partners
Mitigating Office 365 risks with security monitoring from Netwrix
If you've moved some of your operations to the Microsoft cloud, or are considering doing so, you're undoubtedly worried about how you can ensure the security and privacy of your data and implement all the controls required by compliance mandates. Office 365 security monitoring from Netwrix provides the comprehensive functionality you need to protect your sensitive data and prove compliance. Actionable reports make it easy to understand and track activity across your cloud environment, such as non-owner mailbox access events and modifications of Office 365 users. And advanced threshold-based alerts keep you informed about suspicious activity, so you can detect compromised accounts and other threats in time to prevent data loss.
Going beyond the native Office 365 audit log with Netwrix Auditor
Whenever you need to track user activity, you can do it using the Office 365 audit log. However, the log has a number of limitations you have to keep in mind. For example, its filtering options are limited and might not let you efficiently address your questions. There are some predefined audit log reports on Office 365 activity, but you can't subscribe to them; if you need to present the data you find to auditors or management, you have to manually export it to Excel. These are just a couple of limitations that you can overcome with Netwrix Auditor for SharePoint and Exchange.
Office 365 reporting made easy with Netwrix Auditor
Continuous auditing of Exchange Online configuration changes and non-owner mailbox access is a crucial practice that helps organizations improve Office 365 data protection. Scheduled and on-demand
audit reports
offer flexible filtering, sorting, exporting and subscription options, enabling you to easily provide stakeholders with clear details about possible data privacy violations.
Meeting Office 365 compliance requirements with Netwrix Auditor
Equating
compliance with security
is a good mindset in the struggle to prevent data breaches, both on premises and in the cloud. Many contemporary regulations, including the ones that cover Office 365 compliance, are aimed at addressing new cyber security challenges and provide valuable frameworks for improving the privacy of proprietary data. Netwrix Auditor for SharePoint and Exchange offers predefined compliance reports — along with interactive data search and reliable long-term storage of the audit trail — to help you validate your security controls and make your
Office 365 compliant with PCI DSS, FERPA, GDPR
, CJIS, FISMA/NIST, GLBA, HIPAA, ISO/IEC 27001, SOX and other regulatory standards.
Maintaining your Office 365 HIPAA, PCI, GDPR and FERPA compliance
Is streamlining
Office 365 HIPAA compliance
, or compliance with any other regulatory standard, critical for your organization? Equating compliance with security is a smart mindset to establish in order to protect your sensitive data in the cloud. However, providing evidence at audit checks that your corporate security policies completely align with regulatory requirements can be a nightmare, because manually putting together the necessary reports and searching for the information auditors require is time-consuming and stressful. Is there a way to simplify your compliance processes and finally get a good night's sleep again?
Preserving Office 365 user login history for security investigations and compliance checks
For security and compliance purposes, you might be required to store
Office 365 login history
far longer than native Office 365 tools can. With Netwrix Auditor for Azure AD, you can track your Office 365 login history for months and store your audit trail in a two-tiered, cost-effective storage for more than 10 years.