Native Auditing
Netwrix Auditor for File Servers
Steps
Navigate to the file share → Right-click it and select "Properties" → Go to the "Security" tab → Click the "Advanced" button → Go to the "Auditing" tab → Click the "Add" button → Select Principal: "Everyone"; Select Type: "All"; Select Applies to: "This folder, subfolders and files" → Select the following "Advanced Permissions": Сreate files/write data, сreate folders/append data, Write attributes, Write extended attributes.
Run gpedit.msc → Configure Default Domain Policy → Computer Configuration → Policies → Windows Settings → Security Settings → Local Policies → Audit Policy → Audit object access → Define "Success and Failures".
In the "Advanced Audit Policy Configuration", adjust Audit File System → Define "Success and Failures" and "Audit Handle Manipulation" → Define "Success and Failures".
Go to Event Log → Set "Maximum security log size" to 1 GB and "Retention method for Security log" to "Overwrite events as needed".
Open "Event viewer" → Search the Security Windows Logs for the event ID 4656 with the "File System" or "Removable Storage" task category and with the "Accesses: WriteData" string. "Subject Security ID" will show you who changed the file.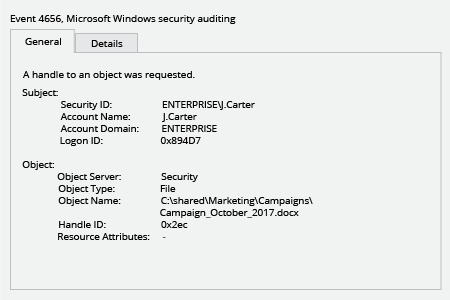 Run Netwrix Auditor → Navigate to "Reports" → Expand the "File Servers" section→ Go to "File Servers Activity" → Select "File Server Changes" → Click "View".
To save the report, click the "Export" button → Choose a format from the dropdown menu → Click "Save".