Numerous unexpected changes to your files in short span of time may indicate a network security breach or other malicious activity in your infrastructure, so organizations should work to maintain file integrity by auditing their file storages regularly. File integrity monitoring (FIM) helps you verify that files and folders with sensitive data have not been changed or that the changes are legitimate and intended. File integrity monitoring software can determine whether anyone made any content changes across your file servers. Information security teams can improve the effectiveness of their intrusion detection activities by adopting a good file integrity monitoring tool that enables them to continuously monitor changes and access attempts to the organization's most critical folders and files.
File integrity monitoring also helps enterprises with compliance: NIST recommends implementing real-time monitoring whenever possible as a baseline policy, since FIM is critical for both data security and compliance with common regulations, including PCI DSS, HIPAA and FISMA. Any organization that deals with highly sensitive data, such as cardholder information or medical records, is responsible for the security of the file servers where this data resides. For example, PCI DSS mandates deploying FIM to alert personnel about suspicious modifications of critical content or system files, and performing file comparisons at least weekly (or more frequently if the process can be automated).
Although there are native audit tools, most of them suffer from significant flaws, such no centralized storage of security logs from several sources, lack of information in the log entries and lack of clarity of the information in the log files. For these reasons, organizations with medium or highly complex IT environments need to invest in a proven enterprise solution.
Netwrix Auditor for Windows File Servers delivers the comprehensive Windows file integrity monitoring you need on your Windows Server operating systems. The application facilitates file integrity by auditing directory and file changes across file servers, including their creation, modification and deletion, and providing answers to questions about who changed what, and when and where each change occurred. Netwrix Auditor for Windows File Servers also enables continuous monitoring of access attempts and provides detailed information on each event.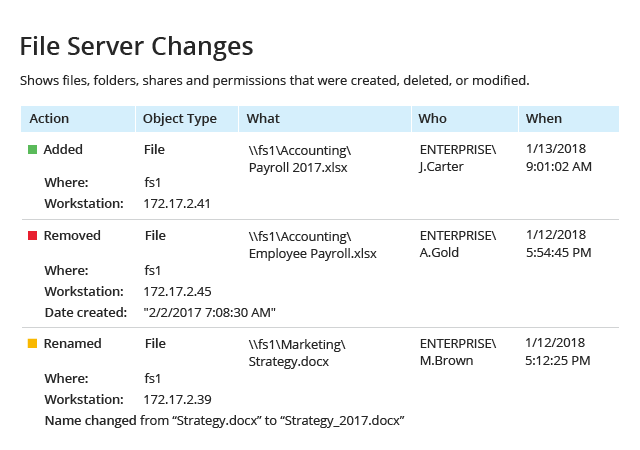 To ensure the integrity of your data, you also need to guarantee that access rights are granted in accordance with the least-privilege principle. Therefore, your management strategy must also include regular monitoring and analysis of access permissions configuration. You can limit both malicious damage and mistakes by periodically auditing who has access to which files and folders and removing excessive permissions in a timely manner.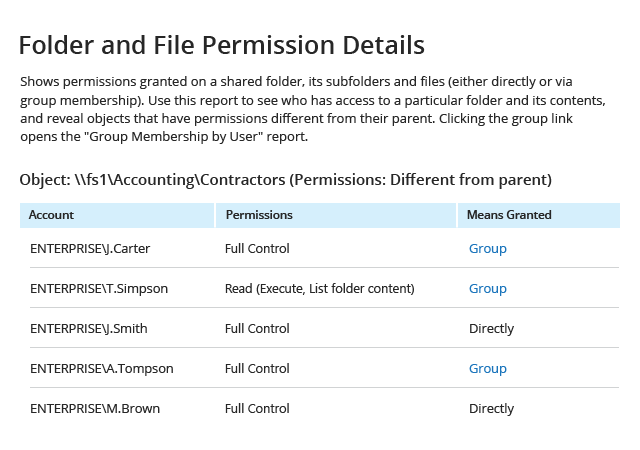 Moreover, when integrated with Netwrix Data Classification, Netwrix Auditor for Windows File Servers enables you to identify changes and analyze access rights based on the contents of your data across multiple storage platforms — enhancing both on-premises and cloud security.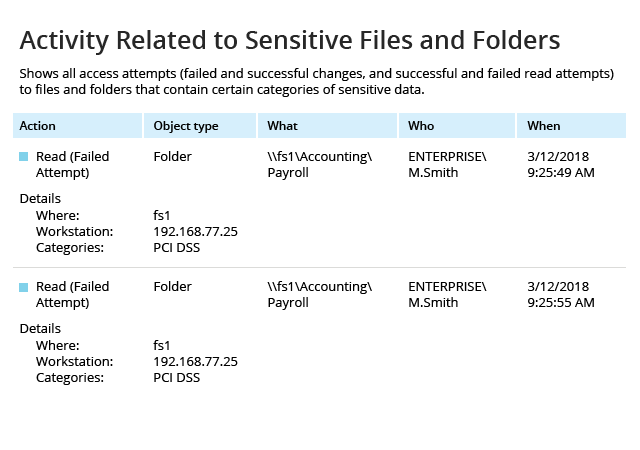 A file integrity checking tool can also help you comply with today's stringent compliance mandates. Netwrix Auditor enables you to pass audit checks with far less effort and expense by providing out-of-the-box compliance reporting for many common regulations, including PCI DSS: