Linux computing solutions are both flexible and powerful. Securing that power, however, requires tools that can stop configuration drift on your servers and desktops that could lead to security incidents.
Netwrix Change Tracker provides the intelligent file integrity monitoring (FIM) you need. It detects every change to your Linux systems and alerts you instantly to any unauthorized modification, giving you the clear information you need to respond quickly to improper changes and prevent security incidents. As a result, you can maintain the integrity of your Ubuntu systems and manage their security effectively.
Use Certified Baselines To Ensure System Security
Start improving your Linux security by easily creating a hardened baseline for new system installs. Netwrix Change Tracker includes hundreds of CIS and DISA STIG certified build templates that cover a wide range of industry regulations, removing the guesswork from deploying securely. To aid you further, it also provides specific recommendations for minimizing your attack surface area.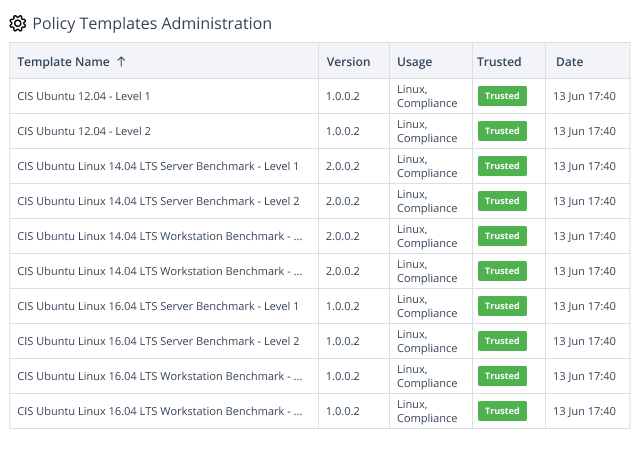 Monitor All System Changes And Make Sure Those Changes Are Authorized And Secure
Changes to system and configuration files are inevitable as patches and updates roll out. The intelligent file integrity monitoring in Netwrix Change Tracker makes it easy to spot dangerous changes to your Ubuntu systems. For example, Trojan attacks plant malware in system files, where it hides until it is activated. These changes are normally hard to spot, but Netwrix Change Tracker includes an advanced cloud database of over 10 billion file reputation keys that is kept up to date by the original software vendors, including Canonical, Oracle and Adobe. Immediately following any change to your files, Netwrix Change Tracker references this database to check for any loss of integrity, greatly enhancing the performance of your intrusion detection.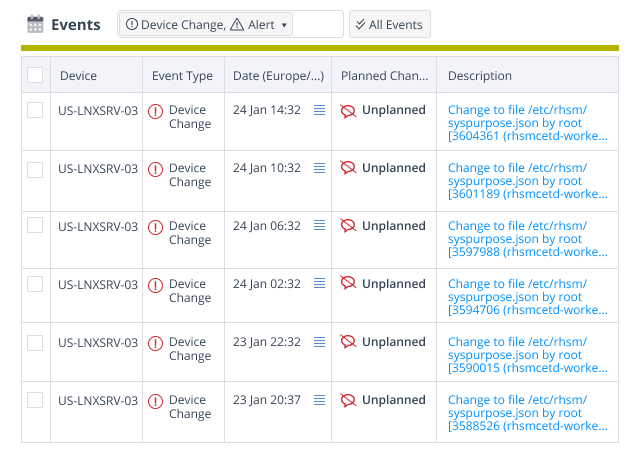 Gain Confidence In System Integrity With Constant Monitoring And Alerts On All Unauthorized Changes
Netwrix Change Tracker monitors your system for changes every second of every day. All change events are logged — but only unauthorized or suspicious changes are brought to your attention. This reduction in change noise works through integration with your ITSM systems: As you plan new installations, updates or patches, those plans are communicated to Netwrix Change Tracker, which builds automatic change rules to ensure those changes are not flagged when they go live. Instead of being flooded by messages about legitimate events, you can focus on activity that truly needs investigation.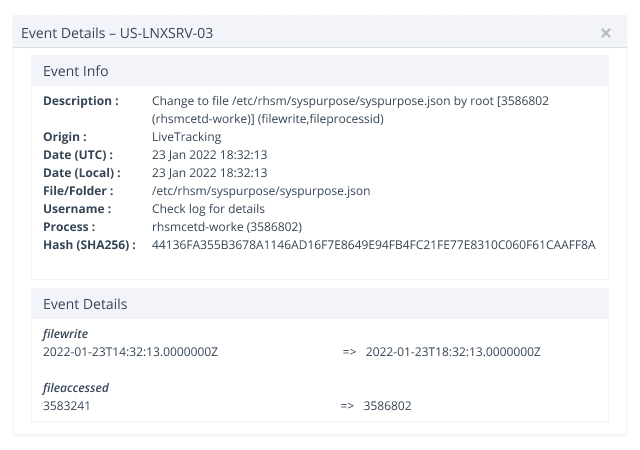 Netwrix Change Tracker takes the guesswork out of deploying secure Ubuntu systems, ensure that your systems files are authentic and constantly monitor your live Linux environment for any unauthorized change. But that's not all this application can do! Here are some other benefits:
Get one security center for monitoring all your infrastructure components from the cloud to the data center, including database platforms, across desktops, network devices and industrial control systems.
Skip the hard work and pass audits easily with the use of certified templates and prebuilt compliance reports.
Look back in time to find where and when a breach started and exactly which systems and files were affected.
Gain complete visibility into your IT security
Easily scale as your infrastructure grows in size.
Group any number of available systems and devices to consistently apply templates, set monitoring and run reports.
Automate the creation of daily, weekly and monthly reports.
Add monitoring to any working directory on any system.
Create user-specific roles to limit privileged access.
Streamline IT tasks using the secure API and scriptable command-line
Work from anywhere using the lightweight, web-based user interface.