Native Auditing
Netwrix Auditor for Active Directory
Steps
Open the Powershell ISE → Run the following script, adjusting the path for the export:
Get-ADComputer -Filter * -Property * | Select-Object
Name,OperatingSystem,OperatingSystemVersion,ipv4Address | Export-CSV
ADcomputerslist.csv -NoTypeInformation -Encoding UTF8
Open the file produced by the script in MS Excel.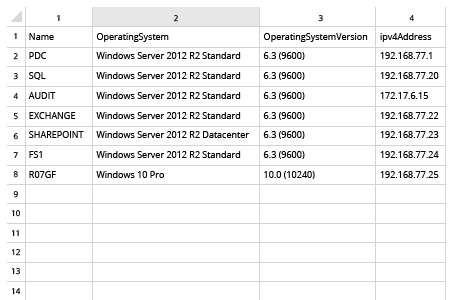 Run Netwrix Auditor → Navigate to "Reports" → Open "Active Directory" → Go to "Active Directory - State-in-Time" → Select "Computer Accounts" → Click "View".
To save the report, click the "Export" button → Choose a format, such as PDF → Click "Save as" → Choose a location to save it.