Practical Steps to Establishing Good Information Governance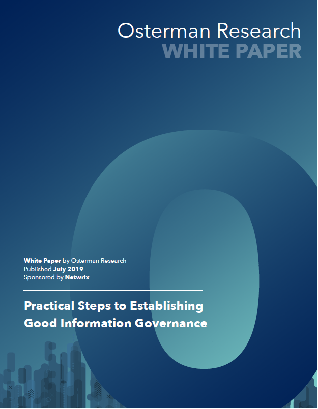 Managing data properly is getting harder all the time. The volume of information produced and processed in organizations is increasing exponentially. Moreover, the makeup of that data is changing, and new types of data are emerging. Finally, the data is distributed across a wide and growing range of platforms, including email, file shares, databases, desktops, laptops, mobile devices, and collaboration platforms like SharePoint and Slack — not all which are under the strict control of corporate IT.

As a result, most organizations are struggling to keep data both secure and available. But overcoming these challenges is clearly critical for enabling employee productivity and achieving business goals. It's also essential for effective eDiscovery and regulatory compliance — especially for meeting new privacy requirements that constrain how organizations can collect, retain and delete data.

The solution is to implement an information governance program that will help your organization properly manage its data; satisfy its legal, regulatory and best practice obligations; enhance employee productivity; and reduce the overall corporate risk associated with improper information management. In this research, you will find detailed information about the challenges organizations like yours are facing and the costs of failing to overcome them — along with practical steps for establishing a good information governance program.