Add-on for Cisco
Get complete visibility into what's going on with your Cisco network devices. Simply connect your Cisco network devices with Netwrix Auditor through the RESTful API using
this free add-on.
Maximize visibility into what's going on with your Cisco ASAs, routers and switches
Use actionable information that includes who-what-when-where details to bring complete visibility into what's going on with your Cisco ASA security products and your Cisco IOS appliances. Continuously monitor user activity and hardware status or investigate any particular incident with Google-like
interactive search.
Detect and block threats to your network infrastructure
Monitor your Cisco device configuration changes and authentication attempts to prevent attackers from taking control over your network traffic and thwart malicious activity before a
data breach occurs.
Document and securely store audit trails for
later review
Keep your audit data archived for years in the cost-efficient two-tiered storage. You can instantly access it the next time there is a security investigation or
a compliance check.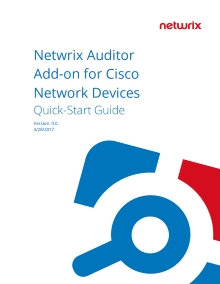 Review detailed instructions for installing the Add-on for Cisco.
Learn how to configure the add-on properly.
Start getting complete visibility into changes, authentication attempts and hardware incidents throughout your Cisco environment.