Native Auditing
Netwrix Auditor for Active Directory
Steps
To audit changes to Group Policy, you have to first enable auditing: Run gpedit.msc under the administrator account → Create a new Group Policy object (GPO) → Edit it → Go to "Computer Configuration" | Policies | Windows Settings | Security Settings | Advanced Audit Policy Configuration| Audit Policies/DS Access → Click "Audit Directory Service Changes"→ Click "Define" → Choose "Success".
Link the new GPO to an OU: Go to "Group Policy Management" → Right-click the OU → Choose "Link an Existing GPO" → Choose the GPO you created.
Apply your change by forcing a Group Policy update: Go to "Group Policy Management" → Right-click the OU → Click "Group Policy Update".
Open ADSI Edit → Connect to the Default naming context → Navigate to CN=Policies,CN=System,DC=domain → Open the "Properties of Policies" object → Go to the Security tab → Click the Advanced button → Go to the Auditing tab → Add the Principal "Everyone" → Choose the Type "Success" → For Applies to, click "This object and Descendant objects" → Under Permissions, select following checkboxes: "Create groupPolicyContainer objects", "Delete", "Modify Permissions" and "Write versionNumber" → Click "OK".
To review Group Policy changes, open the Event Viewer and search the Security log for event ID 5136 (the Directory Service Changes category).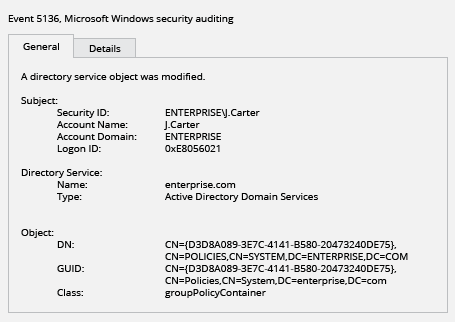 Run Netwrix Auditor → Navigate to "Reports" → Expand the "Active Directory" section → Go to "Group Policy Changes" → Select "All Group Policy Changes" → Click "View".
If you want to get this report by email regularly, simply choose the "Subscribe" option and define the schedule and recipients.