How to Export Specific Users from Active Directory
Native Auditing
Netwrix Auditor for Active Directory
Create a new script with the following code (defining the "$Path" value) and run it:
$Path = 'C:\Temp\ADUsers.csv'
Get-ADUser -Filter * |
Select-Object Name,Enabled,UserPrincipalName | Export-Csv -Path $Path –notypeinformation
Open the file produced by the script in MS Excel.
Sample report: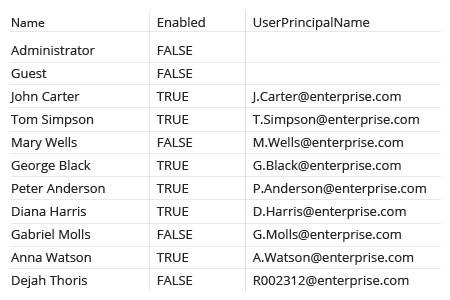 Run Netwrix Auditor → Click "Reports" → Navigate to Active Directory → "Active Directory State-in-Time" → Select "User Accounts" → Click "View".
To save the file, click the "Export" button → Select Excel format → Save as → Choose a location to save it.
Report sample: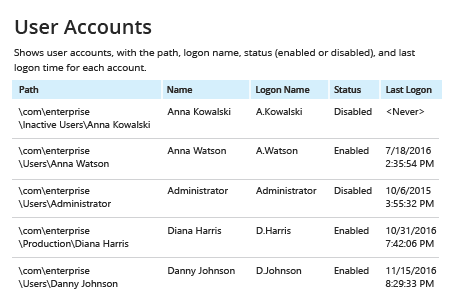 Export Current User List in a Readable Format from Active Directory Faster
IT pros are frequently asked to export users from Active Directory into a comprehensible format. Often they are asked to export AD users to CSV, because this structured format enables easy transformation of the data. To handle these requests in a timely manner, they need a tool that enables them to export Active Directory users to CSV in minutes.
Netwrix Auditor for Active Directory enables IT administrators to export a user list from Active Directory into an easy-to-read format. With one click, they can export AD users to Excel, so there's no need to waste time manually crawling through data to put together a list of AD users.