Leverage Netwrix Compliance Audit Software to Meet Regulatory Requirements with Less Effort and Expense
Enable efficient IT compliance management in your organization
Compliance is always a painful experience. The growing complexity of your IT infrastructure makes it hard to know whether your internal controls are working, and every upcoming audit forces you to spend weeks or even months collecting the evidence auditors will demand. Netwrix regulatory compliance software can help you solve these challenges in the
following ways:
Pass audits on your first attempt
Implement and validate the necessary internal controls across your entire IT infrastructure before auditors come to call.
Ensure efficient security investigations
Investigate incidents that happened in the distant past, by retaining your complete audit trail in a cost-effective storage.
Slash preparation time for audits by up to 85%
Use predefined reports that provide hard evidence of your compliance in human-readable format.
Find out exactly how Netwrix solutions help you comply with many common regulatory standards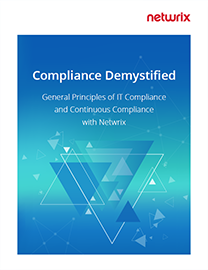 It can be challenging to understand all the complex regulatory requirements and know where to start

with compliance.
This eBook highlights the main aspects of the most common compliance standards and details how Netwrix can help you achieve your goal of continuous compliance.
customer success
See how companies across a wide range of industries rely on Netwrix to ensure and prove
IT compliance
An investment in compliance management software is negligible compared to the penalties
for non-compliance
Organizations that fail to achieve and prove regulatory compliance can face damaged reputation, costly fines and even imprisonment of C-level executives. Investing in compliance software mitigates these risks by helping you ensure the confidentiality, integrity and availability of
regulated information.