Improving Security of Your SharePoint with a Permissions Report
To ensure the security of the sensitive data you keep on your SharePoint sites, a set-it-and-forget-it approach to providing access to users to view and modify data is simply not enough. You need SharePoint permissions auditing that enables you to stay on top of all changes to permissions, since even a small change can be the first sign of privilege abuse that could result in data loss or a breach. Effective SharePoint permissions reporting will help you track activity around permissions and detect unauthorized changes faster to protect your data.


Limitations of native SharePoint permission auditing
Permission management in SharePoint is often left to the various department heads across an organization, who all too often assign unique permissions directly to a user instead of assigning them to a group. Therefore, enabling audit of SharePoint permissions changes is essential for IT administrators who are responsible for ensuring that no insiders or external attackers can compromise sensitive data.
Using built-in SharePoint permissions reporting tools, you can configure site collection audit settings and export security audit report into an Excel file via PowerShell or ECP. However, the native SharePoint user permissions report won't provide you with easy-to-read details of each event. For instance, if someone was added to a SharePoint group, such as Farm Administrators, instead of being able to quickly identify who exactly was added to the group and who made this change so you can respond appropriately, you'll have to spend significant time struggling to put the pieces of the puzzle together. So how can you spot abnormal activity in time and enable granular investigation of incidents that could threaten your valuable SharePoint content?
Keeping abreast of SharePoint permissions with reporting from Netwrix Auditor
Netwrix Auditor for SharePoint is a SharePoint permission reporting tool that delivers all the necessary detail about access events, reads, and changes to configuration, sites and content — and also brings pervasive visibility into how permissions to sites, lists, list items and library files are being changed across your SharePoint Server. With its easy-to-understand reports and dashboards, you can improve permission management, as well as detect and block insider threats.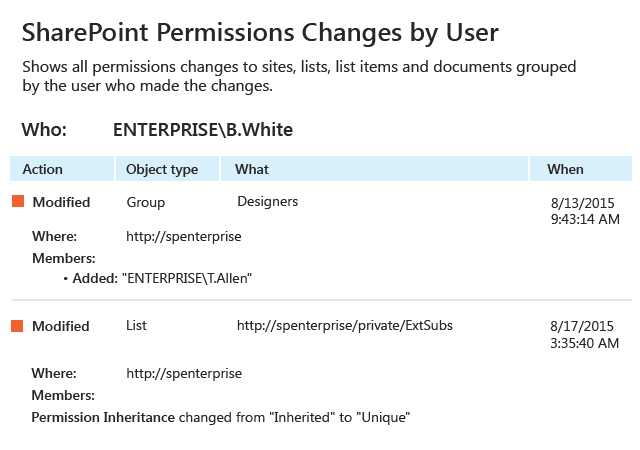 The benefits go far beyond what native functionality has to offer so you can:
Spot suspicious activity faster by regularly reviewing actionable reports on SharePoint permissions. The reports show all the critical details, including who made each change, when and where it happened, and the before and after values.
Subscribe to the most useful SharePoint user permissions reports and get them on the schedule you set.
Save time determining the true root cause of a problem with the Interactive Search feature.
Shield your critical assets against inside misuse and external attacks better with alerts on threat patterns.
Stay on top of what's going on across your SharePoint Online by using Netwrix Auditor for Office 365.