Windows Server Auditing Software
Netwrix Auditor for Windows Server delivers complete visibility into Windows Server infrastructures. It provides details about server configurations that can be compared to your baseline or any point in the past; detects and reports on all changes made to server configuration; and enables video recording of user activity.
Detailed configuration reports
Reports on the current configuration of your Windows servers and enables you to easily compare that configuration to a baseline or a given point in the past, so you can spot
and remediate vulnerabilities.
Notifies you about critical security events, with all the detailed information required to remediate malicious or accidental changes that could put your configurations and
data at risk.
Visibility into every
Windows Server change
Provides key details about all Windows Server changes, including when each change was made, who made it, and what exactly was changed, with the before
and after values.
Video recording of user activity
Helps protect systems and critical applications — even if they do not produce any logs — by auditing the activities of privileged users. Video recordings can be later
searched and replayed.
Out-of-the-box compliance reports
Streamlines audits with predefined reports mapped to common regulatory compliance standards, including PCI DSS, HIPAA, SOX, GLBA, FISMA/NIST, CJIS,
GDPR and more.
Non-intrusive architecture
Operates without agents, so it never degrades performance or causes
system downtime.
Windows Server is a critical underlying system for Active Directory, database and file servers, business applications, web services and many other important elements of an IT infrastructure. Auditing Windows Server is an absolute must for the majority of organizations. Netwrix Auditor for Windows Server automates auditing of changes, configurations and security events to help organizations improve their security posture, streamline compliance efforts and optimize
routine operations.
"Netwrix Auditor helped us to get more secure environment. Now we are able to see what is changing and how across all the IT systems that we so heavily rely on. Netwrix Auditor has removed the blind zones, and now I feel more confident about the security of my IT network."
Hercu Rabsat, Director of Infrastructure & Service
Management, Mansfield Oil
Maintain full control over changes and security events in your Windows-based
server environment
Maintain full control over changes and security events in your Windows-based
server environment
Exert more vigilance over everything happening on your servers with
easy-to-understand predefined reports
,
dashboards
and
custom alerts
. This easy
access to
complete
,
actionable audit information
helps you demonstrate your adherence to security policies or compliance regulations, ensure business continuity, and quickly
remediate issues.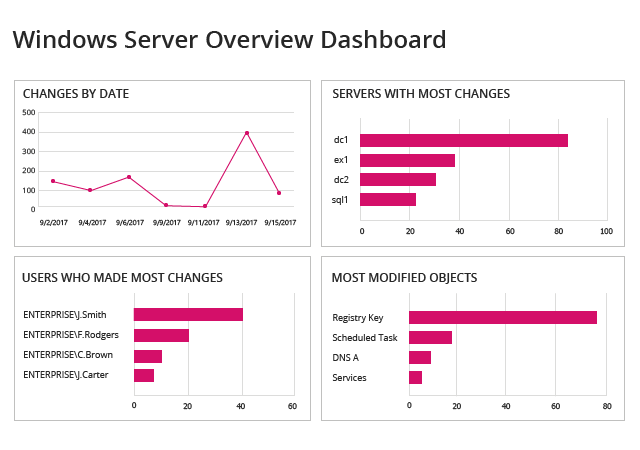 Enable continuous Windows auditing and store a complete audit trail
for years
Easily answer questions from internal and external auditors, such as whether you have only
eligible members
in your
Local Administrators group
and
who installed software
or
changed hardware
during the previous month or quarter. The actionable audit trail is stored in a secure two-tiered (file-based + SQL database) AuditArchive™, where it can be saved cost-effectively for more than
10 years.
Quickly detect and investigate unauthorized changes to minimize the risk of hijacking of your
critical servers
Jettison the inconvenient and time-consuming tasks required to process the raw, cryptic and often incomplete data from native Windows Server auditing. Netwrix Auditor for Windows Server makes it easy to detect unauthorized changes with predefined change and configuration reports, dashboards and customizable alerts. Use the
Interactive Search
engine to quickly get to the bottom
of each change.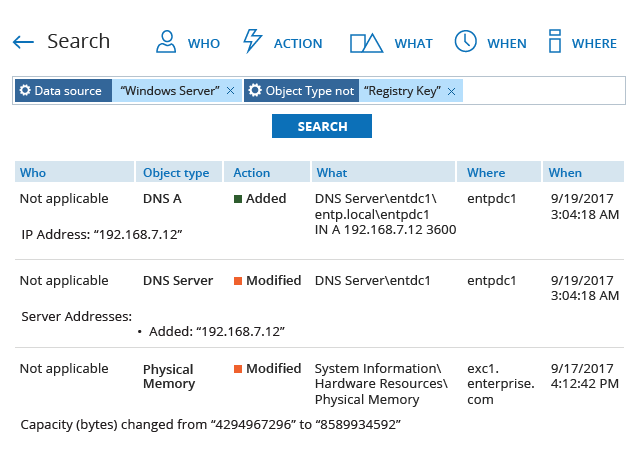 "While there are native tools you could use to get dumps of data, they require a lot more time to work with. With Netwrix Auditor it takes me five minutes to complete tasks that used to take all day."
Ryan Dorman, Senior Systems Administrator,
Borderfree Inc.
Free guide:
Keeping Tabs on the Top 5 Critical Windows Server Changes with Netwrix Auditor
Datasheet:
Complete Visibility into Windows Server with Netwrix Auditor
Built for IT environments of all sizes, Netwrix Auditor supports the growth of your organization
Over 160,000 IT departments worldwide rely on Netwrix to secure IT infrastructure, prove compliance and increase operational efficiency