Active Directory plays a critical role in user authentication and user rights assignment, so it is right at the top of most auditors' checklists. To achieve and prove your compliance with regulations, you must continuously track Active Directory changes and regularly assess its configuration. Unfortunately, given the large number of changes that happen every day in Active Directory, especially in large environments, these crucial auditing tasks are extremely difficult and time-consuming if all you have are native tools and manual processes. Indeed, without a dedicated piece of software for compliance auditing and reporting, it's nearly impossible to adhere to compliance requirements.
Netwrix Auditor for Active Directory provides the actionable audit data required to prove that your organization's information security program adheres to PCI DSS, SOX, HIPAA, GLBA, FISMA and other compliance standards. With out-of-the-box Active Directory reports mapped to each of these standards, you can provide the required proof to your auditors in just a few clicks.
Moreover, Netwrix Auditor for Active Directory will help you ensure that critical security processes, including access controls and account management controls, are in place and effective. Alerts inform you immediately about critical Active Directory changes that could violate your security policies or compliance requirements. Unlike other solutions, Netwrix Auditor provides two-tiered storage that enables you to keep your audit trail for the time period required by regulations and ensures easy access to it for historical reporting, without increasing storage costs.
PCI Compliance in Active Directory with Netwrix Auditor
The Payment Card Industry Data Security Standard (PCI DSS) was developed to encourage and enhance cardholder data security and facilitate the broad adoption of consistent data security measures globally. The PCI DSS standard is mandated by the major card brands and administered by the Payment Card Industry Security Standards Council. PCI DSS includes 12 sections of requirements and more than 200 controls designed to enhance the security of credit card data. Failure to comply with PCI DSS can result in fines, reputation damage and even loss of the right to accept major credit cards.
From a compliance perspective, IT operations can be viewed as a collection of control processes — technical and operational measures that organize and manage the flow of information in IT systems according to established policies. To help organizations achieve PCI compliance in Active Directory Netwrix Auditor facilitates the following control processes:
Identification and authentication — These controls help ensure that all users and devices accessing information systems are uniquely identifiable and their authenticity is verified before the system grants access. One example of such a control is multi-factor authentication. Netwrix Auditor provides comprehensive Active Directory auditing, enabling you to audit changes to users, devices, group membership and GPO settings. With this vital data at your fingertips, you can ensure proper identification and authentication of users and computers in your environment.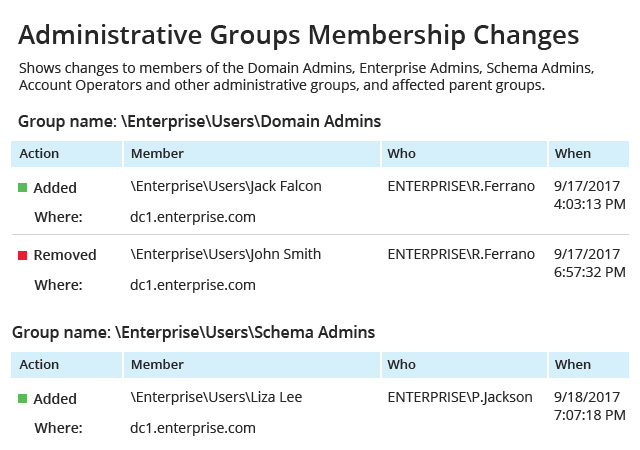 Access control — Credentials stored in Microsoft Active Directory control activity across much of the IT environment, including user access to file servers, SharePoint and other enterprise systems, along with remote access. Netwrix delivers the comprehensive access management required for PCI DSS compliance by enabling full visibility into account provisioning and deprovisioning, clear permissions management, and auditing of the activity of both users and administrators.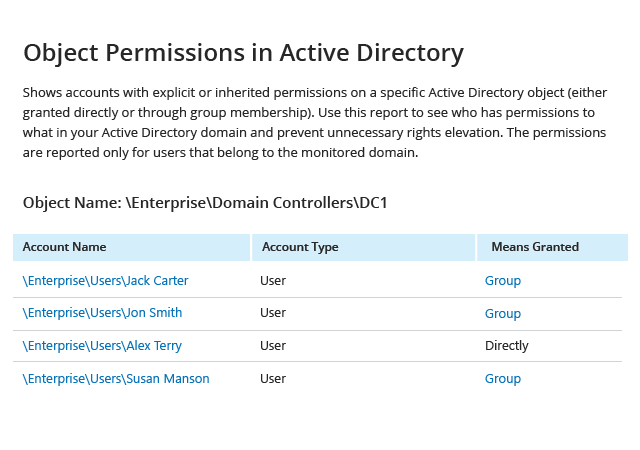 Audit and accountability — Netwrix solutions directly implement many of the audit and accountability requirements of PCI DSS by capturing a complete audit trail and securely storing it for more than 10 years; enabling easy access to audit information for investigations and compliance reviews; and enabling video recording of user activity in systems that do not produce audit events. As a result, you will save an enormous amount of time and effort on PCI audit preparation.
Configuration management — Netwrix solutions help you ensure that the configurations of your information systems comply with internal policies and external regulations, and prove that all changes to your Active Directory and Group Policy are both proper and authorized.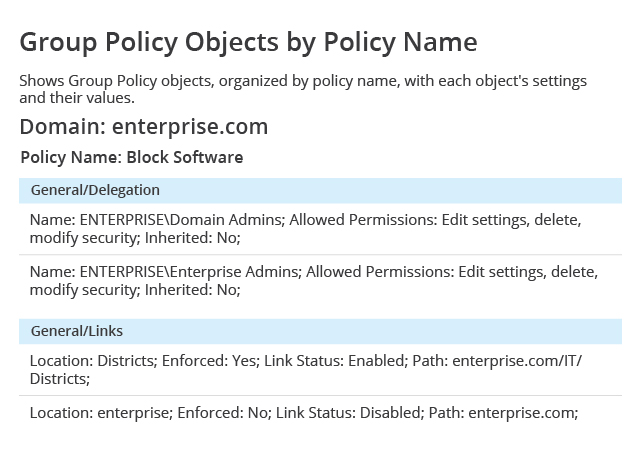 Incident response — These controls cover incident detection, analysis, containment and recovery. Netwrix solutions enable prompt detection of suspicious activities, such as password tampering, unusual changes to GPOs and repeated logon failures, and enable IT teams quickly investigate incidents and roll back improper settings.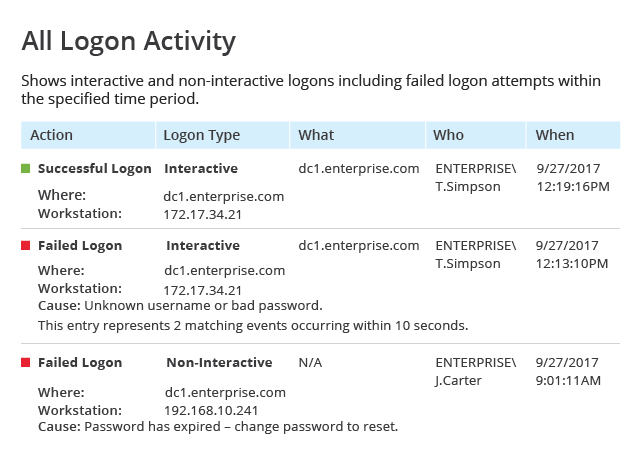 Risk assessment — Netwrix solutions include out-of-the-box reports on common AD risk factors, such as excessive number of inactive user accounts, computer accounts or accounts with administrative permissions, or any accounts with improper password settings. The reports clearly indicate the potential impact of each risk for your environment, so you can prioritize your response.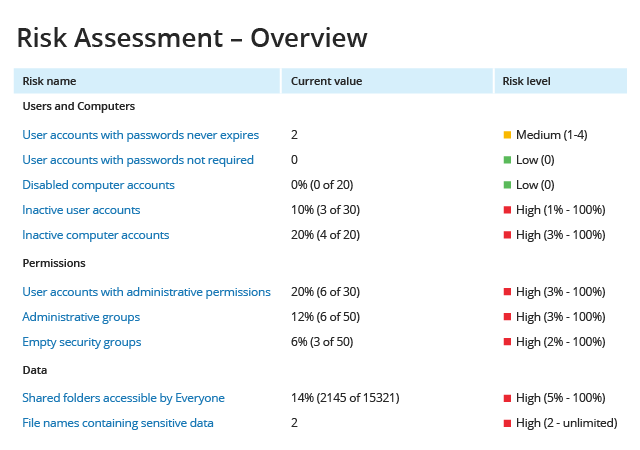 System and information integrity — These controls aim to protect information systems and data from being compromised by outsider attackers and malicious insiders. Netwrix solutions provide both reports and alerts on events in AD that are indicative of an attack or unauthorized use, so you can respond promptly to ensure the integrity of your systems and information.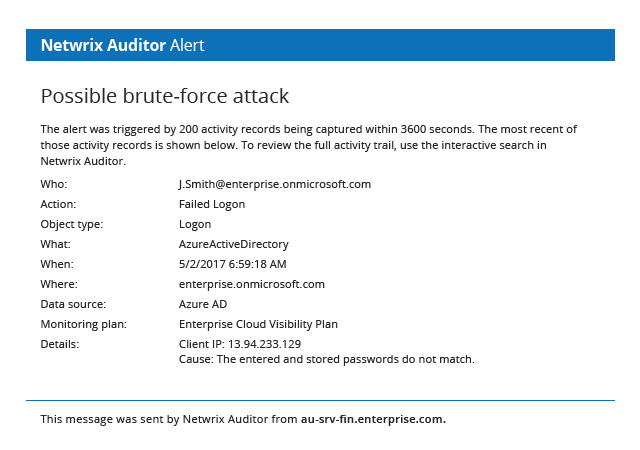 Learn more about how Netwrix Auditor can help your organization meet PCI DSS compliance requirements.