Netwrix Auditor for
Active Directory
Complete visibility into Group Policy changes and the current state of your GPOs
Group Policy Auditing Software
Netwrix Auditor delivers complete visibility into changes made to Group Policy objects, such as security settings and links between GPOs and domain controllers or public key policies, and enables you to compare their current states with your known good baseline, so you can facilitate Group Policy auditing, improve IT security and prove regulatory compliance more easily.
Monitors modifications to audit policy configuration and other Group Policy changes, providing the critical who, what, when and where details and before and after values.
Shows the current state of your Group Policy objects and their settings, so you can easily compare them to a known good baseline.
Notifies you about critical changes to Group Policy settings, such changes to interactive logon policy or Windows settings, so you can respond immediately.
Enables you to quickly sort through GPO audit data and fine-tune your search criteria until you find the information you need. Save your searches as custom reports that you can run on demand or have delivered to you on schedule.
Comprehensive reports
Augments native audit logs by providing comprehensive predefined reports and dashboards with filtering, sorting and exporting capabilities. Email subscriptions automate report generation and delivery.
Improves detection of malicious insiders and compromised accounts by aggregating their anomalous activity in Group Policy, Active Directory, Windows Server, Office 365 and other critical systems, both on premises and in the cloud.
Slashes time spent preparing for compliance audits with predefined reports mapped to PCI DSS, HIPAA, GDPR, SOX, GLBA, FISMA/NIST, CJIS and other regulatory standards.
Cost-effective audit data storage
Keeps all audit trail data in a two-tiered storage that securely retains consolidated audit records for more than 10 years and ensures quick and easy access to the data throughout the whole retention period.
Non-intrusive architecture
Operates without agents, which ensures that data collection does not interfere with system processes or performance.
Audit Group Policy changes and GPO states with Netwrix Auditor to ensure compliance and improve security
Administrators who rely on native logs only for Group Policy auditing spend hours or even days crawling through endless cryptic logs in an attempt to investigate a single security incident or prepare compliance audit reports. Most Group Policy audit tools can't help you address these needs. Netwrix Auditor can.
Systematically review your Group Policy configuration
With native Microsoft Windows tools, you can't quickly determine which policies stored in the Group Policy container fail to comply with your internal security controls. Netwrix Auditor's comprehensive reports deliver actionable audit data so you can, for instance, assess whether your default policies should be re-enabled or linked to the appropriate DCs.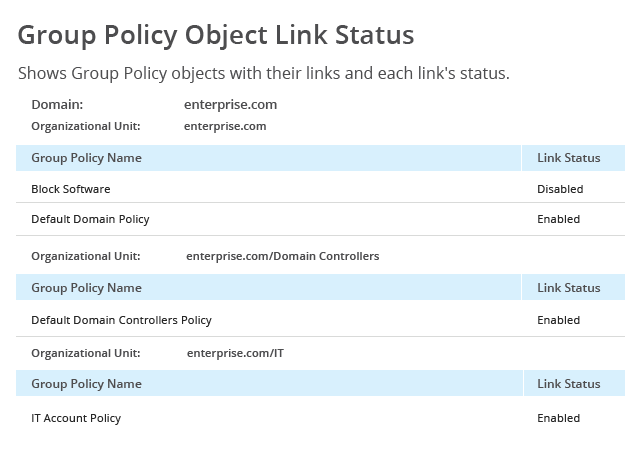 Respond to unwanted changes faster
Since GPOs settings control your domains, users, computers and other AD objects, any change made through the Group Policy Management Console could lead to prolonged business service disruptions. Netwrix Auditor notifies you about each modification you deem critical, so you can remediate any improper changes and get your systems back up and running in a timely manner.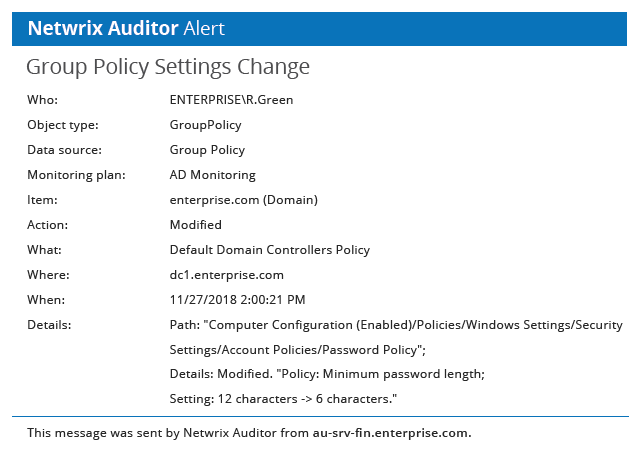 Speed up investigation of security incidents
If you use Event Viewer when trying to get to the bottom of a security incident, you are likely to get bogged down in cryptic event logs for the rest of your day. Moreover, you won't get the critical before and after value you need to speed the investigation. Use Netwrix Auditor's Interactive Search to quickly find out who modified your network or audit policies and use your findings to respond and avoid similar issues in the future.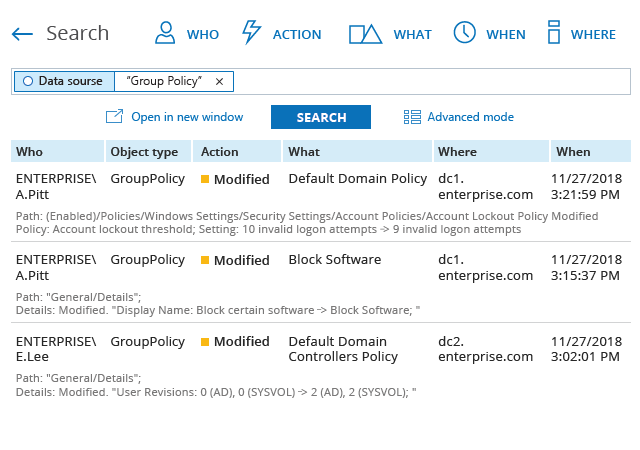 Pass compliance audits more easily with advanced auditing and reporting on Group Policy changes
Don't spend days creating custom reports or writing PowerShell scripts when preparing compliance reports for auditors. With out-of-the-box reports mapped to the specific controls of PCI DSS, HIPAA, GDPR and other regulations, you can easily prove that your IT environment meets compliance and security standards.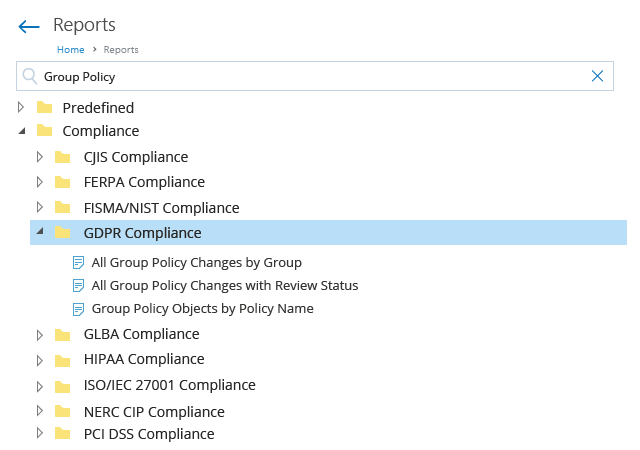 See how organizations of all sizes are using Netwrix Auditor for better IT security and streamlined compliance
"Netwrix Auditor is a fantastic solution that has become a proxy set of eyes and ears, monitoring the network for anomalous Active Directory and Group Policy activity. The volume of information it sorts through would require someone spending 4–8 hours per week. At the rate I pay for MSP support, that equates to a savings of $1,200–$2,400 per month in additional labor cost."

Spencer Andrews, IT Director,
EventLink