Netwrix Auditor for
Azure AD
Complete visibility into what's going on
in Microsoft Azure AD
Azure Active Directory Auditing
and Reporting
Get actionable audit data about all changes and logons in your Azure Active Directory. Netwrix Auditor for Azure AD enables you to quickly detect and investigate incidents that threaten your cloud security or could cause downtime.
Simplifies Azure AD auditing by delivering detailed information about all changes, including who made the change, the date and time it occurred, exactly what was changed, and the current and past values.
Facilitates Azure AD access control for security and compliance by pulling together user and admin sign-in logs and providing security reports on both successful and failed attempts to access your Azure AD and cloud applications.
Advanced Azure Active Directory reporting
Streamlines Azure AD activity monitoring with an overview dashboard and detailed scheduled and on-demand audit log reports that offer filtering, sorting and exporting options.
Notifies you about critical Azure AD activity that puts your environment at risk, such as role changes or repeated failed logons, so you can respond to incidents in time to prevent real damage.
Improves detection of malicious insiders and compromised accounts by aggregating their anomalous activity in Azure Active Directory and other systems, both on premises and in the cloud.
Enables you to quickly sort through your audit data by fine-tuning your search criteria until you find the root cause of an issue or the answer to a specific question from a compliance auditor.
Streamlined compliance reporting
Slashes preparation time for compliance audits with predefined activity reports mapped to PCI DSS, HIPAA, GDPR, SOX, GLBA, FISMA/NIST, CJIS and other regulatory standards.
User Behavior and Blind Spot Analysis
Makes it easy to detect subtle indicators of threats in your Azure AD, such as unusual logons that might indicate account takeover or a disgruntled privileged user trying to hide behind temporary accounts.
Unified platform
Delivers visibility into Azure AD, Office 365, on-prem AD and other critical systems with a single unified platform. Brings more context to your SIEM data and centralizes monitoring of any enterprise application
with a RESTful API.
Simplify Azure Active Directory auditing with Netwrix Auditor to strengthen cloud security and
prove IT compliance
Azure AD holds the keys to many of your organization's critical assets, so you need to monitor it closely. Do you know who added illicit applications to the cloud? Can you determine when users' passwords were changed? How long would it take you to trace admin activity across your Azure AD and other systems? Netwrix Auditor delivers this information in a few clicks.
Spot threat patterns in time to prevent
security breaches
Be the first to be notified about risky events that could endanger your cloud security. Enable alerts on any audit events that you consider dangerous, such as multiple failed sign-ins to the Azure AD portal and deletions of users and devices, to quickly catch threats and mitigate the impact of security incidents.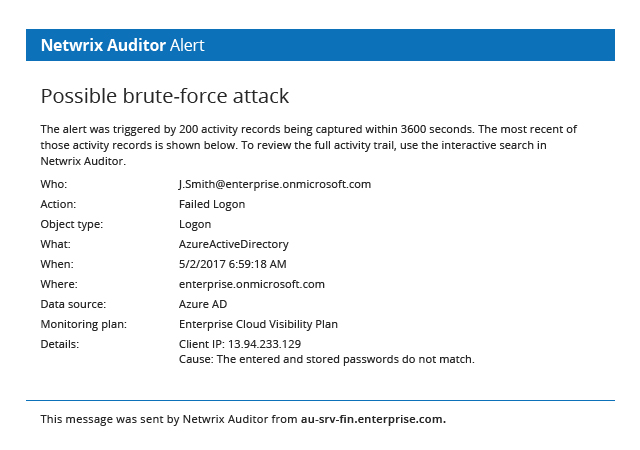 Investigate operational and security
incidents faster
Get the broader context of an issue with traces from multiple systems, both on-premises and in the cloud. For example, you might quickly find out that sensitive data was deleted from your site because an unauthorized SharePoint administrator was added in Azure AD. Use your findings to respond quickly and avoid similar issues in the future.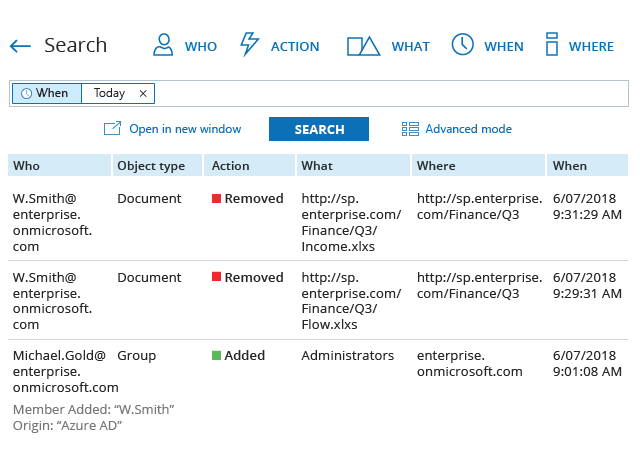 Troubleshoot unauthorized changes with detailed
Azure AD reporting
Native Azure AD logs can hold data for only 90 days, and the noise that Azure AD logging contains makes it likely that you'll miss critical events. But Netwrix Auditor cuts through the noise and provides the actionable audit data you need to get to the root cause of an issue, even if the incident happened far in the past.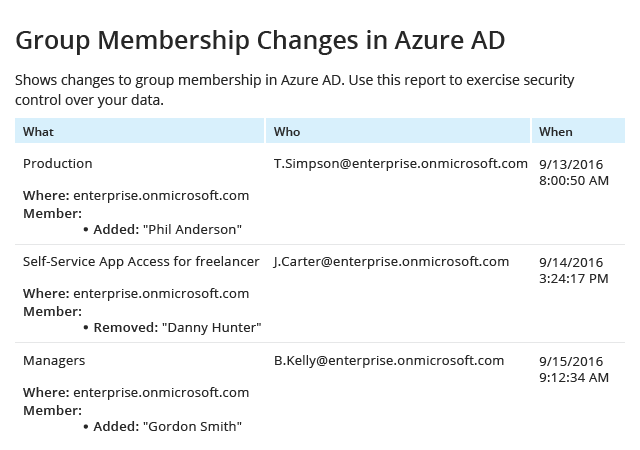 Simplify preparation for
compliance audits
Compliance auditors often ask for specific information that is not easy to extract from the native Azure AD reports. Slash the time you spend crawling through audit data and compiling compliance reports. Quickly respond to auditors' questions and provide clear evidence of your IT compliance with reports mapped to specific controls of PCI DSS, HIPAA, GDPR and other regulations.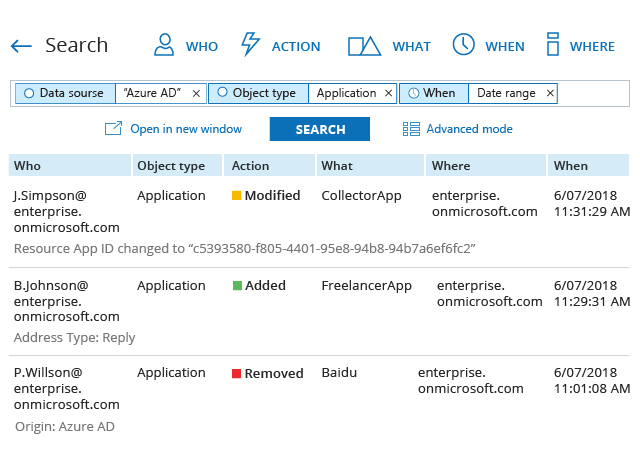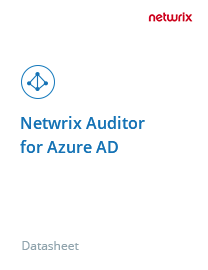 Learn more about how Netwrix Auditor simplifies Azure AD auditing, helping you improve threat detection and streamline compliance.
Download Datasheet (.pdf)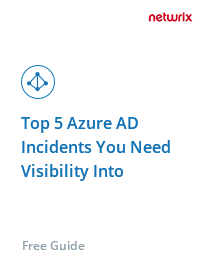 Discover the top 5 incidents you need to keep track of in your Azure AD environment using the actionable intelligence from Netwrix Auditor.
Download Free Guide (.pdf)
Find out how organizations of all sizes are using Netwrix Auditor
audits faster
to improve cloud security and pass compliance
"We use Netwrix Auditor to make sure that our environment is not sabotaged. We are always aware of what has been done and who did it. We know that appropriate controls are in place and no one has more access and power than they need."

Ryan Westover, System Administrator
Ellucian
Group Policy auditing with Netwrix Auditor for
Active Directory
Lack of proper Group Policy auditing puts the business at risk in multiple ways. Unauthorized, accidental or malicious changes to Group Policy settings can jeopardize the security of sensitive resources, interrupt critical processes and services, and lead to failed compliance audits. Built-in Group Policy auditing tools provide very limited capabilities to track Group Policy changes, and Windows auditing can report only that a Group Policy was changed, with nosupporting details.
Netwrix Auditor for Active Directory enables organizations to audit all Group Policy changes. It provides detailed reports about who changed what, when and where each change was made, and the before and after values for each modified setting. Moreover, administrators can get alerts about changes to critical settings so they can respond immediately.
Active Directory restore with Netwrix Auditor for
Active Directory
Whenever an unauthorized change occurs in Active Directory, IT administrators need to be able to quickly recover Active Directory without impacting user productivity or causing significant downtime.
Netwrix Auditor for Active Directory helps ensure business continuity by enabling quick and easy Active Directory recovery. IT admins can restore the Active Directory configuration to its previous state without any downtime or having to restore from backup.
Active Directory audit for security
and compliance
Ongoing review of changes made by privileged users in Active Directory helps organizations detect insider threats, investigate security incidents and prove to auditors that security policies are being followed.
Unlike standalone Active Directory auditing tools, Netwrix Auditor is a unified IT auditing platform that enables organizations to audit the broadest variety of IT systems, including Active Directory, Exchange, file servers, SharePoint and other systems—all from a single console. With Netwrix Auditor, organizations can perform Active Directory security audits, easily analyze current and past configurations, and quickly restore unwanted changes.
Active Directory auditing and reporting
Reporting Active Directory changes on a regular basis with Windows native auditing is a time-consuming process. IT administrators have to manually crawl through massive amounts of log data and prepare spreadsheets that contain change details for their managers, security teams, and internal or external auditors.
Netwrix Active Directory auditing and reporting software keeps track of changes to AD configuration settings and provides automated change tracking and reporting capabilities that significantly speed the process of audit data collection, aggregation and delivery.
Active Directory change audit
Windows Active Directory is used by organizations of all sizes and in all industries to store user identity information, secure access to company's resources, and define administrative and security policies. IT departments need to track Active Directory changes to be able to proactively detect unauthorized changes that can be the root cause of a downtimeor security breach.
Active Directory change audit software from Netwrix provides an easy and straightforward way to audit Active Directory changes. It automatically creates and emails reports detailing every change made to AD configurations, on the schedule you specify. The reports list changes to AD objects, newly created and deleted GPOs, GPO link changes, changes made to audit policy, password policy, software deployment, user desktops, and all Active Directory and Group Policy settings. The data includes who, what, and when information for all changes, along with previous and current values for each modified setting.