Oracle Database Auditing Software
Netwrix Auditor for Oracle Database delivers security analytics about changes made to database objects, roles and permissions, and about successful and failed attempts to access production databases and structured data. Its database activity monitoring helps detect threats, so organizations can harden their Oracle Database security and ensure database availability.
Enables you to easily create custom alerts on critical actions such as changes to roles and failed logon attempts, so you can respond to incidents faster and
safeguard your data.
Complete details about changes
Enables Oracle Database monitoring by providing actionable intelligence into who made each change, when and where
it happened.
Deep insight into every Oracle access event
Delivers full visibility into both successful and failed access attempts, which helps toughen Oracle Database security and protect critical data against
unauthorized access.
Oracle Database auditing to pass compliance checks
Makes your Oracle 11g and 12c audit checks painless with out-of-the-box reports aligned with PCI DSS, HIPAA, SOX, GLBA, FISMA/NIST, CJIS,
GDPR and more.
Detailed audit reports and dashboards
Keeps IT teams and stakeholders up to date on activity across databases with fine grained Oracle audit data in an
easy-to-read format.
Non-intrusive architecture
Operates in agentless mode, so it never interferes with system processes or causes any
system downtime.
Because databases are frequently used as the back end for mission-critical applications, staying abreast of insider activity is a must-have ingredient in any security strategy. To protect structured data and ensure database availability for users and applications, organizations have to audit Oracle Database. Netwrix Auditor simplifies Oracle Database auditing and reporting and helps you safeguard critical assets from unsanctioned access to Oracle Database and pass compliance audits
with less effort.
"The major benefit of Netwrix Auditor is that it enables us to gain a deep insight into our IT infrastructure that we didn't have before. The platform adds a layer of security and accountability
within the company."
Sam Hollis,
Lead Infrastructure Engineer, Xcentric
Identify and track down anomalies in user behavior to strengthen Oracle Database security
Identify and track down anomalies in user behavior to strengthen Oracle Database security
Enable database activity monitoring to keep tabs on what's going on across your databases or within a certain user's session, including changes to user privileges, roles, tables, views and triggers, as well as successful and failed attempts to modify or access your structured data or production databases. Proactively
uncover database security threats
, such as deleted tables and records or newly enabled user accounts, that can compromise Oracle Database data security. Plus, further
untangle suspicious activity
with the Google-like,
Interactive Search feature.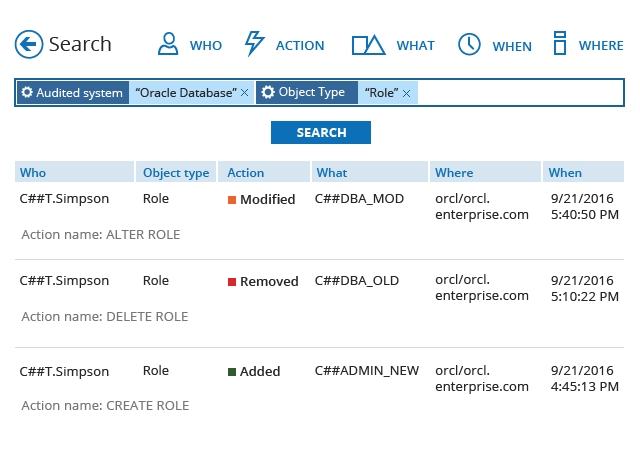 Get a high-level yet insightful overview of Oracle Database activity to make sure your controls
are in place
Streamline database control
by enabling efficient Oracle Database activity monitoring and ensure that no configuration settings or roles were modified without your notice and that tables with sensitive data have been accessed only by authorized personnel. With Netwrix Auditor's actionable intelligence, Oracle Database administrators can
gain visibility into activity
, both successful and failed, analyze what's happening,
spot activity spikes
, and
identify and chase down suspicious actions
. And because a complete audit trail is kept archived for years and can be easily accessed any time, they can address auditors' requests about activity during any time period faster and
with more insight.
Monitor Oracle Database activity without
time-consuming
manual processes
Keep an eye on structured data by maintaining
full control over changes and access
to Oracle Database. Regularly review predefined reports to quickly spot illicit activity and
minimize the risk of a database security breach
. Keep stakeholder informed about who changed role permissions, which users repeatedly tried and failed to read or modify your data, which audit policies were altered without your approval, and more, by subscribing them to the
reports they need.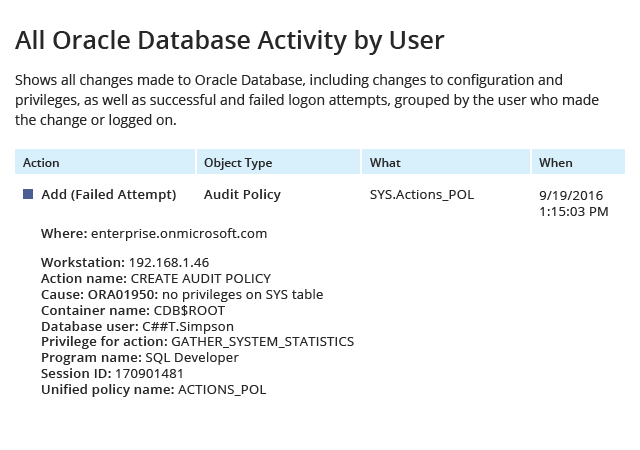 "There is nothing new about the security gap between regular and privileged user accounts. Still there is an obvious risk of human error. Netwrix Auditor gives us the visibility we need to protect against incorrect or unauthorized changes to ensure system uptime and
service availability."
Md Ashifuzzaman
Associate Manager, Technology Systems, banglalink
Free guide:
Top 5 Oracle Database Incidents You Need Visibility Into
Datasheet:
Complete Visibility into Oracle Database with Netwrix Auditor
Explore how Netwrix Auditor for Oracle Database helps
mid-sized
and large organizations harden their Oracle Database security
More than 160,000 IT teams worldwide trust Netwrix Auditor to help detect threats, protect data, pass audit checks and maximize
operational productivity