Netwrix Auditor for
VMware
Complete visibility into what's going on across
your VMware environment
VMware Auditing Software
Netwrix Auditor for VMware delivers complete visibility into what's happening in your VMware vSphere and its components, including standalone ESXi hosts. Perform regular VMware audits using actionable information about changes, logons and permissions, so you can prove compliance with less effort, streamline IT operations and stop attackers before they get to your sensitive data.
NEW
Visibility into VMware permissions
Enables you to quickly find out who has access to what in your vSphere environment, including vCenter, data centers and virtual machines, so you can create a more manageable and secure virtual infrastructure.
Helps you identify actions that might threaten your VMware environment by delivering details about each change, including when it was made, who made it, exactly what was changed, and the before and after values.
Facilitates security and compliance by reporting on both successful and failed attempts to access your VMware environment. Enables you to enforce relevant security controls, investigate incidents and prove compliance.
Notifies you about the changes you deem most critical, whether it's the deletion of a virtual machine or changes to storage resources, so you can respond in a timely manner and avoid downtime or performance issues.
Detailed reports and overview dashboards
Simplifies routine VMware reporting tasks. Predefined reports and overview dashboards offer filtering, sorting, exporting, drill-down, and email subscriptions. Access them through a web interface.
Easily sort through VMware audit data and locate any specific information you might be looking for. Quickly find answers to questions such as what caused an ESXi or ESX server failure or who made critical changes to VMs.
Identifies high-risk user accounts by aggregating their anomalous activity across the VMware infrastructure and other critical systems such as Active Directory and Windows Server.
Provides audit data in out-of-the-box reports mapped to PCI DSS, HIPAA, SOX, GLBA, FISMA/NIST, CJIS, GDPR and many other regulatory standards. Prove to auditors that you regularly audit VMware.
Automated incident response
Allows you to embed custom scripts in alerts so you can ensure prompt response to common and anticipated incidents while staying focused on more important tasks.
Ensure security and prove compliance with continuous
VMware audit
To secure your virtual applications, it's critical to have a powerful VMware reporting tool. Who made unwarranted changes to one of the most important clusters in your VMware vCenter Server and brought your virtual software down? How were the configuration settings of an ESX or ESXi host modified? Who has access to the virtual machine that runs a particular business-critical application? Most VMware and vCenter reporting tools don't enable you to quickly answer these questions. Netwrix Auditor does.
Keep VMware permissions under close scrutiny
The complex combination of roles, privileges and permissions in VMware can create security blind spots that are difficult for you to identify but that attackers can use as a stepping stone to get to your sensitive data. Regularly verify permissions to vCenter, data centers, hosts and other VMware objects to make sure everyone has the right level of access and critical data is not overexposed, so you can prevent data breaches and compliance violations.
Detect security incidents and unauthorized activity with customizable alerting
Having the right VMware audit tools is critical for ensuring security and business uptime. Manually correlating logs is too difficult and time consuming to be practical. Netwrix Auditor alerts you to unusual activity that can affect the health of your VMware environment or put your business at risk. Spot failed attempts to log into your virtual environment and see who deleted a virtual machine or made changes to your VMware cluster, so you can remediate issues before they become real problems.
Prevent performance issues and system downtime by quickly pinpointing their causes
Your virtual infrastructure can be disrupted by simple mistakes or accidental changes to vSphere elements. Use the Interactive Search functionality to quickly investigate what steps led to system downtime or performance issues so you can prevent them from recurring and improve your management practices.
Slash time spent on compliance audits with VMware reporting
Use out-of-the-box compliance reports mapped to PCI DSS, HIPAA, SOX, GLBA, FISMA/NIST, CJIS, GDPR and other regulatory standards to quickly answer auditors' questions, such as who made most changes to critical vCenter elements. Store your audit trail for more than 10 years in a scalable two-tiered (file-based + SQL database) storage system that enables easy historic e-discovery and security investigations.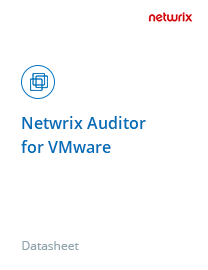 Learn more about how Netwrix Auditor for VMware helps organizations just like yours improve detection of insider threats and pass compliance audits with less effort.
Download Datasheet (.pdf)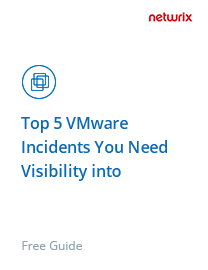 See how Netwrix Auditor's actionable intelligence can help you gain visibility into the top 5 VMware incidents by providing security intelligence instead of raw log data.
Download Free Guide (.pdf)
Find out how organizations of all sizes use Netwrix Auditor for VMware to enhance the security of their virtual environments and
streamline compliance
"After we implemented our VMware environment, we figured out that, in addition to auditing Active Directory and Group Policy, to name just a few, Netwrix Auditor also tracks and reports changes in VMware environment — and it was exactly what we needed."

Borut Šorli, IT Director, Ministry of Higher Education, Science and Technology,
Republic of Slovenia
Efficient Tracking of Changes across Your Virtual Environment with Netwrix Auditor
for VMware
When application downtime happens in your VMware environment, you need to respond immediately: you must quickly identify the root cause of the problem and restore the business-critical processes that depend on your virtualization technologies as soon as possible. Because any change to hardware configuration or vCenter servers can affect your virtual machines and degrade VMware performance, you need efficient VMware monitoring to keep track of those changes. Native tools can be helpful here; however, be ready to spend significant time and effort manually sifting through logs. Netwrix Auditor for VMware, on the other hand, delivers ready-to-use reports with all the details, such as who made each change and when and where it happened, including the before and after values. Plus, you can easily subscribe to any reports and view them on the schedule you set.
VMware Auditing and Reporting with Netwrix Auditor
for VMware
IT auditing of virtualized infrastructures and reporting on all changes is an important aspect of any virtualization strategy. Undesired changes — whether accidental or malicious — are not rare and can potentially lead to sensitive data leaks, application and services failures, and expensive downtime. Netwrix Auditor offers an impressive array of detailed and easy-to-read reports containing all the necessary audit information about each change, giving organizations complete visibility into their virtualized VMware technologies.
VMware vSphere Monitoring for Security
and Compliance
Monitoring vSphere virtualization platform for changes is critical to sustaining overall virtual environment health and security. Netwrix Auditor for VMware helps you monitor vSphere configuration changes, including host system settings, cluster resources and individual virtual machines. Off-the-shelf change reports provide you with key details about critical modifications, including previous and current configuration values. This audit information helps enforce and validate internal controls and prove VMware compliance.
Using and Managing VMware Snapshots to Minimize the Risk of System
Performance Problems
Keeping virtual environments running at peak performance is a top priority for system administrators. To protect your critical systems and data, you can periodically take snapshots of the virtual machine state, including system memory and the virtual disk file system. If something goes wrong (for example, an update goes awry), you can use the VMware snapshot to revert to a previous state known to be good. However, letting a growing pile of VMware snapshot files linger in your system will slowly eat away at both storage space and VM performance. Efficient VMware snapshot management helps you minimize the risk of performance hits and drained disk space.
VMware Reporting You
Can Rely on
Are you keeping your VMware environment secure? Are you sure the data on your virtual machines is protected from insider and outsider threats? Any unauthorized change to system configuration can jeopardize the availability of your virtualization technology, leading to downtime, or resulting in costly compliance failures. The VMware reporting tool from Netwrix provides actionable, ready-to-use reports on user activity across your VMware infrastructure, enabling you to quickly remediate possible threats and avoid downtime. Plus, automated report delivery on the schedule you set will slash report preparation time and keep you informed.
How Audit Checklists Help Strengthen the Security of Your Virtual Infrastructure, and How
They Fall Short
Virtualization enables IT departments to reduce operating costs and optimize their resources. But it raises additional concerns about the security of IT systems, since it introduces an additional layer to the IT environment. There are many tools that can help you mitigate the risks associated with virtualization. For example, a VMware audit checklist is a list of recommendations designed to strengthen the security of your virtual infrastructure. It can include step-by-step guidance on setup and general controls, resource provisioning and deprovisioning, and virtual environment management. However, those guidelines generally focus on configuration, deployment and implementation of controls, and fail to cover continuous server audit for changes made to your virtual infrastructure, which is equally important to overall security and risk mitigation.
Keeping Your VMware PCI DSS Compliant with Netwrix Auditor
Today, organizations of all sizes embrace virtualization to reduce hardware costs, speed server provisioning and more. But if you run virtual machines and store cardholder data, you must watch your VMware infrastructure like a hawk to ensure no activity jeopardizes your VMware security and data privacy policy. In fact, meeting strict PCI DSS 3.2 security requirements can feel like a nightmare. Netwrix Auditor for VMware takes the burden of VMware PCI compliance off your shoulders. It enables you to address PCI requirements and helps you safeguard your sensitive data by identifying risks threatening it, all while slashing audit report preparation time by 50%.
Enabling a Continuously Compliant
VMware Environment
Undocumented and unmonitored modifications to VMware settings, including changes to VMs, ESXi hosts and vCenter servers, can result in security breaches and failed compliance audits. But maintaining VMware compliance with a constantly growing list of internal policies, regulations and standards can be a significant challenge. Netwrix Auditor helps you ensure and maintain a compliance capable VMware environment, and also provides the evidence you need to prove that your security program adheres to the requirements of the regulatory mandates you may be subject to, such as PCI DSS, HIPAA, NERC CIP and CJIS.
VMware Alerting on Critical Activity to Spot
Threats Faster
When there's an unauthorized change to VMware vCenter Server permissions or a virtual machine is unexpectedly deleted, you need to be the first one to know, so you can minimize the risk of system downtime and protect your highly sensitive assets. However, is there a way to ensure that no important change slips by your radar? With Netwrix Auditor, you can set VMware alerts to issue an alarm whenever a critical change occurs, so you can rapidly spot events threatening your VMware security without having to sift through piles of cryptic logs. Moreover, you can customize the alerts just the way you need, so the critical activity that you specify triggers them immediately.