Add-on for Nutanix Files
Establish comprehensive Nutanix Files (formerly known as Nutanix AFS) auditing with complete visibility into changes and data access across Nutanix file servers. Simply integrate Nutanix Files with Netwrix Auditor via the RESTful API with this
free add-on.
Gain complete visibility into
every change
Quickly identify actions that might threaten business-critical data by staying abreast of all changes made to files, folders, shares and permissions with the critical who, what, when and
where details.
Keep data access under
full control
Ensure that no unauthorized or suspicious access to sensitive information goes unnoticed by continuously monitoring read access to sensitive files and folders across your entire Nutanix
file storage.
Securely store audit trail for
later review
Retain a complete audit trail for more than 10 years in the cost-efficient two-tiered storage. Ensure quick and easy access to it the next time you need to investigate a security incident or pass an
audit check.
Find out how this Netwrix Auditor Add-on streamlines
Nutanix
Files auditing
Detect unauthorized changes promptly
Quickly spot critical data and permissions modifications that undermine your security policy so you can respond in time to avoid data breaches and
business disruption.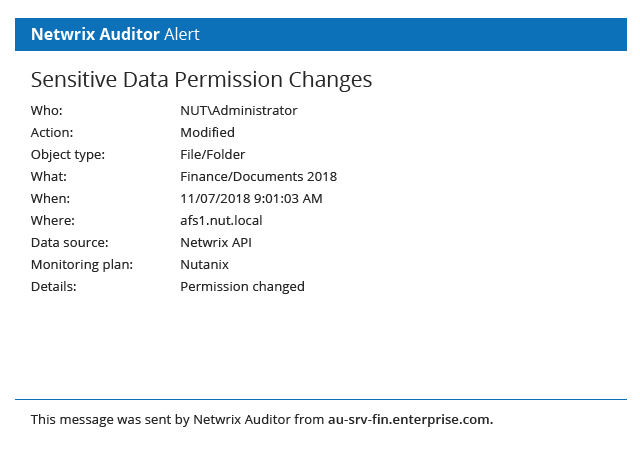 Investigate suspicious activity effectively
Efficiently investigate suspicious changes and data access events, such as privilege elevation or unauthorized read access to customer data, and use your finding to prevent similar incidents from occurring
in the future.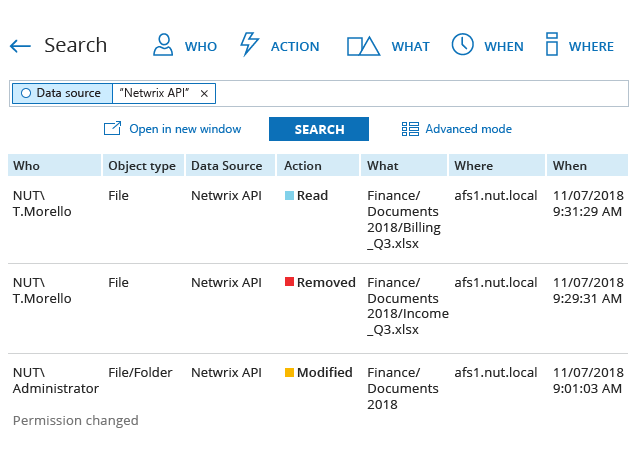 Streamline compliance checks
Save your searches as custom reports and demonstrate clear evidence of your compliance to auditors. Quickly sort through your audit data and fine-tune your search criteria to answer their
ad hoc questions.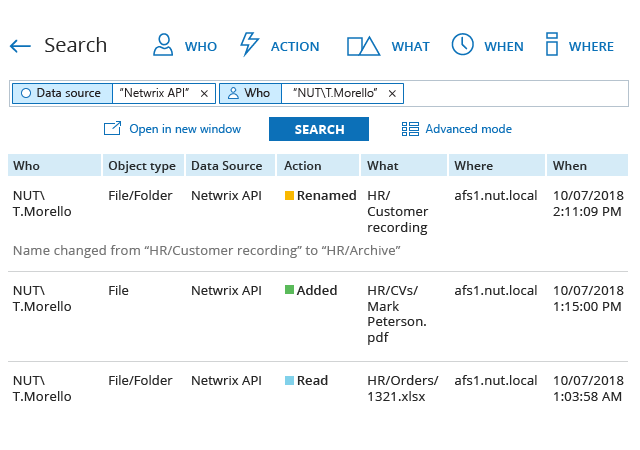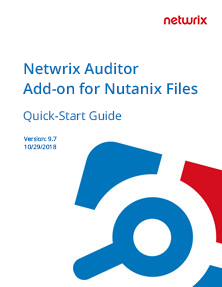 Review detailed instructions for installing the Add-on for

Nutanix Files.

Learn how to configure the

add-on properly.

Facilitate file auditing on your Nutanix platform to protect your sensitive and

business-critical data.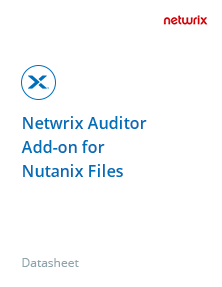 Learn how Netwrix Auditor Add-on for Nutanix Files can help you spot data security incidents and prove compliance by establishing comprehensive auditing of critical changes and data access events across your file server virtual machines.