Active Directory Auditing Software
Netwrix Auditor for Active Directory delivers security analytics about what's going on in Active Directory and Group Policy. Use this data to mitigate the risk of privilege abuse, prove IT compliance and streamline troubleshooting.
Empowers you to respond in minutes to critical Active Directory changes, failed logons (which could be a sign of a brute force attack in progress) and other threats that put your
environment at risk.
Enables you to quickly sort through audit data and fine-tune search criteria until you find the information you need. Save your searches as custom reports that you can run on demand or have delivered
to you on schedule.
Control over effective permissions
Helps you enforce the least-privilege principle by reporting on who has access to what in your Active Directory and how those rights
were granted.
Comparisons of current and past configurations
Retains snapshots of Active Directory and Group Policy configurations so you can easily compare the current configuration to any point
in the past.
Logon auditing
Reports on both failed and successful logons and enables you to view the full logon history of
a suspect employee.
Active Directory compliance
Provides out-of-the-box reports aligned with controls from a wide range of standards, including PCI DSS, HIPAA, SOX, GLBA, FISMA/NIST, CJIS,
GDPR and more.
Password expiration alerting and inactive user tracking
Improves security by automatically deactivating inactive user accounts and reminding AD users to change their passwords
before they expire.
Rollback and object restore
Helps ensure business continuity by enabling you to revert changes to a previous state without any downtime or having to restore
from backup.
Non-intrusive architecture
Works without agents so it never degrades performance
or causes downtime.
Active Directory change auditing is critical for maintaining network security and proving compliance.
Netwrix Auditor
for Active Directory automates Active Directory change tracking and reporting tasks, mitigates the risk of privilege abuse, and helps organizations comply with internal security policies and government or
industry regulations.
"Netwrix Auditor helps us with Active Directory reporting on attributes that have changed and allows us to quickly respond to the events that have the potential to take us
out of compliance"
Ofer Amrami, Director, Infrastructure and Operations,
American Career College
Enable continuous Active Directory auditing and prove that AD configurations
are under control
Enable continuous Active Directory auditing and prove that AD configurations
are under control
Quickly find answers to questions from internal and external auditors, such as what has changed in the Enterprise Admins group during the past year and who made each change. The actionable audit data can be stored in a two-tiered (file-based + SQL database) AuditArchive™ for more
than 10 years.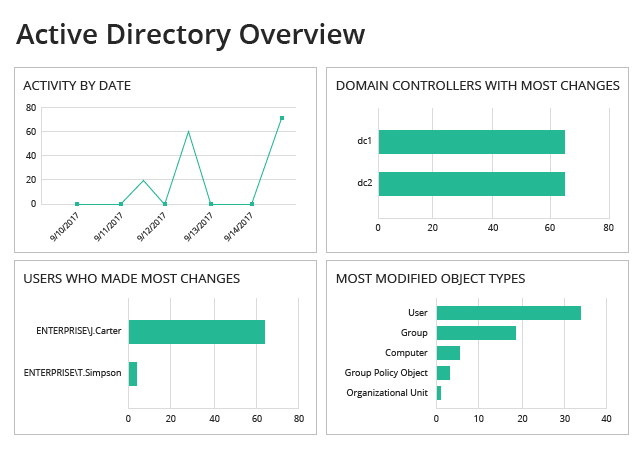 Prepare audit reports and troubleshoot unwanted Active Directory
changes faster
Netwrix Active Directory auditing software overcomes the limitations of native auditing tools by eliminating time-consuming and error-prone manual processes for data consolidation, analysis and reporting. IT administrators can quickly provide key stakeholders with the information they need about changes to AD objects, Group Policy configurations, directory partitions and more. And they can even roll back unwanted changes to the previous state without disrupting
business operations.
Detect and investigate unauthorized changes made by privileged users before
a breach occurs
Use predefined change and configuration auditing reports, real-time alerts and dashboards to identify suspicious changes that might introduce security risks. Whenever you detect a change that does not match your corporate security policy, you can use
Interactive Search
to investigate why it happened and take action to prevent similar incidents from occurring
in the future.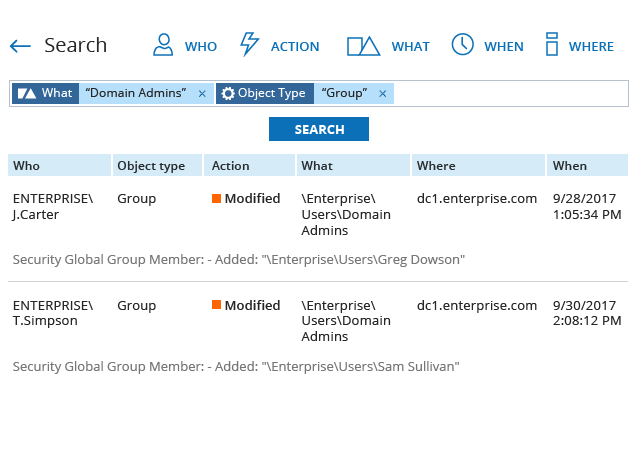 "With granular control over Active Directory changes provided by Netwrix Auditor, now we can make sure that nobody is giving any privileges that weren't meant to be given, and no one is making changes that can potentially compromise
our IT infrastructure."
Jeff Gardea,
Systems Infrastructure Manager, Soka University of America
Free guide:
Top 5 Active Directory Incidents You Need Visibility Into
Datasheet:
Complete Visibility into Active Directory and Group Policy with Netwrix Auditor
See how businesses and non-profit organizations, large and small, are using Windows Active Directory auditing to overcome their security and compliance challenges
Over 160,000 IT departments worldwide rely on Netwrix to secure IT infrastructure, prove compliance and increase
operational efficiency.