Microsoft Active Directory is a critical IT system for organizations of all sizes, used to store user identity information and provide secure access to company resources. In order to successfully configure, manage and support this complex system, organizations use a variety of tools for Active Directory. However, they often neglect the importance of building proper security controls and constantly validating them with an Active Directory tool for reporting and alerting on critical events.
The lack of appropriate controls significantly increases the odds of security incidents that violate confidentiality, integrity and availability of business-critical data and applications. Moreover, these controls should be not only implemented and well documented, but also constantly validated using some Active Directory solution for auditing. Given the cumbersome nature of the built-in Active Directory tool for event tracking, this task may be way too time-consuming for any IT department.
Netwrix Auditor for Active Directory is a comprehensive Active Directory tool for change and configuration tracking. It helps organizations prevent security breaches and comply with internal security policies and government or industry regulations by delivering actionable data about what's happening in Active Directory and Group Policy. Unlike other tools for Active Directory, Netwrix Auditor covers all aspects of configuration and change auditing, as well as the most common operational tasks.
Simplify and speed reporting with 70+ predefined reports that detail all changes to configuration, schema, user accounts, security

groups and more.

Know all the detail about who changed what, when and where, including before and after values for all

modified objects.

Review current and past Active Directory and Group Policy configurations with

state-in-time reporting.

Be notified about critical AD changes with

real-time alerts.

Quickly hone in on the exact information you need using the Interactive

Search feature.

Leverage additional capabilities such as inactive user tracking, password expiration alerting, and the ability to restore

AD objects.

Increase the security of your domain controllers even further with monitoring of Windows Server changes and video recording of privileged

users' activity.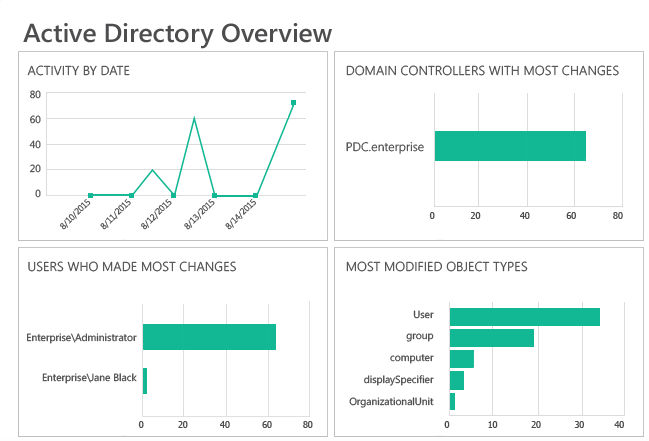 And more… All with a single Active Directory solution

from Netwrix.