Cyber Security Software for User Behavior Analysis and Risk Mitigation
Netwrix Auditor enables control over changes, configurations and access in hybrid IT environments to protect data regardless of its location. The platform provides security intelligence to identify security holes, detect anomalous user behavior and investigate threat patterns in time to prevent real damage.
Detect Data Security Threats, both
On Premises and in the Cloud
Delivers
security intelligence
about critical changes, data access, data sensitivity and system configurations in hybrid IT environments and makes it easy to
investigate any suspicious action
or information security
policy violation.
Pass Compliance Audits
with Less Effort and Expense
Provides the evidence
required to prove that your organization's IT audit and security program adheres to PCI DSS, HIPAA, GDPR, SOX, GLBA, FISMA, NIST, FERPA, CJIS, NERC CIP, ISO/IEC 27001 and
other standards.
Increase the Productivity of IT
Security and Operations Teams
Automates manual change auditing and reporting tasks,
saving budget and IT staff resources
typically spent manually crawling through weeks
of log data.
Defend against both internal and
external threats
Secure data in accordance with
its value
or sensitivity
Monitor what's going on in
your IT environment
Investigate anomalous
user behavior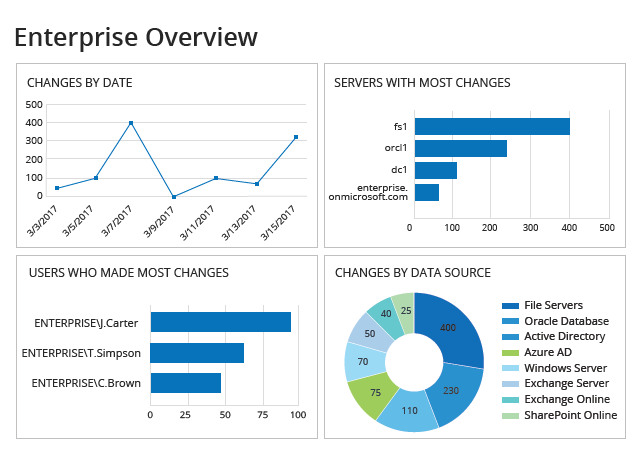 Provide assurance around security policies and
implemented controls
Easily provide proof that your security
policies
are enforced
Get easy access
to compliance reports
Keep a complete audit trail archived
for more
than 10 years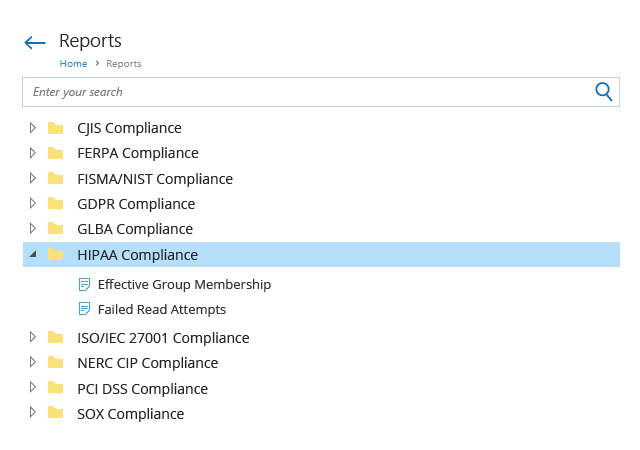 Resolve issues that interfere with normal
daily operations
Automate time-consuming
manual tasks
Minimize system downtime
and service outages
Enable visibility across
the entire IT infrastructure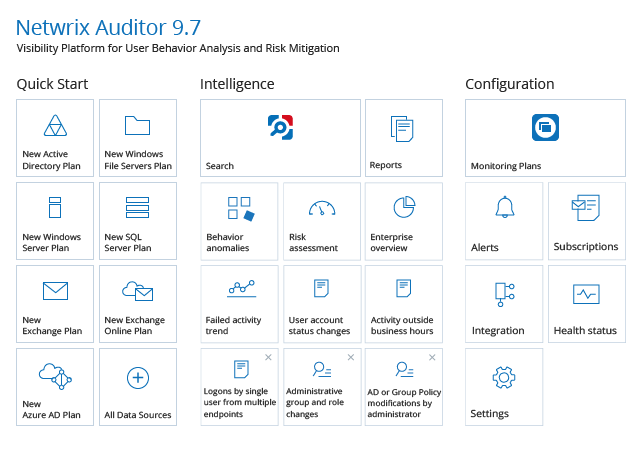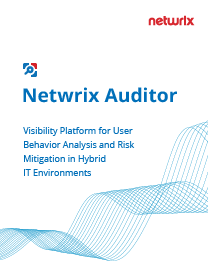 See the full list of Netwrix Auditor advantages and learn how this cyber security software can help you address your most pressing data protection challenges.
Download Product Datasheet (.pdf)
Information security software with the broadest
coverage of supported systems
In contrast to legacy auditing solutions, the Netwrix Auditor platform delivers
visibility and control
in across all of your on-premises and cloud-based IT systems
a unified way.
Built for IT environments of all sizes, the Netwrix Auditor architecture supports the growth of your organization
"Every day, the software delivers invaluable insights into what's going on across our file servers. We can seamlessly monitor user activity, ensure conformance to security policies and investigate incidents. The most terrific part is that Netwrix Auditor alerts us to potential ransomware activity, so we can take countermeasures

in time."
Hans Gierens,
IT Manager, Catholic College Sale
Security Audit of IT infrastructure
The Netwrix Auditor information security software was designed to provide IT departments with continuous auditing of their IT environments to minimize the risk of intrusion in advanced persistent threat attacks or ransomware phishing activities. Detailed reports, alerts and dashboards help maintain visibility into every change and proactively detect unauthorized actions that can negatively impact IT infrastructure security and jeopardize enterprise security. On top of its change and data access reporting capabilities, Netwrix Auditor also provides user activity video recording with the ability to search and replay, thus enabling visibility into actions performed by privileged users in systems that do not produce any logs to facilitate insider threat detection.
Continuous IT Audit for Security, Compliance
and Operations
The IT audit software from Netwrix helps organizations prevent security breaches caused by privilege abuse, pass audits, minimize the cost of compliance, automate manual change auditing and reporting processes, and save on IT staff resources. The Netwrix Auditor platform enables auditing of the broadest variety of IT systems, including Active Directory, Exchange, file servers, SharePoint, SQL Server, VMware and Windows Server.
Netwrix Auditor's Advantages over Native
Auditing Tools
Netwrix's auditing technology overcomes the limitations of native auditing tools, such as weak reporting capabilities and an unreliable audit trail, and takes manual change auditing and reporting tasks off the back of resource-constrained IT departments. Netwrix Auditor eliminates the need to spend hours and hours crawling through log data to answer questions about IT infrastructure changes or data access, and makes it easy to comply with regulatory audit requirements.
Efficient Monitoring of User Activities to Identify
Bad Actors
How can you spot suspicious user behavior faster so you can expedite response to security incidents and better shield your critical systems and information? User activity monitoring (UAM) eliminates blind spots and delivers you pervasive visibility into all activity around your highly critical systems. With an easy-to-read audit trail of actions performed during each user session, you can stay on top of abnormal changes, suspicious logons, unauthorized data access and unusual failed actions that could jeopardize the security of your IT infrastructure. And with video recordings of user screen activity at your fingertips, you can ensure individual accountability, even in systems that do not produce logs.
Increase the Security of the Sensitive Data You Store and Streamline Compliance
Passing GDPR compliance audits requires implementing strong data privacy policies for the sensitive personal data of EU citizens. Any organization that processes any EU resident's personal data, even if it is located outside of the EU, is subject to GDPR compliance audits. Violations can result in huge fines and customer lawsuits. Netwrix Auditor saves you time, money and efforts when preparing for audits by providing out-of-the-box compliance reports aligned with specific controls of the GDPR that help you establish proper data protection rules and prove your compliance.